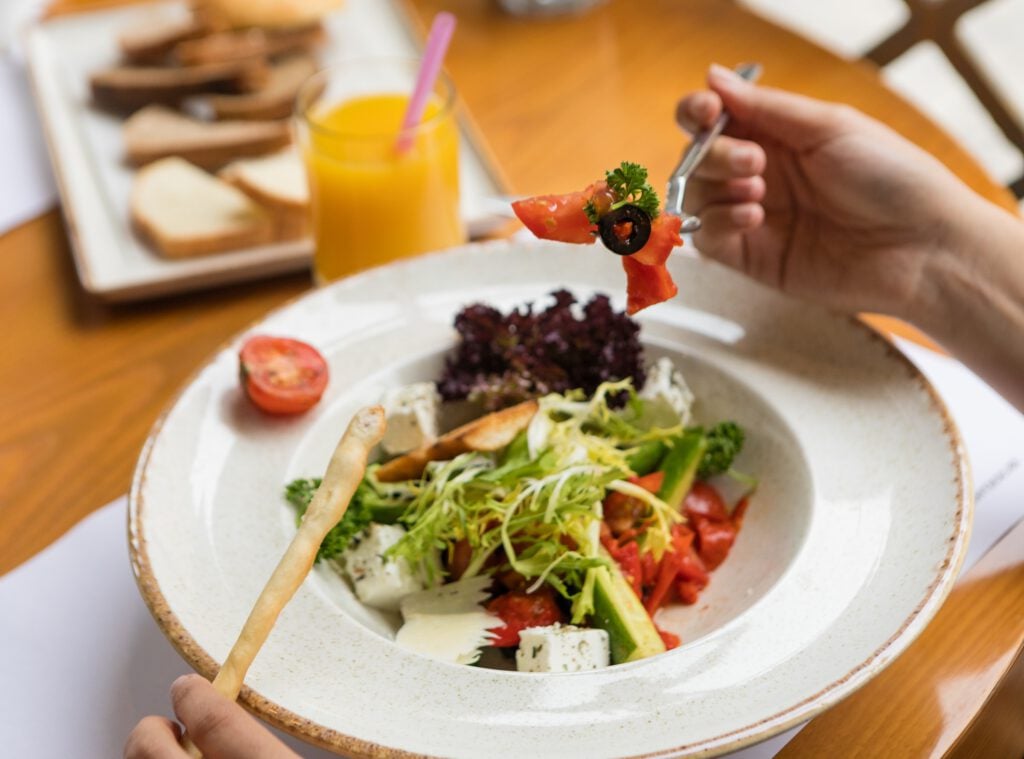 Living solo or with roommates is more popular now than ever. But when it comes to the kitchen, it can lead to wasted groceries, time-consuming prep, and tired leftovers that never sound appetizing. Many of us like to spend as little time in the kitchen as possible. However, that can quickly turn into an unhealthy diet, a costly takeout bill, or all-day snacking rather than solid, well-rounded meals. Not to mention missing out on the flavor of a home-cooked dinner! The perfect answer might be a meal kit delivery for singles. 
Looking for a way to save time, save money, and eat healthier than ever? We've compiled a list of the top options for meal kit delivery for one. We'll break down the key features to look for. In the end, you'll land on the best meal delivery service for one person. The result might be meeting your health goals, cutting your takeout budget, and reducing the stress involved with mealtime. Meal kits for one can make dinner fun!
Features to Look For In A Meal Delivery For One Person
Shopping for meal kits for one isn't always easy. Most delivery services are geared towards couples and families, often focusing on child-friendly dishes. With the variety of meal kits out here, there are so many offerings to navigate. Depending on your personal preferences, dietary needs, and budget, there are plenty of things to consider. To aid in your search for the best meal delivery for singles, here are some key features to keep in mind (we'll go into detail on the most important ones):
-Portion Size
-Leftover Friendly
-Preparation Time
-Cost
-Flexibility
-Variety
Portion Size and Leftovers
While some healthy meal kits for one exist, it's important to understand the real-life difference between a meal kit delivery for singles, and a meal kit delivery for couples or families. While it's easy to restrict your search solely to "meal kits for one", it's worth looking at the benefits of all meal kit services to weigh your options.
Cost is one aspect to consider – smaller, single-serving deliveries will usually cost more per meal than a larger delivery since you won't be buying the same ingredients in bulk. Furthermore, you'll usually end up paying the same shipping and delivery fees, for less food.
Portion size and leftover-ability are key features when comparing meal delivery for one. If you enjoy larger meals, spend time in the gym, and want more calories for your buck, or follow an intermittent fasting plan and want fewer, more filling meals, the average "meal kit for two" might be better suited as a single meal for you.
As you've probably tasted, not all leftovers are made equal. Meal kits for one that includes frozen, microwaveable ingredients are less likely to reheat with pleasant flavors and textures. If you plan on splitting your meals in half before cooking, it'll be much easier to do with a meal kit that includes fresh, portioned ingredients. And if you'd prefer to "cook once and eat twice", your leftovers will be better-tasting and better-textured if cooked recently with fresh ingredients.
Time In The Kitchen
Time spent in the kitchen might be a pro or a con! If you're a beginner chef who likes the idea of learning to cook, meal kits with fresh, raw ingredients can help. You'll learn basic kitchen skills, without the stress of coming up with ideas, testing recipes, and wasting ingredients when you inevitably learn something the hard way.
On the other hand, you might be looking for a meal kit for one because you can't afford to spend any time in the kitchen. Being busy with work, wanting more downtime, or simply not being a fan of cooking are all valid reasons to opt for a zero-prep meal kit. Just know that you may pay the price for convenience, and understand that achieving the perfect balance of healthy, delicious, and fast can be a big ask.
Flexibility and Variety
When cooking for one and trying to stay healthy, save money, and save time, the most likely outcome is falling into a routine of cheap, repetitive meals. We won't diss your chicken and broccoli plate, but after a few weeks, you'll likely be ready for something new. One way to satisfy variety is with a regular cadence of takeout and delivery, such as UberEats or Doordash. But, those costs add up quickly and can lead to unhealthy habits in no time. 
When looking for healthy meal kits for one, it's important to find a service that offers the right balance of healthy meals, diverse flavors, and the ability to personalize meals to fit your needs. As a single person, you'll also want supreme flexibility with your meal delivery service. What if you need to skip a week while you travel? What if you want to cook for a date or a friend in town? Rather than juggling multiple services that you flip off and on, it'll save you time and energy to find one service that fits all your needs.
Best Meal Delivery Services For One Person
Now that you know what you're looking for in healthy meal kits for one, it's time to identify the best meal delivery service for one person – for you! No two situations are exactly alike, but rest assured that your perfect match is out there.
1. Gobble
What if you could remove all the hassle of cooking, but still enjoy fresh ingredients, gourmet flavors, and home cooked goodness?
Gobble delivers pre-portioned, prepped, and marinated ingredients to save you from slicing and dicing. Ready in 15 minutes or less, they offer the convenience of frozen food, without compromising on your health or flavor goals. Choose from over 15 dishes on each week's menu (as well as countless sides, breakfasts, and desserts). Each menu includes global flavors to satisfy your curious taste buds, as well as gourmet ingredients you won't find at your grocery store. With Gobble, you'll feel like a pro chef is right to next you in your kitchen.
A two-person Gobble plan can provide one satisfying, well-balanced portion for a one-meal-a-day lifestyle. Alternatively, each meal can be quickly prepped and split into a lunch and dinner, or have leftovers saved for the next day. Weekly shipments can be customized to accommodate skipped weeks, extra portions, and personalized proteins to double your portion or swap in your choice of meat (when available).
Gobble also offers a selection of Lean & Clean meals each week, chef-designed to hit nutrient macros while keeping calories down. There's no plan commitment or need to limit your choices. Choose from Lean & Clean meals when you want, and opt for classic meals, or family-style meals when the need arises. Or mix and match to your heart's content!
2. Daily Harvest
Rather than being a traditional meal kit delivery for singles, Daily Harvest is closer to having a Jamba Juice in your freezer! Though they've begun to offer more diverse options like soups and grain bowls, Daily Harvest is most known for smoothies. Each week you'll receive a frozen container of pre-portioned, ready-to-blend fruits and veggies. Just add your favorite milk or milk alternative, any supplements or powders, and blend!
For those of us with a post-workout or pre-workday smoothie ritual, it's an extremely convenient way to get your daily fruits and veggies. However, it's not likely to completely replace every meal in a given week. You'll still need to head to the store and cook most of your other meals. But in certain cases, like replacing your daily smoothie, or having a quick and light lunch available at work, DailyHarvest is fairly affordable, healthy, and delicious.
3. DoorDash
DoorDash is a great choice for the opposite use case. If you're looking for the best meal delivery service for singles who have zero time to invest in the kitchen, DoorDash might just be perfect. DoorDash allows you to order fresh delivery from countless restaurants in your area. You'll place your order an hour or so before mealtime and receive a hot, fresh, and delicious meal to fit any craving. For frequent users, the DashPass can be a great way to save and keep the costs from adding up. The variety of options on DoorDash will vary depending on your location. In big cities, you'll never run out of options, while in more rural and suburban areas, your choices may be more limited.
The benefits of DoorDash are that you can easily order an extra dish if you're hungry, or skip a meal if you have plans. There is no subscription to manage, delivery to plan for, or any need to skip or pause. You'll also be able to explore and discover new flavors cooked by the professionals virtually every night. The downsides are primarily centered around cost – between service and delivery fees, tips, and marked up items, a delivery habit is not cheap. It's also not uncommon to deal with missing items from your order, drivers who may get lost or be unable to find your location, and cold or damaged deliveries. DoorDash customer service is typically attentive and can resolve issues, but be warned: too many service complaints and you can be removed from the app entirely!
For those who are seeking to de-prioritize meal time, avoid the kitchen at all costs, and never stress about grocery shopping again, DoorDash is a great option for a meal delivery for one person.
Now You Know the Best Meal Kit Delivery Services For Singles
Ready to decide on the perfect meal delivery for one person? That's a call that only you can make, but we hope our comparison helped outline the key features and popular options to help you choose.
Delivery services like DoorDash provide a ton of choice and variety but can be costly and inconvenient at times. Quick meals like Daily Harvest provide neat, single-serving dishes with a focus on health, but sacrifice fresh flavor and variety for maximum convenience. Lastly, a prepared-meal service like Gobble can be the best of both if you're looking for a balanced, flexible approach. Happy eating!
For more options check out Best Vegetarian Meal Delivery Services, 3 of the Best Low Carb Meal Delivery Kits to Try, and The 3 Best Meal Delivery Service For Families.