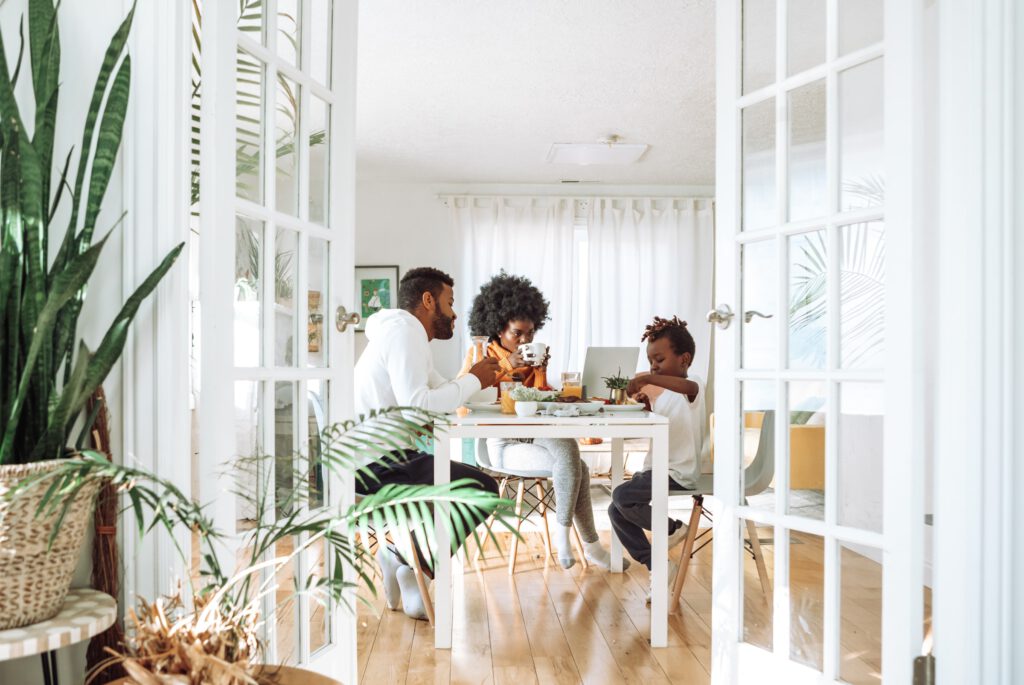 Back to school, back to work, and back to having even less time on your hands. Can you imagine that? After a long year and a half of disrupted routines and a bizarre amount of time at home, some of us have embraced the kitchen, while others have turned and ran. But it's no secret that the kitchen is often the heart of a family home, and when takeout and delivery invade, it often leads to closed doors, TV dinner, and less quality time than ever before.
It's not to say that home cooking is always easy. In fact, it's usually the opposite! Finding time to craft a weekly menu, source recipes and inspiration that the whole family can enjoy, hunt down all the ingredients, and spend an hour or more each day bringing each meal to life – it's all so much easier said than done. And when Timmy decides he doesn't like chicken anymore? Ouch.
If you're tired of hunting down quick dinner ideas for family, you might look for a family meal delivery service. Many households are leaning on family meal kits – customizable, convenient, and family-friendly meal delivery services that allow you to enjoy the benefits of a healthy, wholesome home cooked meal, but replacing stress or chaos with a quick dinner for the family. But before you can enjoy all of those benefits, you've got to go through the time-consuming process of finding the meal kit that's just right for you and your family.
To help you navigate the noisy world of meal kits for families, we've pulled together a list of the most important features to look for in a family meal kit and our top picks for family meal services to help make the decision a breeze. At the end, you'll find our pick for the best meal delivery service for families.
Features To Look For in a Family Meal Delivery Service
The easiest starting point on your meal kit journey is to assess the most important features for what you and your family are looking for. Is there a parent at home that doesn't mind cooking, but just needs a hand with the shopping? Or is this a busy-busy house that just needs to fuel up rather than find family time? No matter your situation, there's a meal kit service that's right for you.
Reduce Family Stress
One of the most common needs is to simply reduce stress for one or both parents. That stress might owe itself to grocery store craziness, picky-eater drama, or simply a lack of time available to think through meals ahead of time. Luckily, most meal kit services were created to solve a lot of these issues.
For families pressed for time, look for meal kits that deliver ready-made meals. You may not love the idea of microwaveable or one-pan oven dishes, but there's no doubt that they're the most time-efficient meals out there. While they cook, you can knock out some chores, finish up that Zoom call, or grab 30 minutes of me-time before dinner. Meals can be served at the table for the whole family, or portioned up and served whenever, wherever, for a family with a crazy schedule.
If the source of stress is really just the grocery store, there are a huge variety of services that deliver portioned-out bags of ingredients. These kits may still take an hour or more of prep and cooking time, but for those who don't mind cooking or want to get the kids involved in the kitchen, services that send ingredients and recipes can be a huge help, without too much additional cost.
Family Friendly Dishes
Every parent reading knows that not every restaurant serves family-friendly dishes, and the same applies for meal kits. The best meal delivery service for families will offer widely varying menus, allowing kids to be involved in the weekly menu process. This also allows for parents to curate a menu that offers some safe, classic favorites alongside some more adventurous offerings, exposing Junior to some new flavors and turning picky eaters into mini-foodies, one meal at a time.
Of course, when it comes to meal kits, it's just as important to find family-friendly cooking as it is to find family-friendly dishes. For those looking to get their kids involved in the kitchen, look for kits that offer clear, colorful recipe cards, and steps that allow for safe, fun, and unique steps without adding to your workload as head chef. The ideal meal kit would include just enough simplicity for your kids to cook along, while still resulting in a delicious meal that they can be proud to have been a part of!
Healthy Choices For Everyone
Last, but definitely not least, you'll want to keep a careful eye on the menu offerings from any potential meal kit services to make sure health isn't being neglected. Sometimes, we get caught up in saving time or saving money and forget that food is more than just fuel – it's what drives healthy and happy families! Meal kits can help you find new and flavorful ways to introduce, discover, and savor veggies for you and your little ones. You might even encounter global ingredients that you'd never think to try from a grocery store!
On the other hand, you'll want to make sure that you don't get locked into any one plan over another. Signing up for the vegetarian or low-calorie option might sound great at the time, but sometimes you and the kid just want mashed potatoes and gravy – and we can't blame you. Look for a meal kit service that gives you the freedom to select dishes from the whole menu, not just a single plan, and avoid meal kits that are too narrow-focused to fit your family's ever-changing needs. If not, you might get stuck hopping from one service to the next and creating a whole lot more stress for yourself – less shopping is pretty much always a good thing.
3 Family Friendly Meal Delivery Services
Now that you've had a chance to think about "why do we need a meal kit?", you can turn your attention to "which meal kit is right for me?". This is far from an exhaustive list, but these are some of the most popular, most affordable, and most well-rounded meal kit services out there for families.
1. Gobble
Gobble is all about quality time – in the kitchen, at the table, or doing whatever your family wants to do with their time. The point is, you won't be spending unnecessary time at the store or in the kitchen, while still enjoying the fun part.
Gobble delivers "almost-ready" meal kits, usually landing on your table within 15 minutes of being pulled from the fridge. Gobble's executive chefs handle all the slicing, dicing, and marinating, so all you and your kids are left with is a few minutes of searing, sauteéing, and bringing gourmet ingredients to life.
The result is a home cooked meal, crafted with fresh ingredients in your kitchen, but with potentially hours of saved time to invest back into your family. Whether that looks like quiet personal time, extra chore time, or an hour back into your busy day of work, there isn't a family out there that wouldn't want an extra hour in the day.
Gobble also offers a spread of global flavors, vegetarian dishes, premium date-night dinners, and Lean & Clean offerings alongside their classic menu, with no need to switch plans at any time. Choose from over 15 menu items each week, from a personalized, protein-rich salad on Monday, to a steakhouse special on Friday, and anything in between. You'll also choose from a huge variety of breakfasts, desserts, and delicious sides to make sure your family gets everything on your wishlist, every week.
2. Dinnerly
Dinnerly is known as "the affordable meal kit", designed to bring a low cost dinner to your family's table any night of the week, without breaking your budget. Dinnerly focuses on simple, classic meals that you and your kids will recognize, helping to reduce the risk of a picky eater causing a weeknight crisis.
Many of their meals are tailored to family tastes, but definitely sit at the simpler end of the spectrum. You might find that Dinnerly provides the base for your family dinner, and adding a few extra ingredients or whipping up a side dish can help take it to the next level.
Dinnerly is all about saving on costs, but not necessarily on time – most recipes will still involve a good amount of prep and cooking time, which can be great if you're trying to get the whole family more involved in the kitchen. However, each week's menu will have a few "under 30 minute" options that might not even involve a knife in the process, great for getting kids involved without too much time investment.
3. SunBasket
SunBasket is the most health-oriented offering on our list, and is focused on saving you time over anything else. They deliver ready-made meals, just a microwave or oven away from the table, with an emphasis on dietary preferences to feed even the grain-free, vegetarians, pescatarians, diabetics, or paleo eaters among us, which may or may not be a gamechanger for your family!
Though slightly more expensive, SunBasket offers a health-first focus on delivering meals to your family that can involve virtually zero effort in the kitchen, perfect for healthy, busy families that simply have no time to invest in the shopping or cooking process.
Pick the Family Meal Kit That Fits Your Family's Needs
Now that you've been introduced to some of the leading meal kit services available, it's time to drill down and figure out which offerings are perfect for your family. If time is the number one priority, and you've got some tricky diets to accommodate, SunBasket might just be the perfect pick. With oven-ready or microwave-ready dishes, designed to fit a variety of preferences, it's undoubtedly the most time-efficient meal kit, but it is one that trades fresh ingredients for frozen and does not create much in the way of quality family time in the kitchen.
For those most focused on cutting costs from the grocery bill or family takeout habit, Dinnerly can be a great option. Delivering low-cost, simple meal kits, you'll still enjoy time in the kitchen with kid-friendly dishes that they'll love to be a part of bringing to life. But, you'll trade off some of your free time to cook meals from scratch, and the limited menus may not satisfy your internationally-cultured taste buds.
Gobble exists to empower families to put quality time back on the menu. It allows families to choose from a diverse menu, ranging from comfort food for kids to upscale dinners for a mom and dad date night, and everything in between. It's also the most customizable service on our list, allowing for personalized protein selections, extra proteins available for purchase, and a huge selection of breakfasts, sides, and desserts to add onto any menu.
Most importantly, Gobble allows families to skip the stressful parts of cooking without completely abandoning the kitchen – their 15-minute meals will get the kids involved in the kitchen, bring fresh ingredients to life, but remove the time-consuming prep and cleanup, so you can spend less time in the kitchen and more time doing what you and your family love.