*Drum roll* Welcome, Double Up Protein!
So far, 2021 has been an exciting year for Gobble! From Quick & Easy meals to Personalize It! we've been expanding our services so that you have all the tools you need to be a Dinner Hero. Whether your week is looking a little extra busy and you need a recipe easier than easy, or you're feeling a little picky when it comes to proteins, we've got you covered.
You didn't think we'd stop there though, did you? As part of our Personalize It! feature, we are launching "Double Your Protein!" which is perfect if you want to stretch a meal a little farther or if you're trying out a lifestyle like keto. Now on select recipes, you can opt to receive double the amount of protein on specific protein choices; this means that 2-person plans will receive 4 portions of protein, while 4-person plans will receive 8 portions. And, as always you'll still have the option to double the entire recipe by clicking the plus sign as you curate your perfect menu for the week.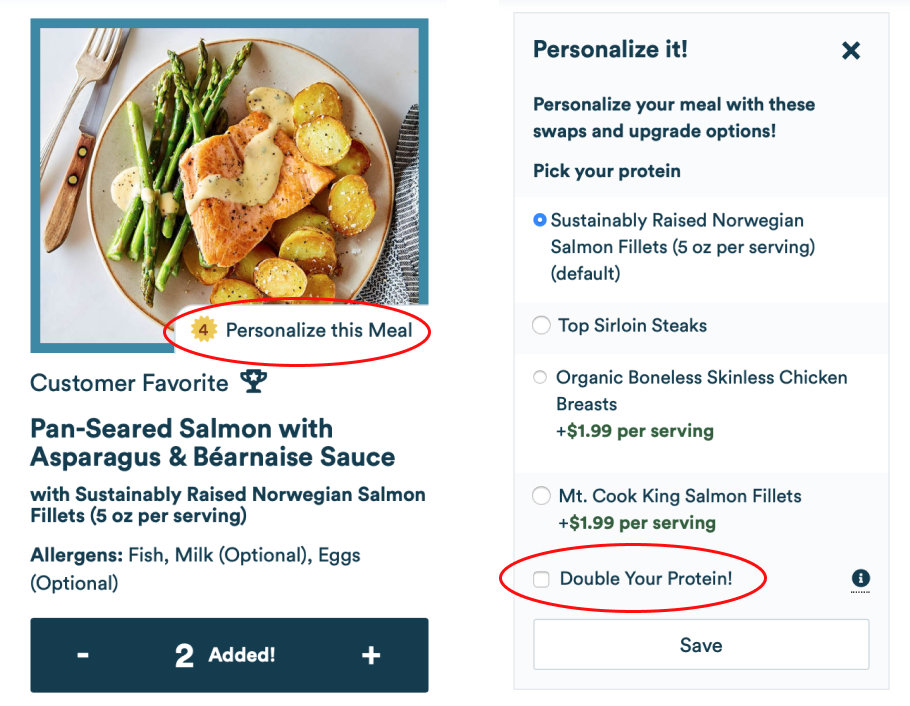 How do you "Double Your Protein!"? Great question! *Hint: it is super easy!*
-Look out for the "Personalize this Meal" burst, and at the bottom (just above the 'Save' button) you'll see a "Double Your Protein!" option.
-If you select a protein that isn't able to be doubled, you'll see a message that says, "Doubling is not available for this option." Don't worry – we're working on it!
-Click that, and we'll update your dish to reflect your preferences, and we'll update the pricing per serving below the dish title. You can also review any additional costs in your Order Summary for the week.
As you exercise your Gobble superpowers, please note that with "Double Your Protein!" only the protein servings will increase, not the entire recipe, so cooking times and flavor may alter slightly. For more information on our Personalize It! feature check out our blog here.