Simplify The Holidays With a Thanksgiving Meal Kit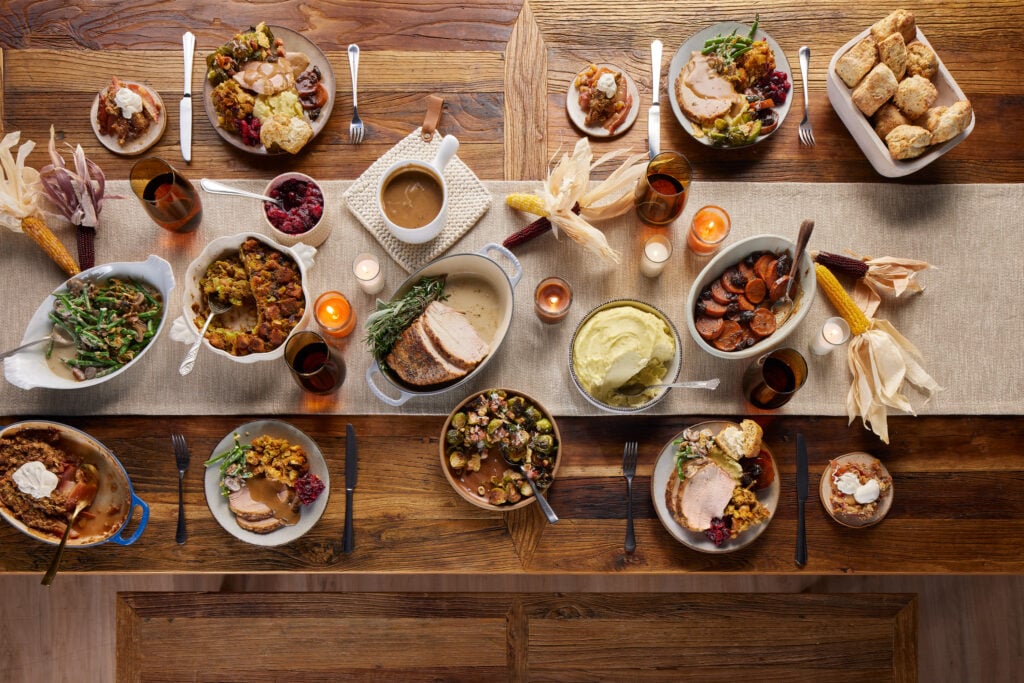 Family coming to town, menu planning on your mind, and a grocery store shopping list about a mile long. Yep – it must be Thanksgiving! Despite the mayhem, Thanksgiving simply has to be our favorite holiday on the calendar. (We are called Gobble, after all).
Whether you stick to the classics or go a little gourmet, Thanksgiving is our chance to craft seasonal dishes and share them with the people we love. And if that's not what Gobble's all about, we don't know what is!
With that said, planning a Thanksgiving menu, stocking all the ingredients, coordinating cooking times, and assembling a stunning spread… we're getting a little hangry just thinking about all that work. So we came up with a solution; our gourmet Thanksgiving dinner meal kits.
While there are a handful of delivery options that can make Thanksgiving easier, our "Big Feast" and "Bigger Feast" deliver a seasoned turkey, all the essential sides, and even the gravy, right to your door. We'll handle the planning, shopping, and onion-chopping, so all you have to do is add the finishing touches and spend more time with the people you love.
Everything that Comes in the Big Feast
Our classic Thanksgiving meal kit, "The Big Feast" ($159.99) serves 4-6 people and features seven absolutely timeless dishes, carefully balancing the classic, nostalgic flavors you love with elevated ingredients, gourmet touches, and just a dash of the unexpected. Here's what you'll find inside:
Rastelli's Turkey Breast Roast
Traditional Turkey Gravy
Cranberry & Sweet Cherry Compote
Our Turkey Breast Roast comes out perfect every time – no brining, basting, or babying required. And from fennel-apple stuffing, to rich and creamy mashed potatoes, to cranberry-cherry sauce, there's something to satisfy everyone.
What You'll Get With the Bigger Feast
New for 2023, try our enhanced and expanded Thanksgiving meal kit – what we're calling "The Bigger Feast" ($179.99). Including everything from our classic box, The Bigger Feast adds in three of the most popular dishes requested by our past Thanksgiving customers. Here's what we're cookin' up:
Everything included in The Big Feast
Between the hugely-popular roasted Brussels sprouts, gourmet Gruyère biscuits, and bubbly-warm pear crumble for dessert, you'll have enough to feed 4-6 people with plenty of leftovers for the next day.
Gobble's Thanksgiving Box Success Stories
You might be wondering – "Can a Thanksgiving dinner meal kit really stand up to Grandma's recipes?". All we know she'd love the idea of putting down the potato peeler, kicking up her feet, and joining in the card games for once. She might even get to appreciate your Thanksgiving wine pairings a little more than usual.
And when it comes to the spread? These folks tried our 2021 and 2022 Thanksgiving meal kits and loved them so much, they sent us fan mail.
"This menu was perfect! We loved everything, but I would eat that stuffing and cranberry sauce every day if I had the chance!"
"10/10! We had such a great Thanksgiving this year. Is there a Christmas box? Because I would order that one too."
"Y'all pick great dishes—traditional but with a classy/vibey twist. Can't wait to see the menu for 2023!"
Family-tested, family-approved, and we'd like to think this year's feast will be even better. Only one way for you to find out…
Don't Miss Out on Gobble's Thanksgiving Dinner Meal Kit
Thanksgiving is all about feasting with friends and family. But it's easy to let the planning, prep work, and all those cooking hours steal you away from the quality time you're supposed to be sharing with your guests.
Not only do our Thanksgiving meal kits deliver a delicious, unforgettable feast; we'll also give you the best gift of all: more moments with the people you love.
Ready to invite Gobble into your kitchen this Thanksgiving? Place your order today to ensure a Nov. 20-22 delivery, and don't wait – supplies are limited!