Citrus & Spice Candied Yams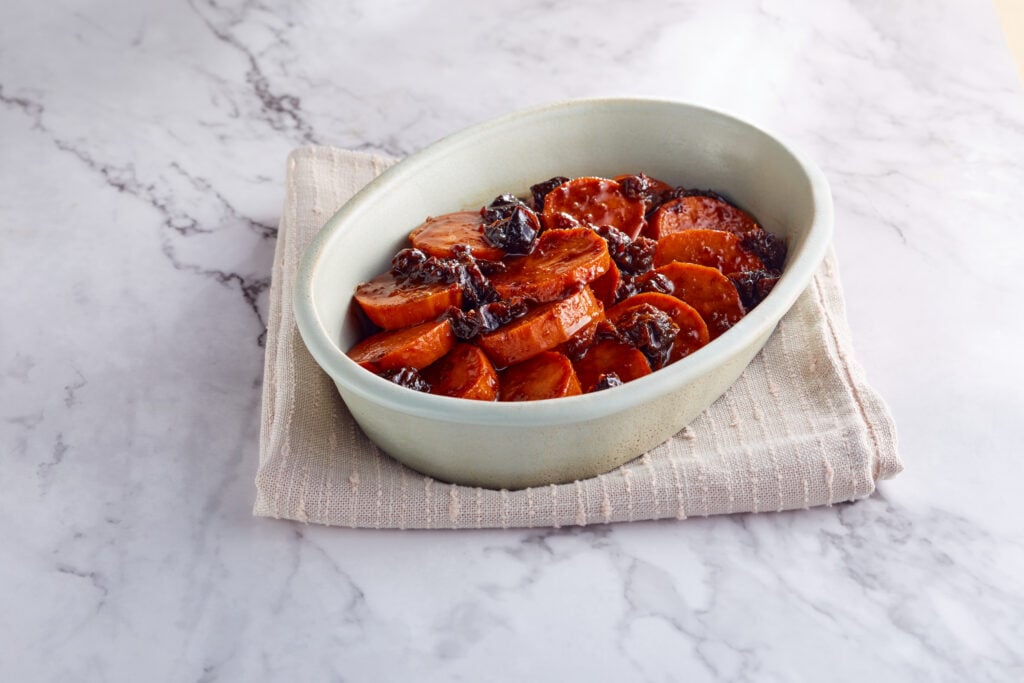 Starchy root vegetables have long been a staple of Thanksgiving menus. Mashed potatoes are a classic for a reason, but is it a hot take to say we treasure those sweet potato and yam dishes even more?
Every family has a preference, from marshmallow-topped casseroles to more traditional sweet potato purées. But for 2023, we're whipping up these Citrus and Spice Candied Yams, packing holiday flavors, sweet and spicy touches, and a rich caramelized finish into one unforgettable side.
We're sharing our recipe below so you can bring this dish to your table, but you can also find it in Gobble's Thanksgiving boxes, available to order now for a seamless and stress-free Thanksgiving feast.
Citrus & Spice Candied Yams
Nothing says "autumn" more than candied yams, and though these taste complex — they couldn't get any easier to bring to life! Combine Garnet yams with rich, sticky plums, pumpkin spice, and a dash of orange juice for a caramelized side you won't soon forget.
Easy Steps to Cook this Classic Thanksgiving Side Dish
Here's what you'll need to bring our Citrus & Spice Candied Yams to your Thanksgiving table. 
Ingredients:
Garnet yams
Cinnamon-brown sugar butter M
Pumpkin spice blend
Brown sugar
Orange juice concentrate
Prunes
Allergens:
(M) Milk
Supplies To Gather:
Nonstick saute pan with a lid (12 inches)
Kitchen knife & cutting board
Mixing bowl
Cooking spoon
Salt
Cut the prunes into bite-size pieces.
Arrange the Garnet yams and prunes in a single layer in a nonstick saute pan. Some overlap is ok. Add 1 cup of water and a pinch of salt. Cover the pan, set the heat to medium, and bring to a simmer. Cook for 8 min, or until yams are almost fork-tender and most of the liquid has evaporated.
In a mixing bowl, combine the brown sugar, pumpkin spice blend, and orange juice concentrate with 1 cup of warm water. Add the brown sugar mixture to the saute pan, then stir in the cinnamon-brown sugar butter until melted.
Cook uncovered for 8 min, or until the sauce has reduced to a syrupy consistency, spooning the brown sugar mixture over the yams as they cook. Turn off the heat. Cover to keep warm until ready to serve.
Gobble's Thanksgiving Box: Delicious Food Without All of the Planning and Prep
Complex, flavorful dishes are a labor of love, but it's still labor! Bringing a whole Thanksgiving spread to life takes even more effort, from building the menu, to gathering all the groceries, to peeling and prepping for every dish. Not to mention juggling cooking times between the oven and stove to have everything ready at once. 
We've got a meal delivery solution that might be able to help – Gobble's Thanksgiving boxes. We'll handle the planning, shopping, and prepping, so you just add your personal touch in the kitchen and focus on celebrating the holiday. That means quality time with family and friends, extra time at the table, and free time to make Thanksgiving even more special with added decor or touches like our recommended wine pairings.
Discover our "Big Feast" and "Bigger Feast" boxes, both including the delicious Citrus & Spice Candied Yams you've been eyeing up. Both have limited supplies, so order yours today for a just-in-time delivery for Thanksgiving. Enjoy!