Green Bean Casserole with Crispy Shallots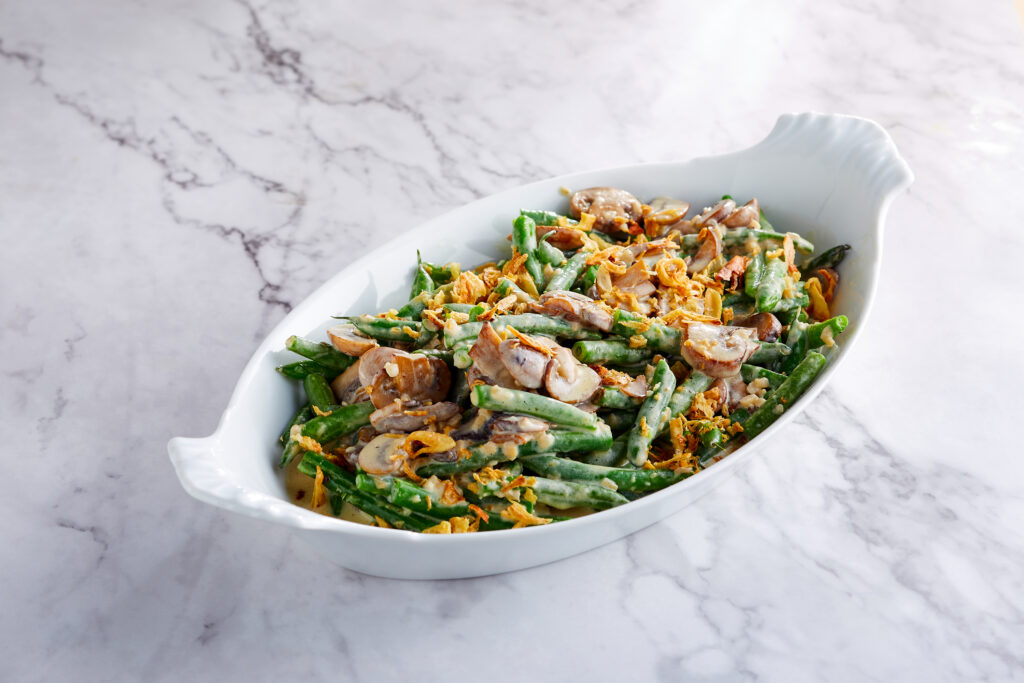 Some say it's all about the turkey – others will focus on the quality time with family and friends. But we know the real star of Thanksgiving: the endless spread of delicious and nostalgic side dishes nobody can get enough of.
Whether you reach for the sweet, the savory, or a heaping scoop of everything, shareable sides like our Green Bean Casserole with Crispy Shallots are what make Thanksgiving truly special. We're sharing the recipes behind the sides from our 2023 Thanksgiving feast, balancing classic flavors and nostalgic dishes with elevated ingredients and a gourmet touch.
Follow along to bring one of our favorite sides to your Thanksgiving, or find this dish and many more in our Thanksgiving meal kits – delivered to your door prepped and ready to cook.
Green Bean Casserole with Crispy Shallots
A holiday green bean casserole is a beloved classic. We stayed true to tradition on this one, pairing tender, sautéed green beans with savory Cremini mushrooms in a rich cream sauce. It's topped with crispy shallots for added umami flavor and a satisfying crunch.
How to Cook this Tasty Thanksgiving Side
Here's what you'll need to bring our Green Bean Casserole with Crispy Shallots to your Thanksgiving table. 
Ingredients:
Green beans
Heavy cream M
Fried shallots W
Cremini mushrooms
Shallot-garlic confit
Allergens:
(M) Milk
(W) Wheat
Supplies to gather:
Nonstick saute pan with a lid (10 inches or larger)
Kitchen knife & cutting board
Cooking spoon
Paper towels
Salt & pepper
Cooking oil
Steps:
Use a damp paper towel to gently wipe the cremini mushrooms clean as needed, then thinly slice.
Trim the ends from the green beans if needed, then cut in half.
Heat 2 tbsp. of cooking oil in a nonstick saute pan over medium heat. When the oil is hot, carefully add the mushrooms. Season with salt and pepper and cook for 3 min, or until lightly browned, stirring occasionally.
Stir in the shallot-garlic confit and cook for 30 sec, or until fragrant.
Stir in the green beans and add ¼ cup of water. Cover the pan and cook for 3 min, or until the beans are tender and brightly colored. Uncover and cook for 30 sec, or until the liquid has completely evaporated.
Pour in the heavy cream and bring to a simmer. Cook for 4-6 min, or until the sauce has reduced and thickened, stirring occasionally. Turn off the heat and season to taste with salt and pepper. When ready to serve, top the green bean casserole with the fried shallots.
Spend More Time With Your Family With Gobble's Thanksgiving Box
Hosting a delicious feast is incredibly rewarding, but between the menu planning, grocery shopping, and all that veggie-chopping, it's often easier said than done. Luckily, meal delivery options like Gobble's Thanksgiving boxes are here to make it easier. 
With an expertly crafted menu featuring a ready-to-roast turkey, along with pre-prepped sides like our Green Bean Casserole with Crispy Shallots (plus many more), Gobble's boxes help you skip the busy work and spend more time with your loved ones, while still enjoying a fresh, home-cooked Thanksgiving spread. And with resources like our easy-to-follow recipe cards, Chef's Tips accompanying every dish, and even recommended wine pairings, your 2023 feast is sure to be a hit.
Explore the menus, choose your box, and order your Thanksgiving spread today to secure a fresh delivery, right on time for the holiday. Enjoy!