Yukon Gold Mashed Potatoes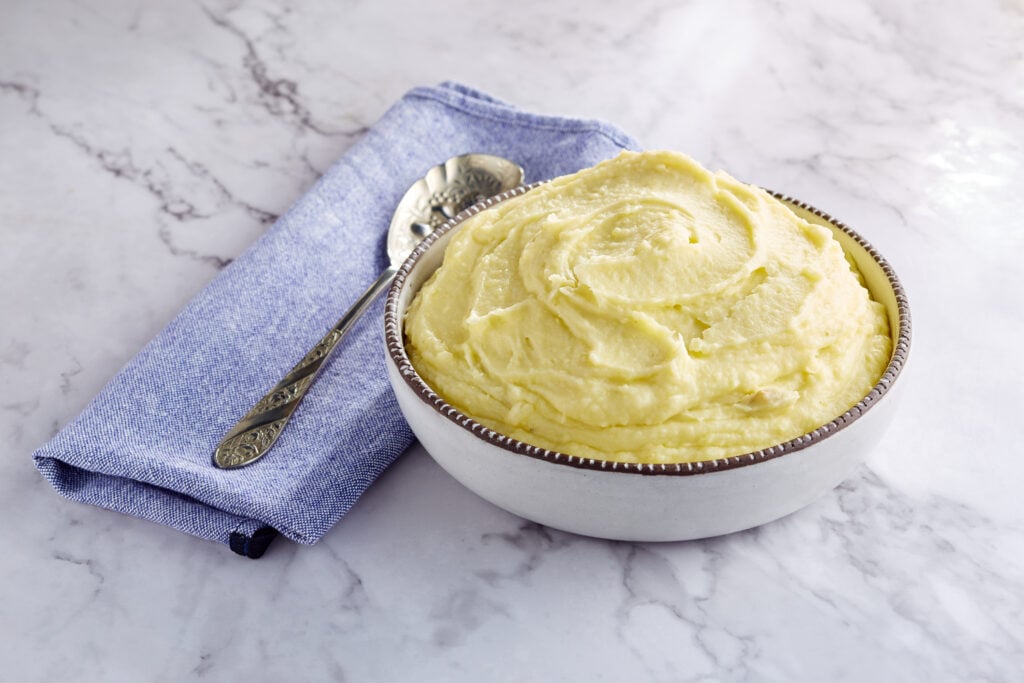 Thanksgiving without mashed potatoes is almost unthinkable. We may call it a side dish, yet everybody knows it's #1 in our hearts. But for a dish so timeless and simple, it can be surprisingly tricky to nail the recipe. We're happy to spread some Thanksgiving cheer and share our recipe for fluffy, creamy Yukon Gold Mashed Potatoes.
To save yourself some holiday hassle and get out of the kitchen this Thanksgiving, we'd also suggest Gobble's Thanksgiving boxes, featuring a seasoned turkey roast, sides like our famous mashed potatoes, and much more.
Yukon Gold Mashed Potatoes
If you ask us, mashed potatoes are THE essential Thanksgiving side. Whip ours up from scratch using Yukon Gold potatoes, heavy cream, and plenty of butter for a delicious and comforting homestyle side to complete your Thanksgiving spread. 
An Easy Guide to Make A Thanksgiving Classic
Here's what you'll need to bring our Yukon Gold Mashed Potatoes to your Thanksgiving table. 
Ingredients:
Yukon Gold potatoes
Whole milk M
Butter M
Allergens:
(M) Milk
Supplies To Gather:
4-quart pot with a lid 
Strainer
Bowl
Aluminum foil
Kitchen knife & cutting board
Potato masher
Cooking spoon
Salt & pepper
Boil a pot of water and season with a pinch of salt
Rinse your fresh produce and gently pat dry
Cut the Yukon Gold potatoes in half. Cut any large potatoes into quarters.
Add the potatoes to the pot of boiling water. Cover and cook for 15 min, or until fork-tender. Strain and remove as much water as possible. Transfer the potatoes to a bowl and cover with aluminum foil to keep warm. Set the pot aside.
When ready to finish the potatoes, place the pot over medium-low heat and add the whole milk and butter. Cook for 2-3 min, or until the butter is melted, stirring occasionally. Turn off the heat.
Return the potatoes to the pot with the milk mixture. Mash the potatoes, milk, and butter together until creamy. Season to taste with salt and pepper.
Reduce Holiday Planning Stress With Gobble's Thanksgiving Box
Serving up the perfect taters is all about timing and texture. Both can be tricky, especially when you're juggling a dozen other sides and a big bird in the oven. And if you do get every dish juuuuust right, you probably spent the whole day in the kitchen – not much of a relaxing holiday, is it?
Though there are plenty of meal delivery options out there, we have to suggest our Thanksgiving boxes, having served over 5,000 happy families over the past few years. You'll get to skip the menu planning, grocery shopping, and endless peeling and chopping. Focus on just the important steps in the kitchen (like nailing the potatoes and pairing bottles of wine) to spend less time stressing, and more time with the ones you love.
Explore our Thanksgiving boxes below (our Yukon Gold Mashed Potatoes come in both!) and place your order today to lock in a hassle-free holiday.