Ginger Pear Crisp with Walnut-Oat Topping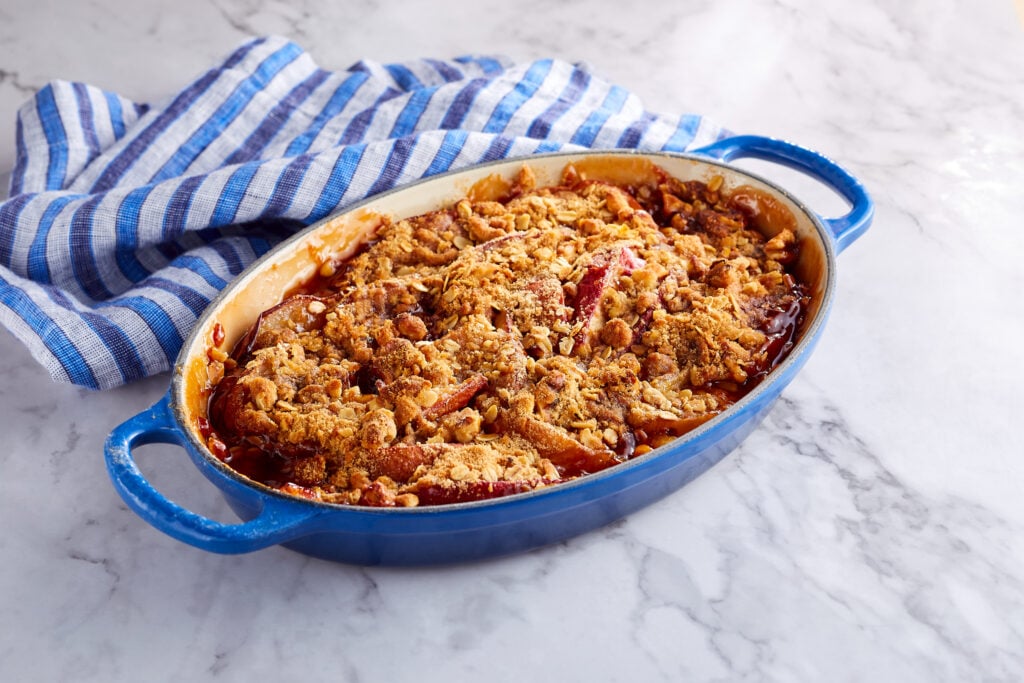 No Thanksgiving meal is complete without a sweet, seasonal treat to cap things off. And although saving room for dessert isn't always easy, this Ginger Pear Crisp with Walnut-Oat Topping is positively worth the wait.
With hints of fall spice, peak-season red pears, and a buttery, crumbly topping, this dessert is sure to satisfy the whole family. Our easy-to-follow recipe includes about 15 minutes of prep that can be done earlier in the day, and 30-35 minutes in the oven when it's time to serve.
You'll also find this dish included in our expanded Thanksgiving box, "The Bigger Feast", delivering a gourmet holiday spread to your door so you can spend more time with family while still savoring a timeless, delicious Thanksgiving. Scroll on for the details!
Ginger Pear Crisp with Walnut-Oat Topping
This holiday crisp features juicy pears tossed with candied ginger, brown sugar, and a touch of lemon, all bubbling under a crumbly oat and walnut topping. Warm, comforting, and oh-so delicious, it's primed to be a new family tradition. 
How to Make this Flavorful Thanksgiving Dessert
Here's what you'll need to bring our Ginger Pear Crisp with Walnut-Oat Topping to your Thanksgiving table. 
Ingredients:
Red d'Anjou pears
Lemon
Candied ginger
Brown sugar
Cinnamon-brown sugar butter M
All-purpose flour W
Old-fashioned oats
Walnut pieces T
Cornstarch
Allergens:
(M) Milk
(T) Tree nuts
(W) Wheat
Supplies to Gather:
Kitchen knife & cutting board 
Baking dish (8×8 inches or equivalent)
Two mixing bowls
Small bowl
Citrus zester
Cooking spoon
Oven mitt
Plastic wrap
Salt
Preheat the oven to 350°F convection or 375°F conventional
Rinse your fresh produce and gently pat dry
Cut the red d'Anjou pears lengthwise into quarters and cut away the core. Then cut the pears lengthwise into ½-inch-thick slices.
Zest and juice the lemon.
Finely dice the candied ginger.
In a mixing bowl, combine the pears, candied ginger, lemon juice and zest, cornstarch, and half of the brown sugar. Place the fruit into a baking dish and cover with plastic wrap. Refrigerate until ready to bake. Clean out the mixing bowl.
Gently crumble the walnut pieces into the mixing bowl. Add the all-purpose flour, old-fashioned oats, the remaining brown sugar, and a pinch of salt. Working quickly to keep the cinnamon-brown sugar butter cold, break the butter into small pieces and work it into the dry ingredients with a fork or your hands until the mixture resembles coarse crumbs. Refrigerate until ready to bake to help the topping hold its crumbly texture.
When ready to bake, loosely distribute the walnut-oat topping over the ginger-pear filling. Place into the oven for 30-35 min, or until browned and the fruit is bubbling along the edges of the baking dish. Carefully remove from the oven and serve warm.
Cut Down On Planning and Prep With Gobbles Thanksgiving Box
From hors d'oeuvres to dessert – planning, prepping, and serving an entire Thanksgiving spread is no easy feat. And while it can definitely be rewarding, too much work can take away from the real holiday spirit – spending quality time with loved ones. 
Gobble's Thanksgiving boxes, along with other meal delivery options, are here to help. You can enjoy a delicious, multi-course meal, your favorite home-cooked flavors, and still get everyone involved in the kitchen – but we'll handle the shopping and chopping to give you time back. Plus, included recipe cards and extra resources like our best wine pairings for Thanksgiving to help you host like a pro, without the stress.
Check out our Thanksgiving menus and find the right box for you – "The Bigger Feast" is where you'll find our Ginger Pear Crisp with Walnut-Oat Topping. Boxes are going fast, so place your order today for delivery by Thanksgiving!