Fennel & Apple Stuffing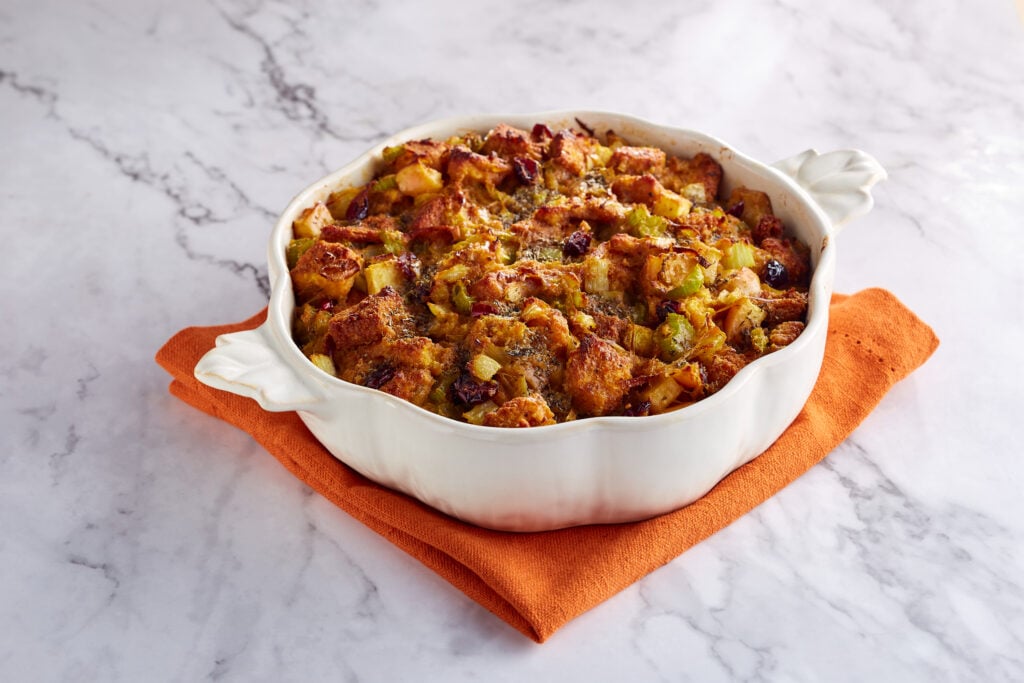 Turkey without stuffing is like peanut butter without jelly, or hot chocolate without little marshmallows. Still good, but just not the same! And for a holiday that's really all about the side dishes, serving up a stellar stuffing can help elevate the whole spread.
It's 2023, so put down the boxed stuffing mix and come with us. For an effortless spread, don't go for the instant stuff – just order one of Gobble's Thanksgiving boxes. But if you're up to making your spread from scratch, or are only tasked with bringing a single dish to Friendsgiving, our not-so-secret stuffing recipe is just below.
Fennel & Apple Stuffing
It's everyone's favorite side, with a sweet and savory touch. This toasty, flavorful French bread stuffing combines leek, fennel, and all the aromatics with hints of sweet apple and tart cranberry for subtle layers of sweet and herbaceous complexity. 
Your New Favorite Thanksgiving Side Recipe
Here's what you'll need to bring our Fennel & Apple Stuffing to your Thanksgiving table. 
Ingredients:
Fennel bulb
French bread cubes W
Savory slurry M
Vegetable stock concentrate
Rosemary-thyme butter M
Sliced leeks
Celery sticks
Apple
Dried cranberries
Allergens:
(M) Milk
(W) Wheat
Supplies To Gather:
Nonstick saute pan with a lid (12 inches) 
Baking dish (8×8 inches)
Kitchen knife & cutting board
Heat-safe mixing bowl
Small bowl
Cooking spoon
Oven mitt
Salt & pepper
Cooking oil
Butter (optional)
Preheat the oven to 350°F convection or 375°F conventional
Rinse your fresh produce and gently pat dry
Trim off the stems and root end from the fennel bulb. Dice the fennel, celery sticks, and apple into bite-size pieces, keeping them separate.
In a small bowl, mix the vegetable stock concentrate with 1 ½ cups of warm water.
Heat 1-2 tbsp. of cooking oil in a nonstick saute pan over medium heat. When the oil is hot, carefully add the fennel and celery and cook for 4-5 min, or until slightly softened. Lightly season with salt and pepper. Stir in the apple and sliced leeks, then cover the pan and cook for 4 min, stirring occasionally.
Stir in the savory slurry, vegetable stock, and dried cranberries and bring to a gentle simmer. Turn off the heat and stir in half of the rosemary-thyme butter.
Place the French bread cubes into a heat-safe mixing bowl. Carefully add the sautéed vegetables and stock mixture, then mix to combine. Grease a baking dish with 1-2 tsp. of oil, or with butter if desired. Add the stuffing to the baking dish. Dot the top with small pieces of the remaining rosemary-thyme butter. If preparing ahead of time, cover the baking dish with plastic wrap and store in the fridge until ready to bake. Remove the plastic before placing the stuffing into the oven.
Place the baking dish into the oven for 18-20 min, or until cooked through and lightly browned on top. Carefully remove the baking dish, loosely cover with foil to keep warm, and set aside until ready to serve.
Make Thanksgiving Prep Easy With Gobble's Thanksgiving Box
Dicing fennel, celery, and apple – easy! Peeling and soaking potatoes, cubing carrots, brining and basting a turkey, on the other hand…let's just say the Thanksgiving prep work can get out of hand before you know it. Luckily, there are meal delivery options like Gobble's Thanksgiving boxes that are here to help.
Invite Gobble into your kitchen, and we'll take care of the planning, shopping, and prepping. You'll still get to enjoy time in the kitchen with family but without all that busy work. And with your extra time, you can join in on the holiday fun, enjoy our recommended wine pairings with your spread, and enjoy a relaxing Thanksgiving – for once.
Browse our menus to choose the right box for your holiday, and be sure to get your order in soon! Supplies are limited, and deliveries are filling up fast.