Black Pepper & Gruyere Biscuits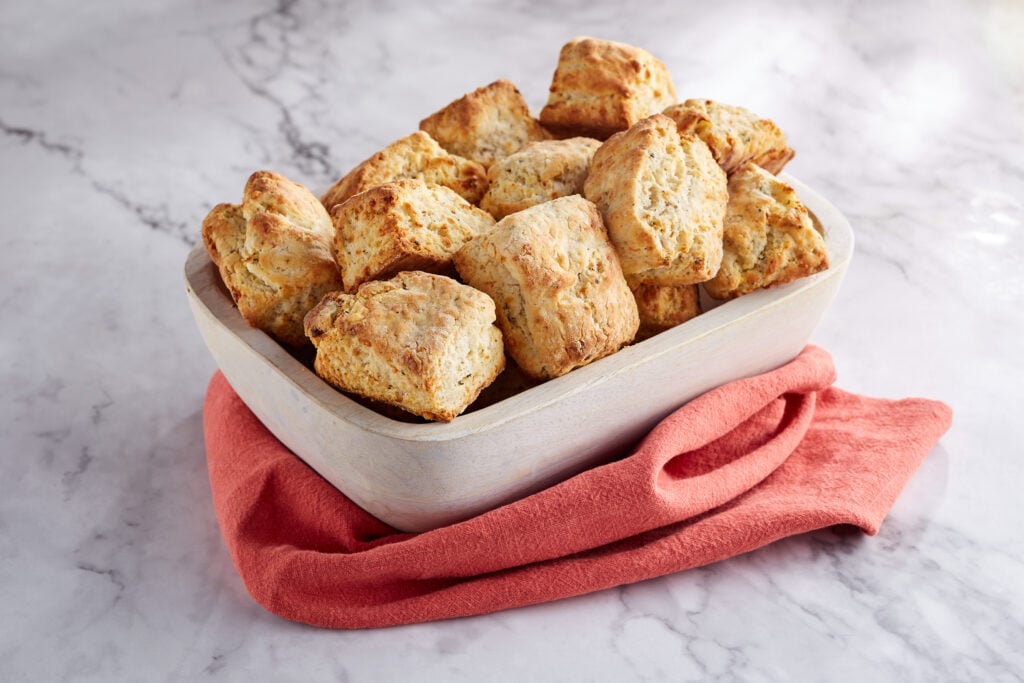 With so much attention on the turkey, it's easy to forget what makes a Thanksgiving spread so special. Hint – it's the sides! Passing around those sweet, savory, and nostalgic dishes never gets old (even if you'd rather skip one or two). But between all those legendary sides, there's one key item that we think has gone a little underappreciated.
Yep – the classic dinner roll. It's a must on any Thanksgiving plate, the foundation to every perfect bite, and crucial for next-day leftover sandwiches. And unless you're taking the time to home-bake rolls on the busiest cooking day of the year, you're likely settling for store-bought bread. Not anymore.
Introducing one of our most-requested Thanksgiving sides, Black Pepper & Gruyere Biscuits. Gather a few simple ingredients to craft this fan-favorite for yourself, or order our expanded Thanksgiving meal kit, "The Bigger Feast" to get the biscuits included in your spread, prepped and almost ready to bake.
Black Pepper & Gruyere Biscuits
Say no to plain old dinner rolls and step it up with these black pepper and Gruyère-infused biscuits, gently kneaded together with buttermilk and garlic-Parmesan butter right in your kitchen. The result is a fluffy, fragrant, and downright irresistible addition to your bread basket.
Simple Steps to Make this Cheesy Thanksgiving Side
Here's what you'll need to bring our Black Pepper & Gruyere Biscuits to your Thanksgiving table. 
Ingredients:
Biscuit mix E M S W 
Black pepper
Gruyère cheese M
Buttermilk M
Garlic-Parmesan butter M
Allergens:
(E) Eggs 
(M) Milk
(S) Soy
(W) Wheat
Supplies To Gather:
Baking sheet
Parchment paper or aluminum foil
Kitchen knife & cutting board
Mixing bowl
Cooking spoon
Flour
Preheat the oven to 375°F convection or 400°F conventional
Prepare a baking sheet by lining it with parchment paper or lightly greased aluminum foil
In a mixing bowl, combine the biscuit mix, Gruyère cheese, and half of the black pepper. For spicier biscuits, add more black pepper to your taste preference. Working quickly, break the garlic-Parmesan butter into small pieces and gently toss it with the flour mixture. Stir in the buttermilk just until the dough comes together. Do not overmix.
Transfer the dough to a lightly floured cutting board and shape into a ½-inch-thick rectangle. Gently fold the dough in half, then cut into eight evenly sized squares. Place the squares onto the prepared baking sheet and into the freezer for 10 min to chill. This will help the biscuits rise and be flakier.
Place the biscuits into the oven for 12 min, or until they have risen and are lightly browned. Carefully remove the baking sheet and set aside until ready to serve.
Order Gobble's Thanksgiving Box For A Delicious Meal Without All of the Prep
Even without making dinner rolls from scratch, hosting Thanksgiving can be an overwhelming task. From the planning and shopping to the mixing and chopping – taking on too much can quickly get in the way of quality time with your loved ones. If you're looking for a way to take the stress out of the holiday, while still celebrating with a gourmet, homemade feast meal delivery options like Gobble's Thanksgiving boxes might be perfect for you.
You'll find all the classics in our basic box, "The Big Feast" – a seasoned turkey roast, rich and creamy mashed potatoes, and enough sides to feed 4-6 people with ease. In our expanded box, "The Bigger Feast", we've added some of our most-requested side dishes, including our Black Pepper & Gruyere Biscuits, Roasted Brussels Sprouts, and even a seasonal dessert. Plus, easy-to-follow recipe cards and bonus resources like our recommended wine pairings make hosting a breeze.
Learn more about our Thanksgiving boxes and place your order today – supplies are limited!