Best Meal Delivery For New Parents: Stress-Free Eating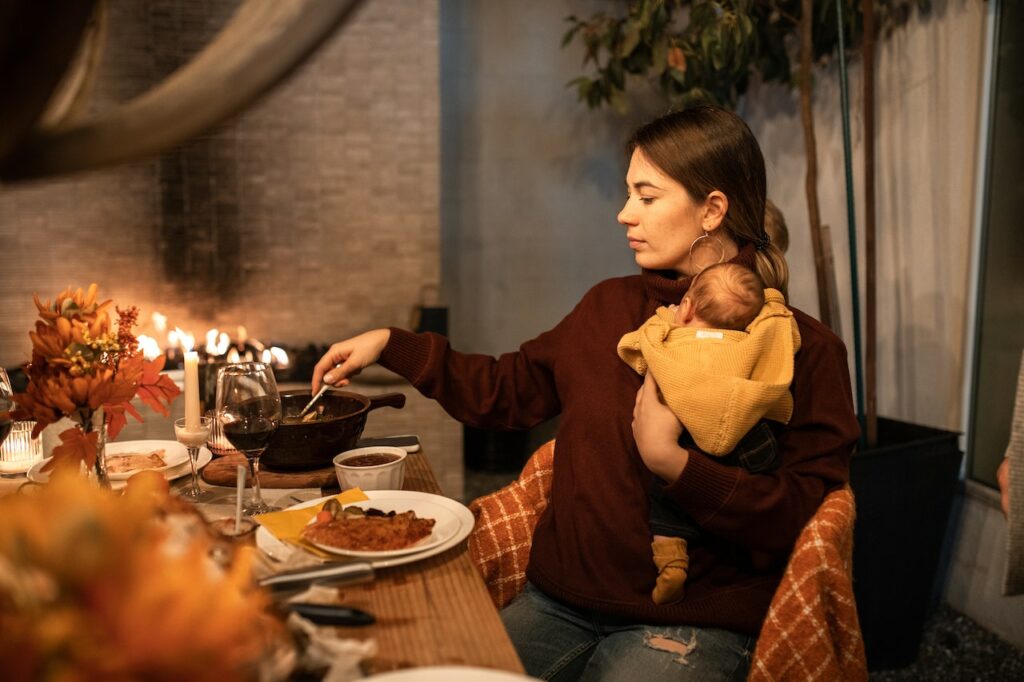 There are few things more hectic than being a new parent. Suddenly, you have a tiny human being relying on you for everything–and it can be tough to keep up!
One way to take some of the pressure off is to sign up for a meal delivery service. Meal delivery for new parents can help you focus on taking care of your baby, and let someone else worry about what's for dinner!
But with so many meal delivery services out there, it can be hard to decide which one is right for you. To make things easier, we've put together a list of the best meal delivery services for new parents.
The Best Meal Delivery Services For New Parents
Meal delivery services can take some of the stress out of dinnertime by doing meal planning and shopping for you! There are a bunch of plans and packages that make for a great meal delivery service for new parents to choose from.
This can be great for couples with newborns. If you know a new family, you can select from a number of meal kit delivery services to help them out. A meal delivery gift for new parents is certainly, and always, an appreciated gesture that is practical, affordable, and–of course–tasty!
Benefits of Meal Kit Delivery Services For New Parents
One of the benefits of meal delivery for new parents is that there are plenty of different services to choose from, so you can find one that fits your taste and budget. And with most services, you can customize your order to make sure you're getting the meals you want.
Another benefit of meal delivery services is that they allow you to make healthier food choices. With so many unhealthy options available, it can be hard to know what to cook for dinner.
But when you have healthy meals delivered to your door, it's easier to make good choices. Food delivery for new parents is an especially easy way to get good, healthy meals for the whole family in an affordable and stress-free way!
How Meal Kit Delivery Services Save You Money And Time
Meal delivery services can also save you time and money. Instead of spending time you don't have shopping and cooking every day, you can have everything you need delivered right to your doorstep!
And since you're only paying for the meals you order, you can save money compared to buying your food at the grocery store.
If you're looking for a hassle-free way to get dinner on the table, consider a meal delivery service. With the benefits of convenience, healthy options, and cost savings, buying a meal kit delivery service can reduce stress and free up the oh-so-precious time.

Feel free to browse our informational page on the benefits of meal kit delivery services if you'd like to learn more. We also have a great resource available that talks about the best mealkit delivery services for families, too! You never know when you might need that extra hour in the evening.
1. Gobble
Our first choice for the best meal delivery service for new parents is Gobble, on the merit of the flexibility, pricing, and variety of menu options.
Gobble is a meal delivery service that offers pre-prepared, healthy meals that can be ready in just 15 minutes. That means you can have a nutritious meal on the table without having to spend hours in the kitchen.
In addition to saving you time, Gobble can also help you save money. Because all of the ingredients are pre-measured and portioned, there's no need to worry about food waste.
And, if you're cooking for two, you can choose to have Gobble deliver enough food for four meals, so you'll have leftovers for lunch or dinner the next day.
Best for culinary variety
Another benefit of Gobble's meal kits is that they can help you expand your culinary repertoire.
If you're tired of making the same old meals week after week, Gobble's variety of kits can help you explore new cuisines and flavor profiles.
Speaking of which, Gobble provides a number of kits that cater to various nutrition preferences and flavor profiles. And, because all of the ingredients are pre-measured, you don't have to worry about making a mistake and ruining your meal.
Meal Delivery Options
Gobble has a number of options that can cater to new families and are beneficial services for food delivery for new parents. There is a variety of options to choose from, but some of the most popular are the Classic Plan and the Lean and Clean Plan.
If you are interested in learning more about how Gobble's meal kits work, feel free to check out our informational piece on How It Works!
Dietary Preference Options
Gobble offers a few different options so that you can choose whichever dietary preference best suits your needs.
The classic dinner plan features a variety of dishes and sides, both meat and non-meat, and are quite delicious.
The Lean & Clean plan offers meals for under 650 calories, low-carb options, and features meals packed with vegetables, less-fatty meat, and heart-healthy grains.
Finally, vegetarian customers can also benefit from Gobble's vegetarian meal kit, which features nutritious and delicious plant-based recipes.
2. Blue Apron
Blue Apron is another great option if you are interested in choosing a meal kit delivery service.
They feature a number of plans, filled with delicious fresh foods, and a number of different plan options. These include 2-4 person meal plans, kit packages designed for families, and all sorts of other options.
Best for Sustainability
By rocking with Blue Apron's meal kit delivery service, you can be sure that you are supporting a company that is committed to sustainability, from sourcing ingredients from responsible farmers to minimizing food waste.
Meal Delivery Options
The company offers two meal plan options for subscribers: a 2-person plan and a 4-person plan.
Both plans offer a variety of recipes to choose from each week, with the option to swap out recipes based on personal preferences. The 2-person plan is perfect for couples or small families who are looking for a hassle-free way to get dinner on the table.
The 4-person plan is ideal for families or groups of friends who want to cook together. Regardless of which plan you choose, Blue Apron makes it easy to enjoy delicious, home-cooked meals without spending hours in the kitchen.
Dietary Preference Options
Blue Apron offers a variety of dietary preference options to suit every type of eater. Whether you're a vegetarian or trying to eat more mindfully, Blue Apron has a plan for you.
Blue Apron's vegetarian meal plan offers a variety of delicious and nutritious plant-based meals that are sure to please even the most discerning eater.
If you're looking to eat more mindfully, Blue Apron's Mindful Meals plan is perfect for you. With options like roasted salmon with quinoa and roasted vegetables, you'll be getting all of the nutrients you need without sacrificing flavor–delicious!
3. HelloFresh
Our final candidate is HelloFresh. The company is best known for its convenient meal kits, which provide everything needed to make a delicious and healthy meal in one box.
HelloFresh offers a wide variety of meal kits to suit any taste, and its flexible subscription plans make it easy to get exactly what you need. Whether you're a busy professional looking for quick and easy weeknight dinners or a foodie who loves to try new recipes, HelloFresh has something for everyone.
Best for Variety
HelloFresh is a meal kit delivery company that is best known for its wide variety of meal options.
This company offers a variety of meal plans to suit any lifestyle and budget, and its delivery service makes it easy to get fresh, healthy meals on the table without any hassle.
Meal Delivery Options
You can find just what you need by selecting one of HelloFresh's many plans, all of which are a great way to get started with meal delivery for new parents.
HelloFresh offers family packages, meal-kit plans for up to 4 people, and a variety of recipes and free bonuses with each order. Among the benefits of HelloFresh's ever-changing menu, each recipe is crafted and designed by reputable chefs, and offers more than 20+ meals to choose from each week. Talk about variety!
Dietary Preference Options
HelloFresh also offers dietary preference options, such as gluten-free and vegetarian mealkit plans. You can also get low calorie and traditional meat-and-veggie options from this company, so you can always find exactly what you want!
Help the New Parents In Your Life With Postpartum Meal Delivery
If you want to help new parents in your life, one of the best things you can do is sign them up for a postpartum meal delivery service. This will take a load off of their plate (literally!) and allow them to focus on bonding with their new baby.
You can even include a note with your gift by letting them know that you're there for them and are happy to help out however you can.
Speaking of gifts–and how great it can be to sign up some friends or loved ones with a meal delivery gift for new parents–Gobble offers delivery gift cards to make the process that much easier.
If you're interested in giving the gift of food with meal delivery gift cards, definitely consider it! If you were or are a parent, you know how much help that extra hour or two at the end of the day can be. That being said, a postpartum meal delivery service may just be the perfect gift!