The 4 Best Meal Delivery Services for Pregnancy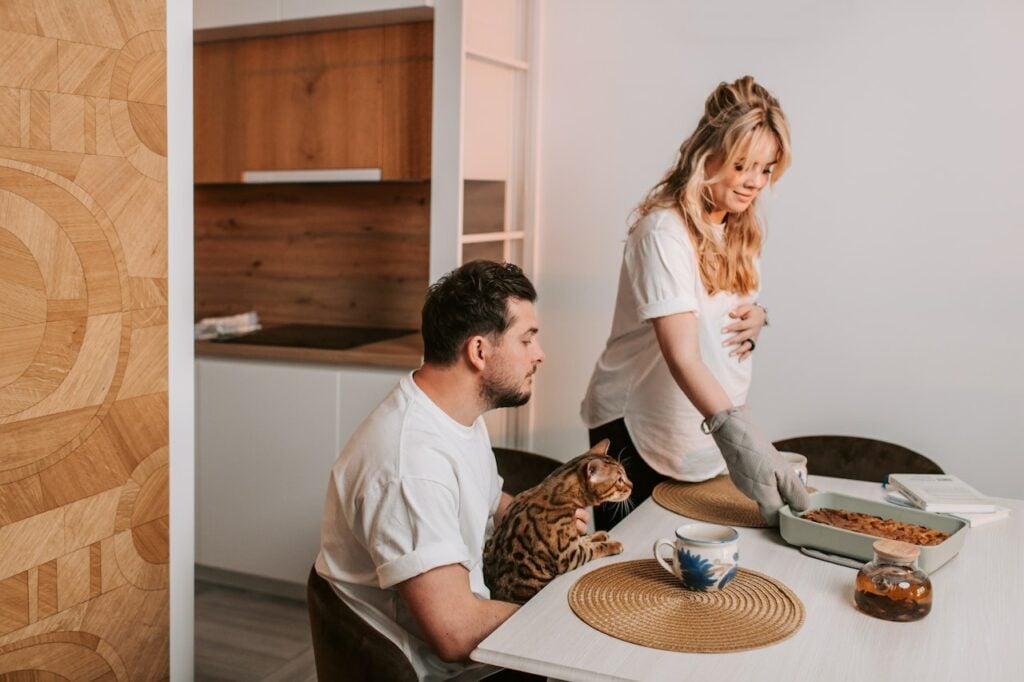 Congratulations! We're glad you made it here. As you know, the pregnancy journey comes with a lot of new experiences, emotions, and decisions, and you deserve to have all the support need. We realize figuring out what's best for you and your growing baby can eat up a ton of time— especially when it comes to meal planning. Some days will undoubtedly be filled with cravings while other days can feel like a neverending attempt to fit healthy nutrition into a morning sickness-filled day. To help make this part of the process easier, we want to highlight some of the trustworthy (and yummy) best meal delivery services for pregnancy that have proven to be both nutritious and dripping with flavor. Get ready to meet your new go-to's. 
Our Top Picks for Meal Delivery for Pregnant Moms
1. Best Pregnant-Specific Service: Kitchen Doula
Kitchen Doula is like a trusted friend in the world of meal delivery for pregnancy, designed exclusively with expecting and postpartum women in mind. Their team is a powerhouse of nutritionists, doulas, and certified chefs – all with one mission: to make Meal Delivery For New Parents as painless and yummy as possible. They make their intentions clear; they are committed to the good stuff – think organic, plant-based, and nutrient-packed ingredients that check all the boxes for the nutrition you need as a new or soon-to-be mom. No matter your dietary needs, there's probably something for you. Kitchen Doula dishes are the answer to gluten-free, dairy-free, and refined sugar-free wishes, so you can savor every bite without worry. Whether you're riding the waves of pregnancy or savoring the early moments of motherhood, Kitchen Doula, some of the best meal delivery for pregnancy, has your back, serving up meals that not only fill your tummy but also warm your heart.
Plans and Pricing
They also offer an array of different meals with prices starting at $10 per serving, and if you're in a snack mood or are craving a refreshing drink, Kitchen Doula lets you add those to your order for a little extra. Who doesn't love a fun drink?
What sets Kitchen Doula apart as one of the best meal delivery services for pregnancy is that they have packages you can order that will get you through your postpartum phase. With the Stock The Freezer Package ($160), you can get pregnancy meals delivered by choosing three soups, two stews, two frozen snacks, and one frozen breakfast item. The New Mama Package ($165) and Extra Pampering Package ($260) follow the same spirit, just with a bit more to offer.
2. Best For Gourmet & Fast Meals: Gobble
Gobble is the perfect meal delivery for pregnancy. Their gourmet meal plans, top-quality ingredients, and health-conscious approach may be all that you need during your pregnancy journey. With their range of meals designed to minimize cooking time (only 15 minutes!), while never compromising on flavor or nutrition, Gobble takes the cooking wheel while you stay present and enjoy the big and small moments of pregnancy.
They take pride in sourcing fresh, local ingredients, ensuring that each dish is packed with the nutrients both you and your baby need. They have so many options that meet your nutritional requirements AND help satisfy those intense cravings with joy. Gobble's dedication to crafting wholesome and delicious meals makes it one of the best meal delivery services for pregnant women, providing nourishment and convenience during this life-changing moment in time.
Plans and Pricing
Gobble offers a range of flexible plans (you can pause at any time) and pricing options to cater to anyone's needs.
Classic Plan: Three dinners per week for two people at $71.94
Family Plan: Priced at $143.88, the Four-Person Plan ensures three dinners per week for four people.
Vegetarian Plan : Same price as the classic plan, $71.94, Gobble's vegetarian plan offers three vegetarian dinners for two people per week.
Lean & Clean Plan: Priced at $71.94, it offers three dinners per week for two people, each under 600 calories per serving, featuring lean proteins and wholesome ingredients.
3. Best Frozen Options: Daily Harvest
Daily Harvest is the ultimate frozen option for meal delivery for pregnant moms. Imagine having a freezer stocked with chef-crafted, farm-frozen goodness that's specifically designed to nourish both you and your little one. With an endless amount of options spanning smoothies, harvest bowls, flatbreads, and more, you can feel safe knowing every bite is made with organic, thoughtfully sourced ingredients that are loaded with vitamins and nutrients. The real kicker? Their meals are pre-portioned, taking the guesswork out of portion control and ensuring you get just what you need.
Plus, Daily Harvest goes above and beyond to cater to your unique cravings and needs – they offer a range of options that are gluten-free, dairy-free, and tailored to various dietary preferences. So, whether you're fueling up for the busy day or looking for something sweet and filling, Daily Harvest fills your freezer with delicious, convenient, and nutritious choices that'll add to your pregnancy glow with every bite.
Plans and Pricing
Daily Harvest has several plans, including a 9-cup plan and a 24-cup plan, with prices ranging from $7.75 to $8.99 per cup. This is one of the Benefits Of Meal Delivery Services that are wonderful for pregnant women because you can pause or cancel your subscription anytime, making your life just that much more flexible.
4. Best For Comfort Foods: Sunbasket
If you're looking for meal delivery for pregnant moms that offers comforting and satisfying food, Sunbasket is the way to go. With their emphasis on high-quality ingredients and diverse flavors, their menus are known to satisfy cravings while still providing the necessary nutrients for a healthy pregnancy. Whether you're looking for comforting soups, packed salads, or more substantial meals, Sunbasket has got you covered as one of the best meal delivery services for pregnancy.
You won't have to compromise flavor for nutrition either, as all their meals are packed with fresh, organic, non-GMO ingredients. And with the convenience of door-to-door delivery, pre-labeled ingredients, and step-by-step instructions, there's no need to worry about making round trips to the supermarket–you can have your loaded mac-n-cheese in the comfort of your own home.
Plans and Pricing
Sunbasket offers a range of plans, including Fresh & Ready meals, Classic meals, and Family meals, with prices ranging from $10.99 to $12.99 per serving. You have the option to modify your subscription, skip a week, or cancel if it gets to be too much for you.
From Cravings to Comfort: Embrace Pregnancy's Culinary Joys with Confidence
Listen, we know embarking on the journey of pregnancy brings a whirlwind of emotions, and mealtime is no exception. We understand that finding comforting, delicious, and nutritious meals can be a challenge amongst all the tough and uncomfortable changes that come with growing a baby.
Whether you're seeking a friend in the form of Kitchen Doula, a gourmet and time-saving solution with Gobble, the convenience of Daily Harvest's frozen delights, or the comfort of Sunbasket's nourishing creations, each service has a unique offering tailored to your needs. You don't have to endlessly google How To Choose The Right Meal Kit Service. With convenience, flexibility, and stomach-growling options, these best meal delivery services for pregnancy are your allies in embracing this beautifully transformative phase, ensuring that every bite is a step toward nourishing both you and your baby.