April Menu Highlights
New month, new recipes! Our April menus are full of bold, bright flavors that celebrate the Spring season. We've rounded up some of our favorites, and with Personalize It! and Double Up there are even more possibilities than before! Some of our monthly highlights include: a Lean & Clean Vietnamese Lettuce Spring Rolls with Ground Turkey, a vegetarian Sheet Pan Broccoli Bohemian Bowl with Chickpeas, Tahini, and Feta Cheese, and a Balsamic-Glazed Sirloin Steaks with Oven-Roasted Parmesan Zucchini Wedges. Here's an inside look into what we're excited to cook up: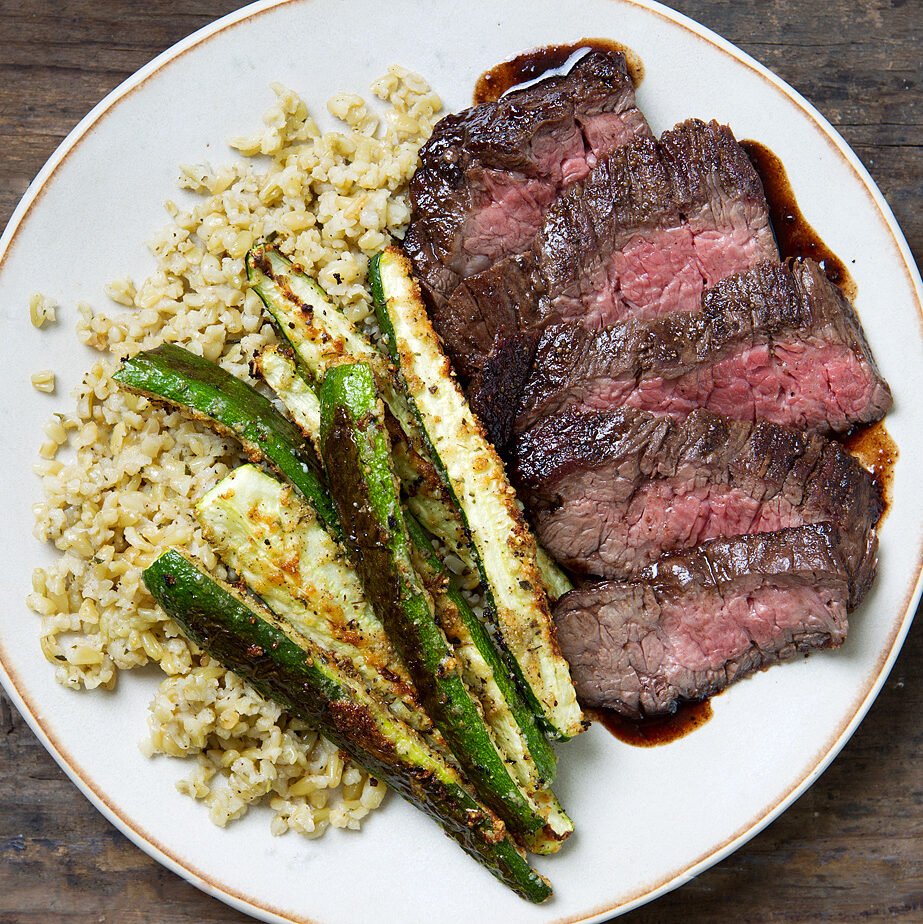 Balsamic-Glazed Sirloin Steaks with Oven-Roasted Parmesan Zucchini Wedges: You'll be all smiles at work knowing this balsamic-glazed sirloin steak dinner awaits you. The sweet and tangy balsamic glaze brings a depth of flavor to the steak and our zucchini fries are made extra tasty with a zingy lemon pepper Parmesan crust. It's served with wholesome Japanese barley for a deliciously nutritious meal.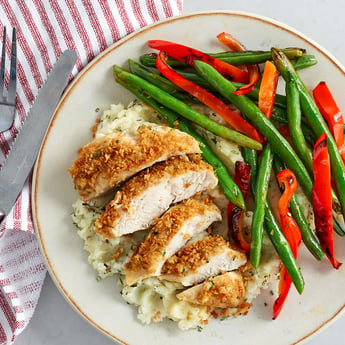 Roasted Garlic Pesto-Crusted Chicken with Rosemary Mashed Potatoes with Vegetables: This simple and delicious meal is packed with flavor. The star of the show is the beautiful chicken breast crusted with our mouth-watering roasted garlic pesto. It's served over velvety mashed potatoes with hints of aromatic rosemary, and a side of seasoned, tender-crisp green beans and pepper strips completes the meal.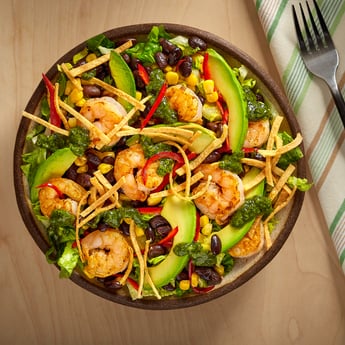 Lean & Clean Sautéed Shrimp Taco Salad with Avocado, Black Beans, & Crispy Tortilla Strips: This refreshing dinner salad features plump pan-seared shrimp over crisp romaine lettuce. It's tossed with sliced avocado, black beans, red bell peppers, sweet corn, and fresh cilantro. Tortilla strips add a delicious crunch to this satisfying meal.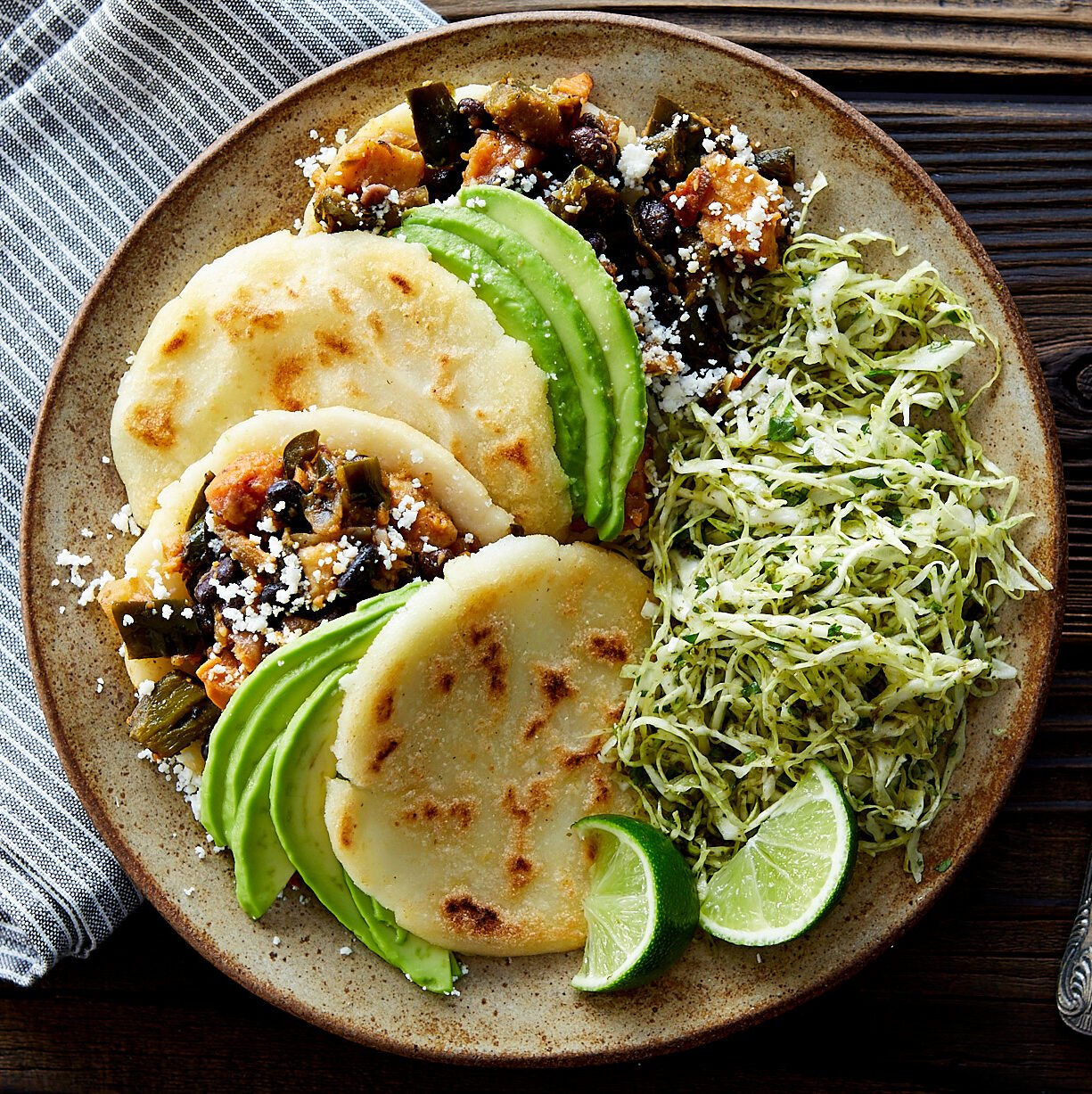 Corn Flour Arepas with Sweet Potato & Poblanos: Arepas are a Venezuelan delight, and ours are the perfect vegetarian dinner! Picture this: Pan-fried golden brown corn cakes, creamy black beans, sweet potato hash with a spicy kick, and crunchy cilantro cabbage slaw. Like we said — delightfully perfect!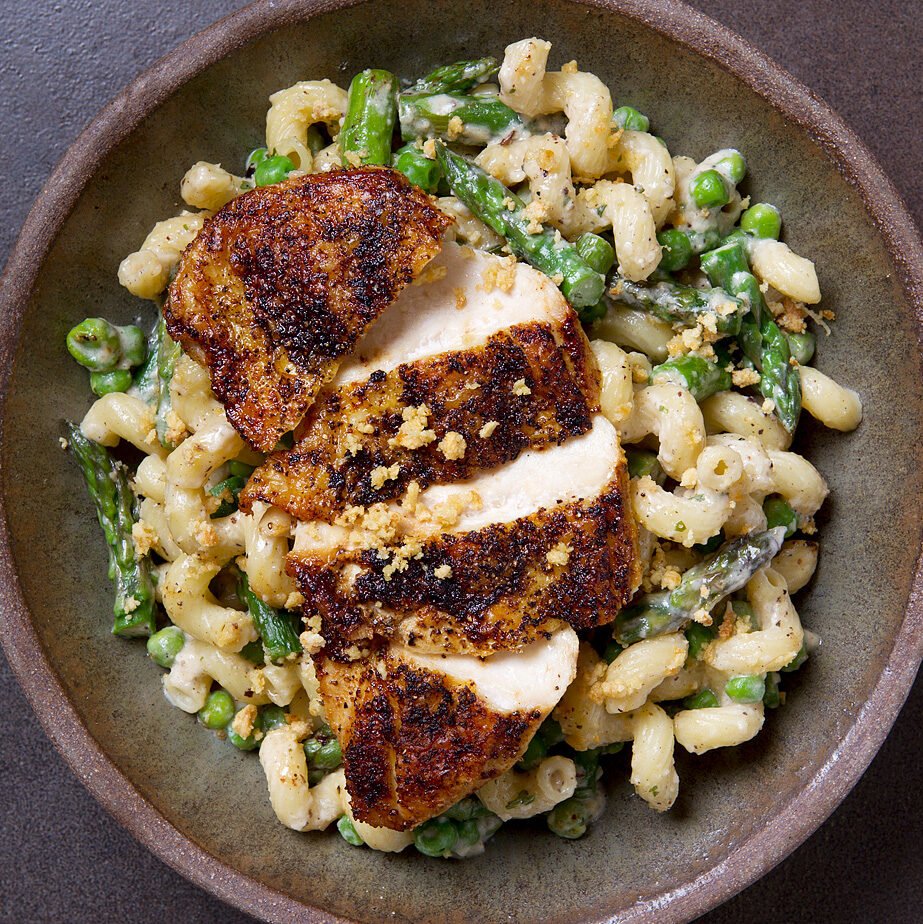 Lemon Pepper Chicken with Cavatappi Pasta & Creamy Garlic Sauce: Our lemon pepper chicken and pasta is the so-creamy-it's-dreamy dinner you didn't know you needed. We seasoned the chicken with zesty lemon pepper and pan-roasted it to get a perfectly crispy crust. A rich, delicious roasted garlic cream sauce flavors the cavatappi pasta, tender asparagus tips, and sweet green peas.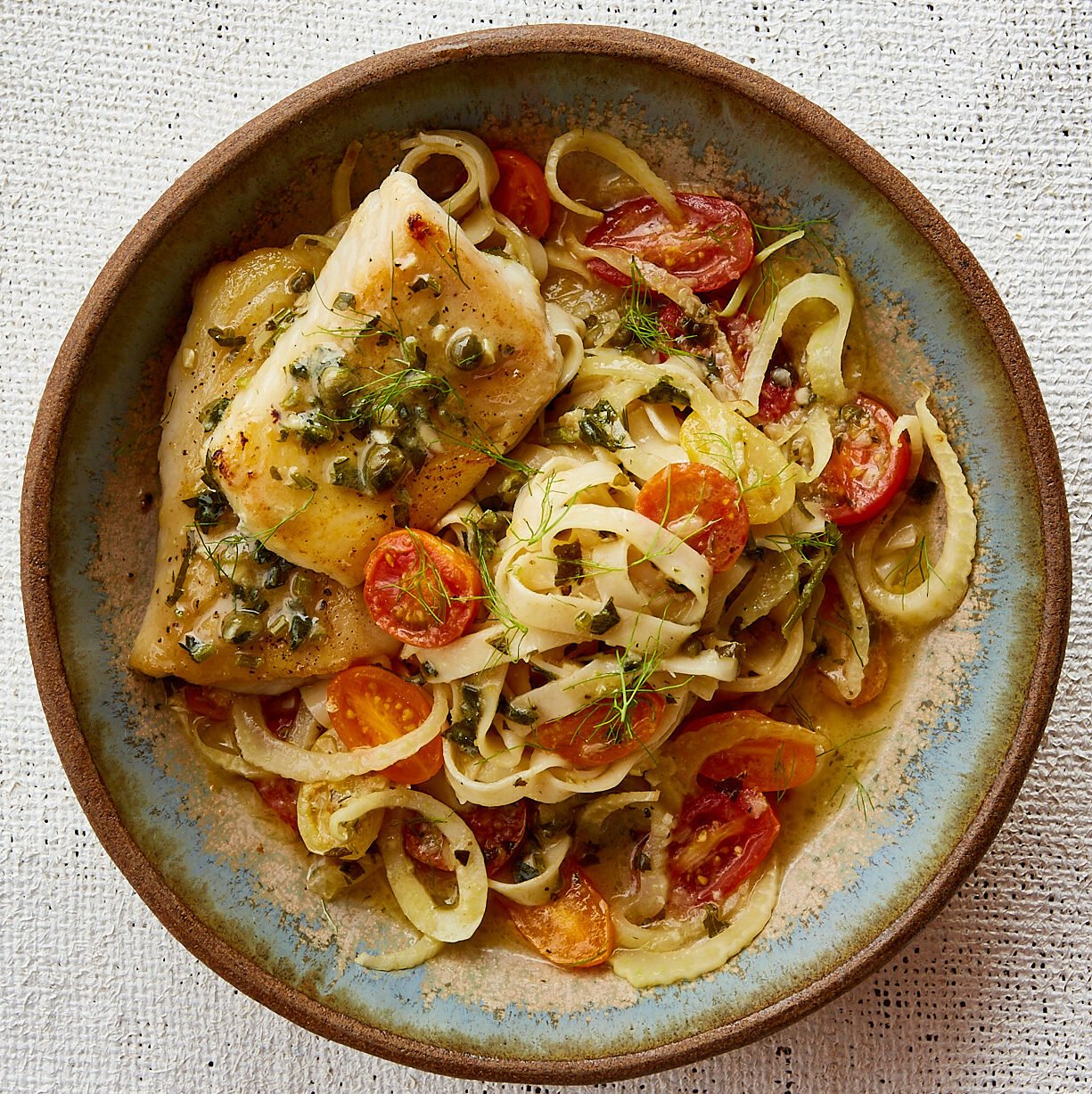 Halibut with Fettuccine & Italian Salsa Verde Premium Dinner: This lovely dinner combines comforting pasta with gourmet flavors. We chose mild and flaky halibut fillets and pan-seared them to perfection. They're paired with fresh fettuccine and pan-roasted fennel, cherry tomatoes, and a delicious Italian salsa verde. A bright lemon parsley butter adds the final burst of flavor to this elegant meal.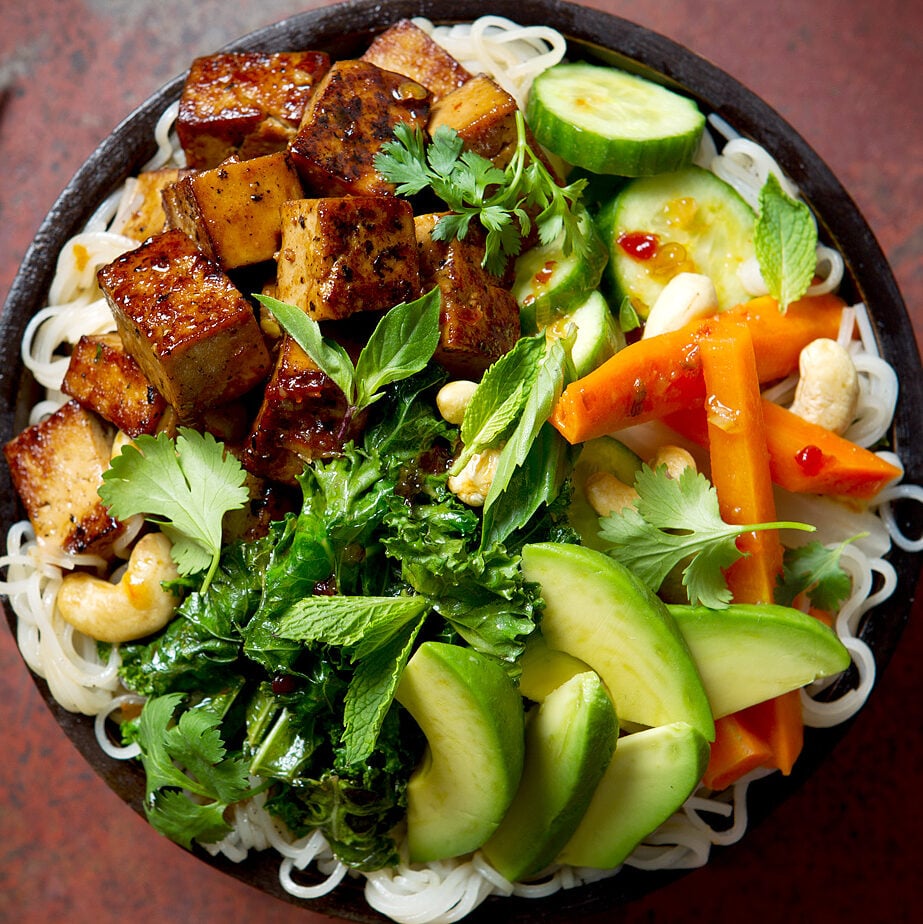 Lemongrass Tofu Rice Noodle Bowl with, Avocado & Pickled Vegetables: This delicious rice noodle bowl features five-spice and lemongrass confit seasoned tofu glazed in a soy tare sauce, crisp cucumbers, and tangy pickled veggies, all tossed in a vibrant nuoc cham vinaigrette. It's garnished with avocado, fresh mint, and beautiful Thai basil.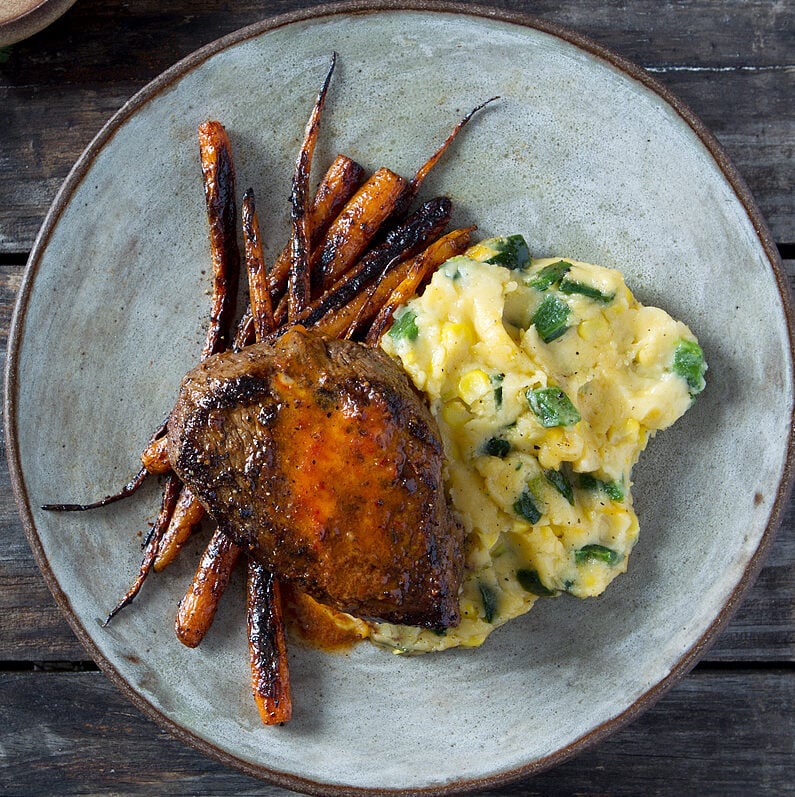 Blackened Top Sirloin Steaks with Corn & Poblano Mashed Potatoes & Roasted Baby Carrots: Our gourmet spin on the classic steak-and-potatoes dinner features succulent pan-roasted sirloin steak coated in flavorful blackening spices. A perfect mix of cheese, poblano peppers, and corn jazz up our pillowy mashed potatoes. A spicy tomato chipotle butter adds 5-star flavor to the steaks, and a side of roasted carrots balances the meal with a delicate sweetness.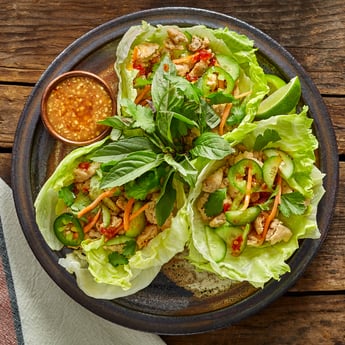 Lean & Clean Vietnamese Lettuce Spring Rolls with Ground Turkey: Our tasty Vietnamese spring lettuce rolls feature seasoned ground turkey, crisp cucumbers, shredded carrots, and spicy peppers, all wrapped in a refreshing lettuce roll. Garnish with aromatic Thai basil and dip the rolls in the sweet and tangy sauce for a light, satisfying meal.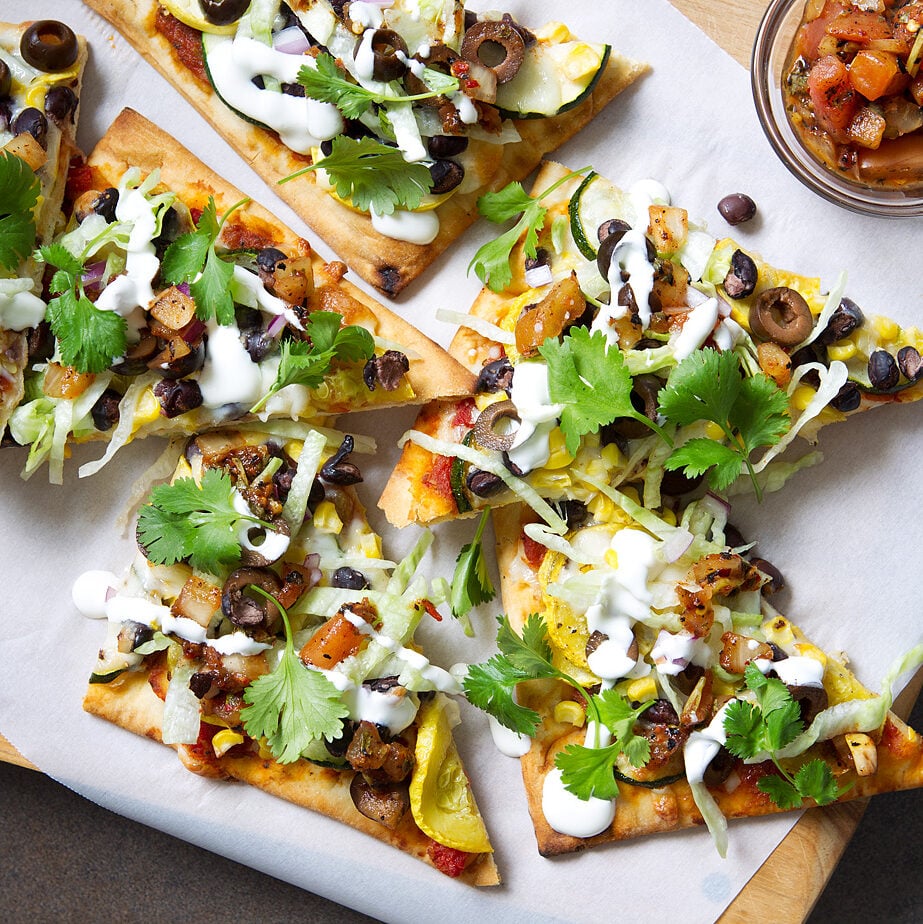 Mexican Squash Flatbread with Cotija Cheese & Black Beans: Our rustic vegetarian Mexican flatbread is a hand-held fiesta of flavors. The flatbreads start with a layer of refried black beans and then are topped with chipotle marinated squash, corn, black olives, cotija cheese, and shredded Mexican cheese. A drizzle of sour cream and fresh cilantro add a refreshing zing to this South-of-the-border dinner kit.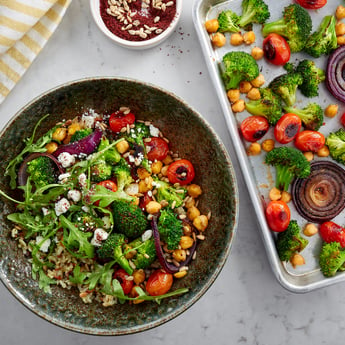 Sheet Pan Broccoli Bohemian Bowl with Chickpeas, Tahini, and Feta Cheese: Enjoy the healthy bohemian vibes that come with this veggie-packed bowl! It features a vibrant mix of broccoli, grape tomatoes, and garbanzo beans seasoned with citrusy sumac. Creamy feta cheese, lemon tahini dressing, and herbaceous lemon gremolata complete this delicious meal.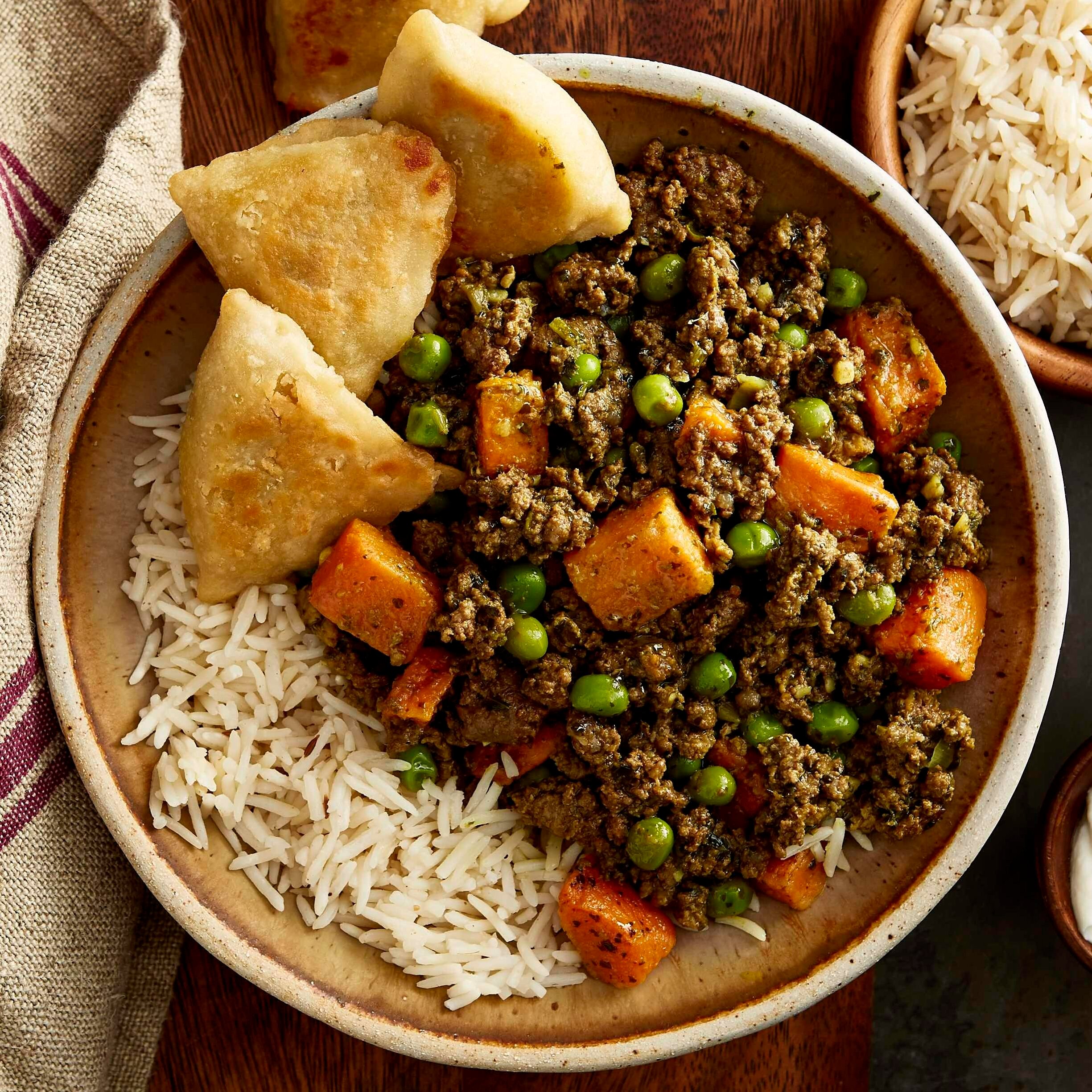 Curried Beef Bowl with Basmati Rice & Mini Samosa for Four: This is the type of comforting, tasty meal that should be shared, so we've included 4 servings for this family dinner. Gather up your friends or family and treat them to a warm, fragrant bowl of curried beef with basmati rice and an authentic cilantro chutney. If there is anyone in your life you're trying to impress, give them an extra samosa and watch them fall in love.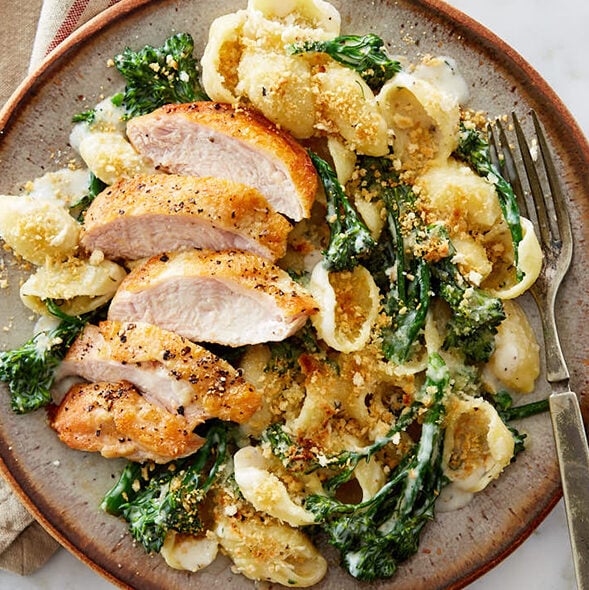 Pan-Roasted Chicken with Broccolini & Cheddar Macaroni & Cheese: This is macaroni and cheese for grownups with great taste. It features crisp and juicy pan-roasted chicken over a bed of fresh pasta with tender-crisp broccolini and a rich and creamy bechamel sauce. It's topped with salty, savory, and satisfying Italian breadcrumbs so every bite is delicious perfection.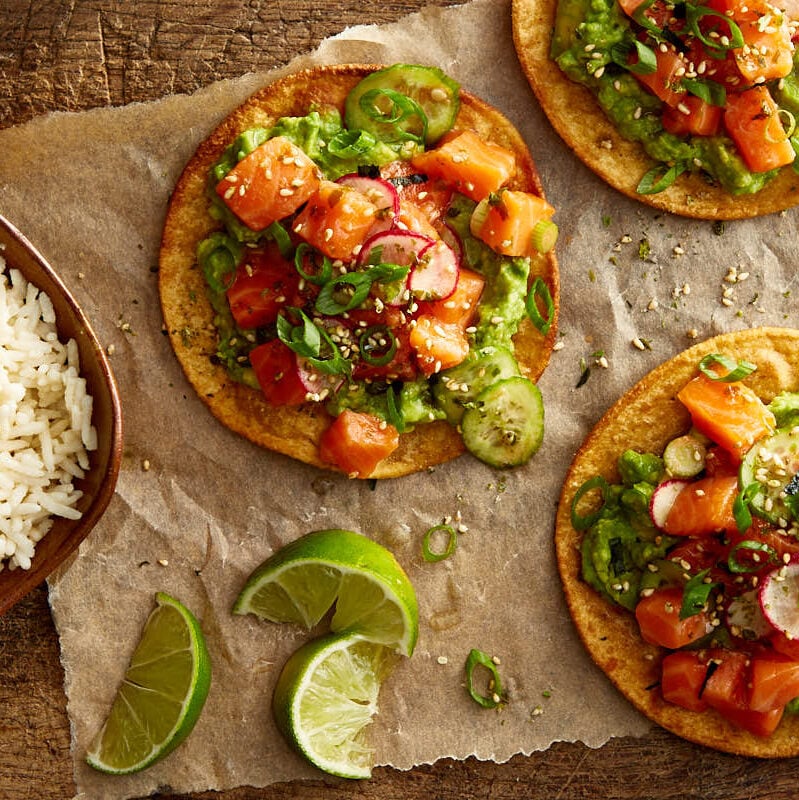 King Salmon Poke Tostadas with Avocado & Coconut Rice: Hawaiian, Mexican, and Japanese cuisines combine in this delicious fusion dinner. King salmon marinated in our sweet and savory poke sauce is served on crispy corn tostadas with mashed avocado, cucumber, and salty-sweet furikake seasoning. A side of fragrant coconut rice completes this light and satisfying dish.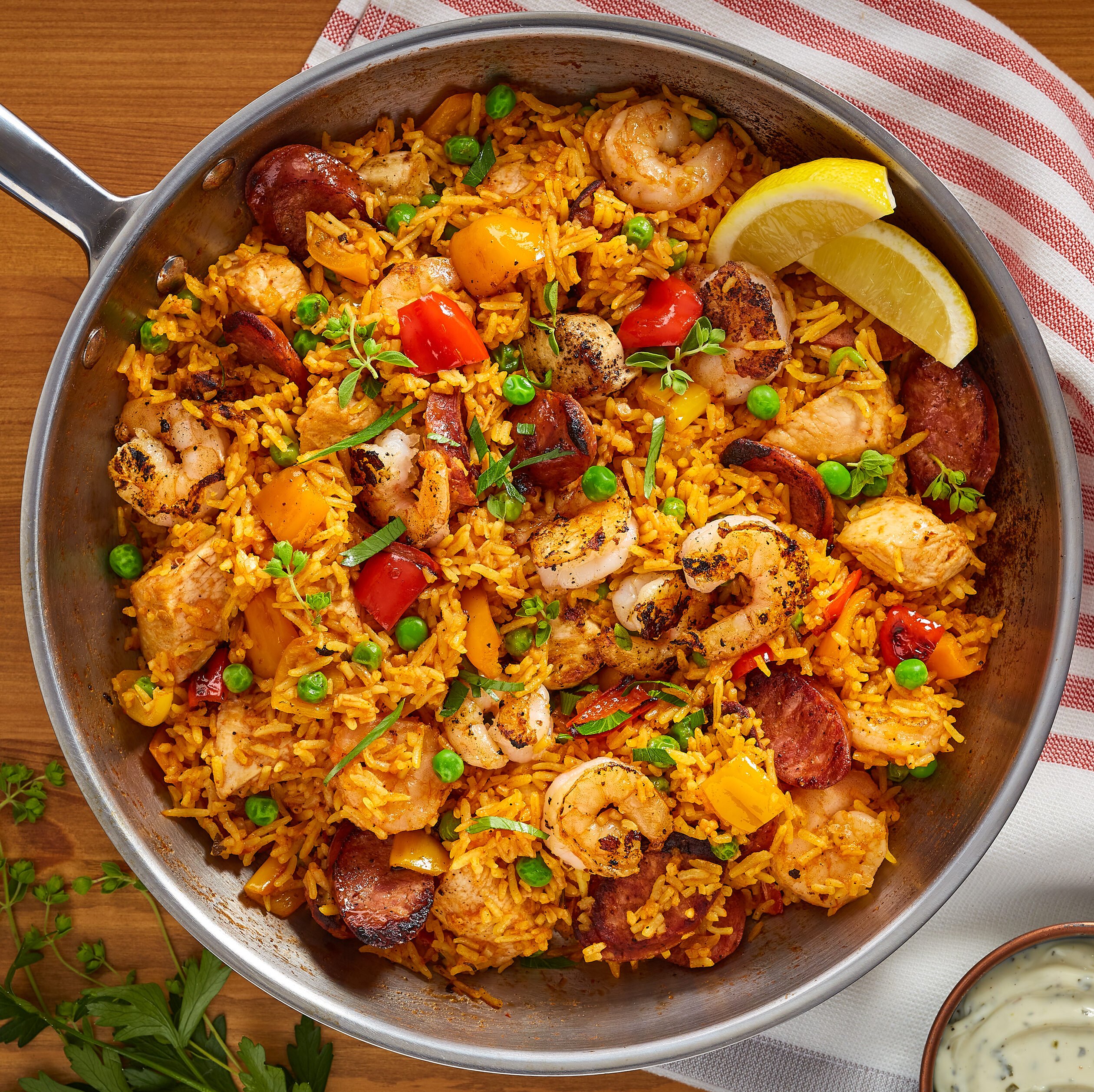 Spanish Saffron Rice Paella with Chicken, Sausage, and Shrimp for Four: Paella is a soul-warming dish from Valencia, Spain, and it's the perfect family meal. It's full of juicy chicken, plump shrimp, and flavorful sausage on top of rice seasoned with saffron and Spanish spices. Your family will be shouting, "Olé!" after just one bite.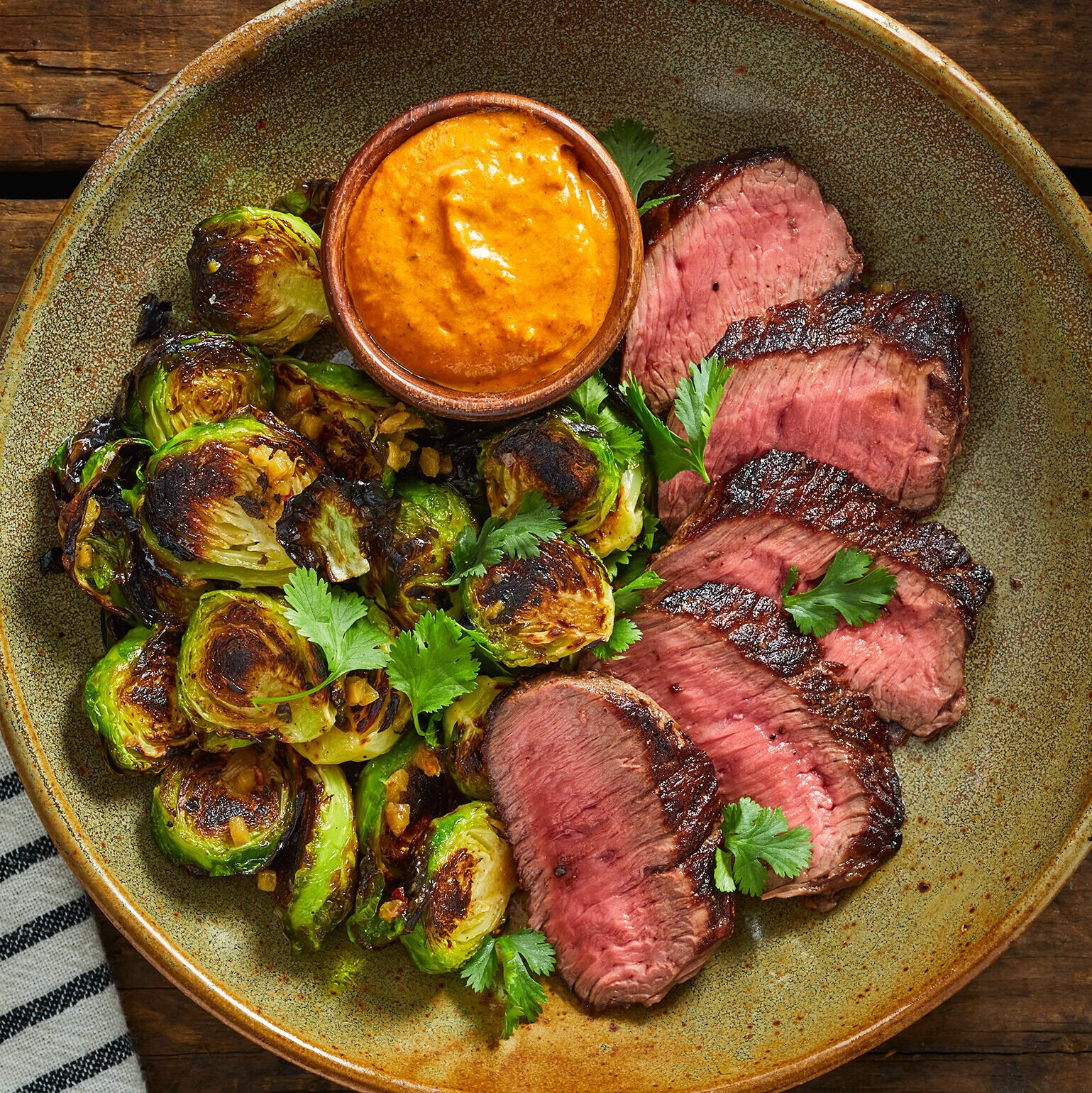 Lean & Clean Seared Sirloin Steak with Roasted Brussels Sprouts & Peruvian Chili Dipping Sauce: This dinner features strips of succulent, pan-seared steak. It's served with a side of Brussels sprouts that we pan-roasted for deep, caramelized flavor. Our boldly flavored Peruvian chili sauce is the perfect, can't-stop-eating-it dip for the steak and sprouts!