Sympathy Meal Delivery For a Grieving Family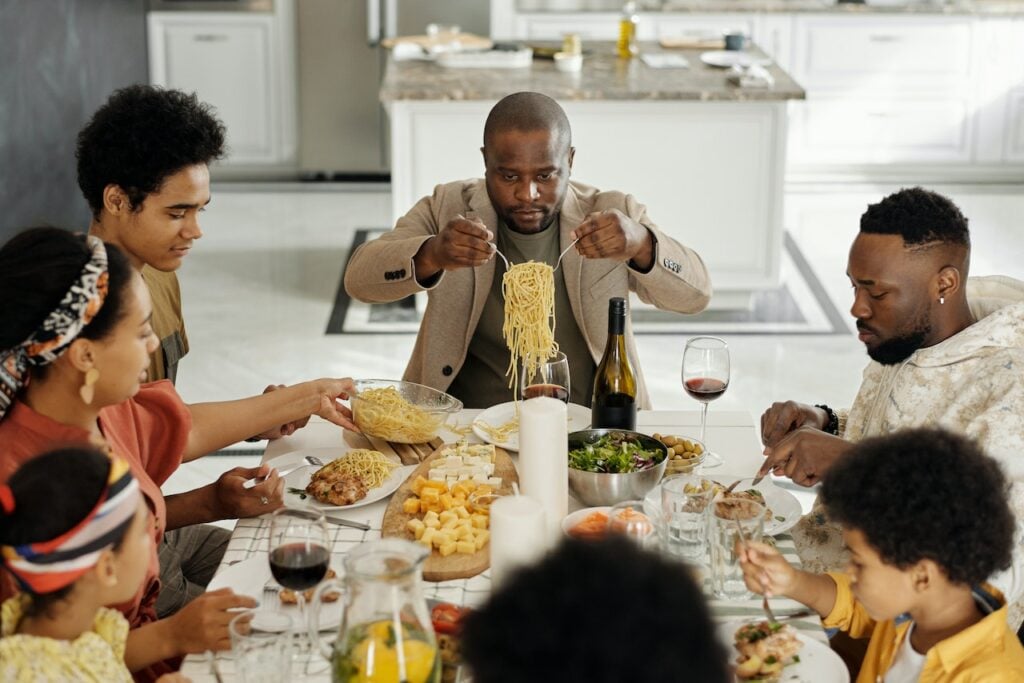 The past few years have been rough for everyone. Sickness, job loss, relocation, and hard times have affected communities worldwide. Sympathy meal delivery is the perfect way to show support and affection to someone you love. 
Food has the ability not only to fill the belly, but fill the spirit with joy. Many of our fondest memories can be triggered by a familiar smell, taste, or sensation associated with food. These memories can help bring positivity and happiness into an otherwise dismal or tragic situation.
Sympathy meal delivery can help you effortlessly feed your loved ones who might be experiencing difficult times. Having meals delivered means that your grieving family or friends have one less meal to worry about, shop for, and prep. Meal delivery for a grieving family is a small way to show your big feelings.
What to Send to a Grieving Family
When deciding what to send to a grieving family, many of us first think of cards, flowers, or gift baskets. While these may all be simple and thoughtful, cards and flowers are not very useful, other than getting a message across. Sending meal delivery for a grieving family is a helpful way to show your condolences while fulfilling a need that everyone has – eating.
Sending sympathy food delivery will show your loved ones that you care, and want the best for them. Giving a meal is easier than ever, and sure to brighten your loved ones' day.
Read more about the Benefits of Food Delivery Services when deciding what to send to a grieving family.
How to Send a Meal to a Grieving Family
Sending sympathy meal delivery is made simple with Gobble. Food can be delivered to your loved ones' door in 4 simple steps:
Pick the meals
Select from our wide variety of menu options. We offer both low-carb and vegetarian meal delivery with 15 different weekly dinner options.
We do the work
Our professional team of chefs does all the magic, with no prep work or dirty dishes to worry about. Just perfectly portioned ingredients, ready to go.
Delivery arrives
The hand-picked meals get delivered wherever you choose, right to your loved ones' door, whenever it is convenient for them.
Dinner in 15 minutes
Our meals can be fully prepared, and ready to eat in 15 minutes or less. No chopping, dicing, or measuring is required.
Gobble takes all of the logistics out of dining. Sending meal delivery for a grieving family is as simple as shopping online for the meals you want to send. We take care of the rest.
Read more about How It Works.
Considerations to think about when deciding to send sympathy food delivery
Dietary restrictions
People are more health-conscious than ever these days. The last thing you want to do is send someone a meal delivery that they don't want to, or cannot eat. Before sending sympathy meal delivery, make sure you understand the dietary needs or restrictions that anyone in the family may have.
Whether they are vegetarian, low carb, or allergic to certain foods, Gobble has you covered. Check out our Lean & Clean Plan for flavors to feel good about, or our Classic Plan to explore our countless protein combinations.
Gobble offers many options to help you decide what to send to a grieving family. Letting you feel relieved knowing that your loved ones will recieve a delicious meal, prepared just the way they want it.
Sending a card
Sometimes you want to say more than you can in a text, and the perfect way to deliver your heartfelt message is with a greeting card. Sending a personalized greeting along with a meal delivery can help to express your sympathies or offer an encouraging message. A small gesture like a greeting card can go a long way to show someone you care. Greeting cards can come with pre-written messages, or space to write your own hand-written letter.
Meal delivery gift cards
When considering what to send to a grieving family, you want to take their schedule into account. It can be difficult to coordinate schedules, especially if others want to help take care of a family's meals. Sending Meal Delivery Gift Cards can help to alleviate some of the complications with scheduling that may occur. Sending a meal delivery gift card means that your loved ones can order any meal or subscription that they choose, and at the time that is most convenient for them.
If you are having a hard time thinking of a gift for a grieving family, consider sending meal delivery gift cards to give the gift of food.
Show Your Love and Support With Comfort Food
Comfort food is named for its ability to calm the soul and wrap the consumer in a warm sense of relaxation. Flowers and gift baskets are nice but don't stand out. Sending comfort food sympathy meal delivery is a creative and thoughtful way to show someone you care. If you are hoping to show support to a grieving family. Consider sending sympathy meal delivery.