Discover the 5 Best Meal Delivery Services for Couples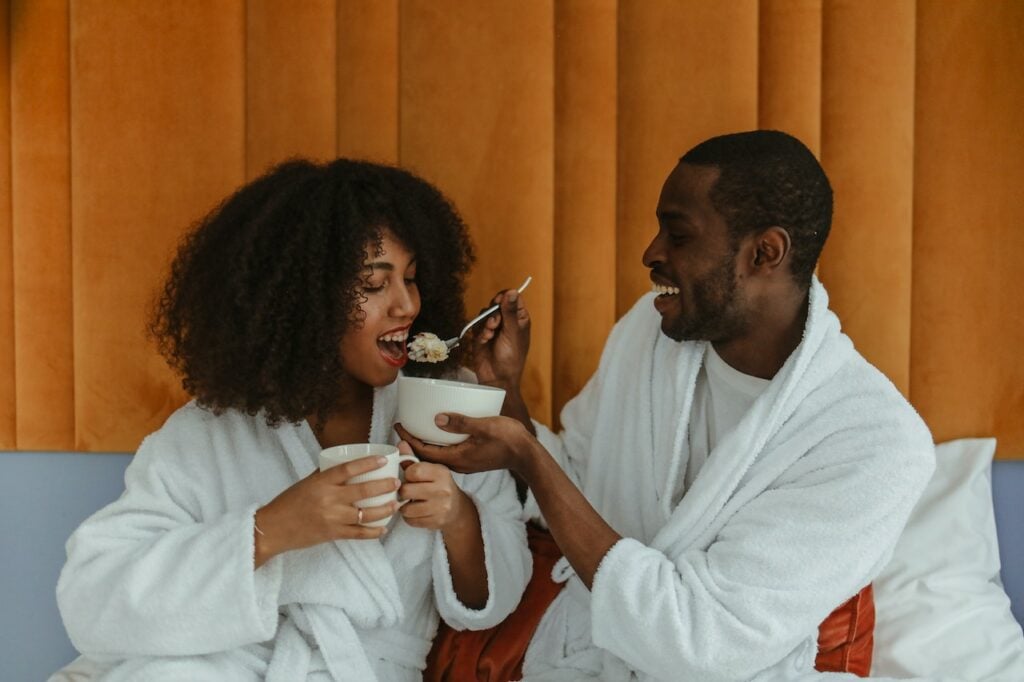 Amidst the hustle and bustle of life, especially as a dynamic duo, even the simplest tasks can feel overwhelming, and cooking is no exception. Who wants to spend their precious spare minutes slouched over the stove after a long workday? Certainly not you, and definitely not when there are so many other things demanding your attention. 
Luckily, there's an option that erases that stress entirely: meal delivery for couples. It's an option that lets you put the grocery store chaos on hold and helps you to spend more quality time together. Whether you're just starting your journey of living together or you're caught up in the whirlwind of busy schedules, you have options. Get those aprons on, explore new flavors, and discover the chefs within yourselves with these best meal delivery services for couples.
5 of the Best Meal Delivery Services for Couples
1. Best Overall: Gobble
Gobble stands out as the best meal delivery service for couples, having the perfect blend of convenience, quality, and collaboration. Cooking gourmet meals together without the hassle of prep and planning has become easier. With meals that are ready in just 15 minutes and a single pan required, Gobble brings you not only chef points but also the gift of time– time that you can spend together, uninterrupted. With date nights in the kitchen, side by side, Gobble lets you transform meal prep into a bonding experience making The Perfect Date Night Dinner. They also cater to your dynamic lifestyle, allowing you to easily pause your deliveries during work trips or last-minute vacations, saving both time and money. With Gobble, it's not just about meals; it's about making every moment count while indulging in dishes that make you both seem like away better cook than you actually are.
Price
Gobble's meal delivery for couples' cost-effective plans ensures you're not just enjoying gourmet food but also saving those precious dollars.
Their Two-Person Classic Plan comes in at just $71.94 per week, offering three nutritious dinners for both you and your partner.
The Family Plan, at $143.88, covers three meals per week for four people, and since it's just you two, that covers almost all your meals for the week.
If you have dietary restrictions, Gobble has options for that with their Vegetarian Plan and Lean & Clean Plan, so there's a little bit of something for everyone.
2. Best For Organic Ingredients: Sunbasket
For couples prioritizing organic ingredients, Sunbasket understands your cravings, offering a menu filled with organic, sustainably sourced ingredients that makes Eating Healthy On A Budget more than doable. Sunbasket's quick, pre-packaged, easy-to-follow recipes ensure you're savoring moments, not spending hours switching off in the kitchen. And when life's adventures call, Sunbasket's got your back – with the freedom to pause your meals at any time.
Price
Sunbasket has two options: their Meal Kit or Fresh & Ready option. With the Meal Kit, starting at $11.49/serving, you can customize your kit by selecting the dietary preference you follow, and they'll give you a ton of options that fall under that category. With their Fresh & Ready, starting at $9.99/serving, they do the cooking, and all you have to do is heat it up. Both options are a golden ticket to saving time and encouraging connection.
3. Best For Plant-Based Diet: Splendid Spoon
If you're looking for the best meal delivery service for couples committed to a plant-powered lifestyle and looking for a seamless blend of convenience, nourishment, and shared experiences, Splendid Spoon gets you. They offer a menu that celebrates all things plant-based, vibrant, and delicious, like their smoothies, soups, grain bowls, and noodles. Splendid Spoon's ready-to-eat meals mean you spend more time enjoying each other's company than prepping ingredients with that dull knife. Just heat, eat and repeat.
Price
Splendid Spoon has three options for you: 7 meals/week starting at $12.06/serving, 14 meals/week starting at $9.02/serving, and 21 meals/week starting at $9.37/serving. Depending on how many meals you want to share with your partner, there are savings to be had at Splendid Spoon. You're welcome to pause at any point, leaving room for those unexpected weeks.
4. Best For Prepared Food: Factor
Factor is one of the best meal delivery services for couples seeking painless and delicious meal time. As a couple streamlining their own respective busy lives into one, you're looking for a hassle-free blend of convenience, taste, and quality time. Factor comes out swinging with ready-to-eat meals that effortlessly make mealtime more intimate, making it one of the best prepared meal delivery for couples. No more cooking stress or mess, just quality time around the dinner table talking about your future plans. Factor's meals are all chef-crafted dishes that bring gourmet flavors into your home and have a variety of options to choose from. From their Chef Choice, Keto, and Calorie Smart options to their Protein Plus and Vegetarian and Vegan options, there's a little something for everyone to enjoy.
Price
From 6-18 meals a week, their price per serving starts at 10.99. If you and your partner are big eaters, hitting that 10-14 meals a week plan will ease a ton of stress on meal planning. If you're looking for a few meals a week to offset your busy schedule, 6-8 meals a week could totally benefit you.
5. Best For Frozen Food: Daily Harvest
Daily Harvest embodies high-quality, farm-frozen goodness that effortlessly fits your duo lifestyle. All their frozen meals are pre-portioned, meaning you don't have to think about mess or portions; you pop your meal in the oven, microwave, or blender. You have tons of options, like their organic and nourishing smoothies, soups, harvest bowls, oats, lattes, and more, to make your day a little easier. And honestly, carving out time together doesn't always have to mean dinner. Instead of planning dinner, why not create a morning routine together while enjoying one of Daily Harvest's smoothies and a latte? The best part, they can all live in the freezer. So you can have plenty of room in the fridge when you decide to be cooks for a night.
Price
Daily Harvest's prepared meal delivery for couples' prices are tailored to suit both your tastebuds and your budget. With various options, you can indulge in chef-level frozen goodness starting at just $7.75 per cup. You're free to pause or cancel your meals at any point, making Daily Harvest a great option for busy individuals.
From Gobble to Daily Harvest: Find Your Ideal Couple's Culinary Companion
Meal delivery services are a great way for couples to save time and energy while still enjoying a meal together. While yes, it can be tough to figure out How To Choose The Right Meal Kit Service Service that meets your needs. However, Gobble seems to have it all. From their affordable pricing to flexible plan options, Gobble has something for everyone – no matter what type of cooking style you prefer. With all of the great options out there today, like SunBasket, Splendid Spoon, Factor, and Daily Harvest, couples can find a service that fits their dynamic like a glove – from organic ingredients to plant-based diets and frozen meals. Whether you're looking for convenience or want to spend more quality time in the kitchen, there is something out there that is perfect for you.