The Perfect At-Home Date Night Dinner For Beginner Chefs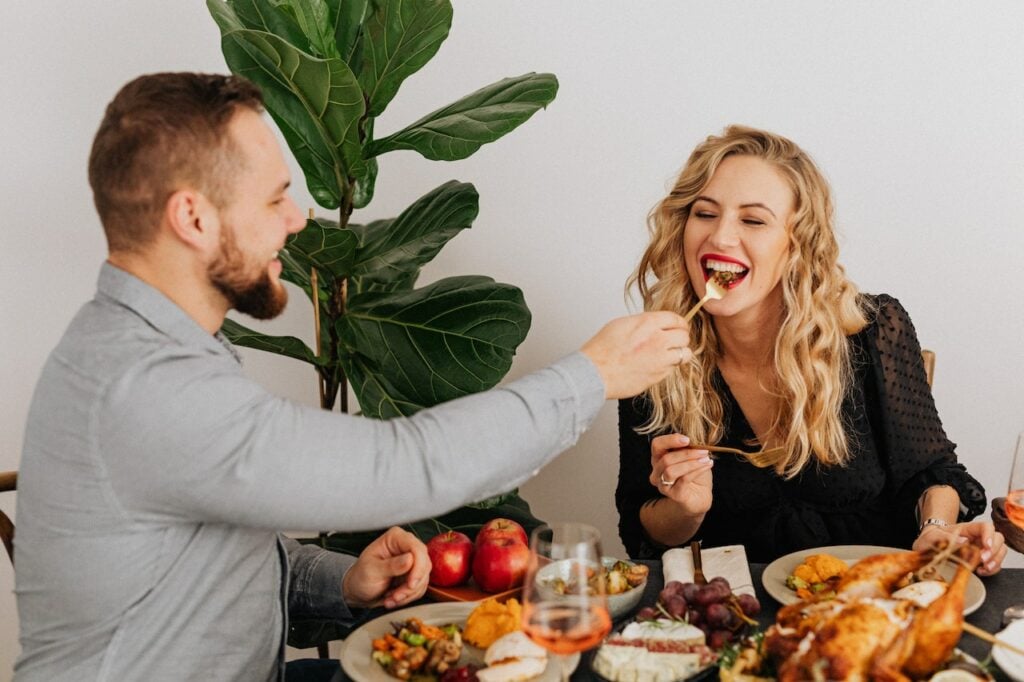 Looking to impress a special someone with your cooking skills? Even if you lack chops in the kitchen, preparing a home-cooked meal is a great way to connect with someone and get to know them better.  A date night dinner can help foster a relaxed environment for a date, where you can talk, joke, and get to know each other in the privacy of your own home. 
Whether you want to order takeout, make a meal from a meal kit, or buy all the ingredients to cook yourself, an easy date night dinner is always a great choice. If you are seeking inspiration for at-home date night dinner ideas, look no further!
We've Got You Covered With At-Home Date Night Dinner Ideas
1. Order Take Out From A Local Restaurant
If you absolutely have zero skills in the kitchen, then ordering takeout from a local restaurant can be a great idea for a date night dinner. While this might make for an easy date night dinner, ordering takeout is one of the most expensive ways to eat a meal. Restaurant food is already priced higher, and on top of that, there are delivery fees, "app service fees," tips, and more. And, as we all know, food does not survive very long in takeout boxes, so you aren't getting the freshest version of the food you paid top dollar for.
The other problem with ordering takeout from restaurants is that if you or your date have certain dietary restrictions, or want to eat clean, not every restaurant will be able to accommodate your needs. This is something to consider when planning your date night dinner.
2. Make a Meal Kit From Gobble
One of the easiest at-home date night ideas is to cook a home-cooked meal with a meal kit from Gobble! Even if you've never cooked a meal before, Gobble makes it incredibly easy to whip up something delicious. With pre-portioned ingredients from chef-inspired recipes, a meal kit from Gobble is the simplest way to prepare gourmet food at home- at a fraction of the cost of dining out in a restaurant!
Additionally, since there is minimal prep work involved, the cleanup is minimal as well, letting you have more time to enjoy your date night. An easy date night dinner is one where you don't have to think too much about it, meaning no trips to the grocery store. You can plan out your meals with Gobble ahead of time, leaving you with one less thing to think about.
Gobble's recipes are designed to be ready in about 15 minutes, so you can cook the meal of your choice before your date arrives, or even cook it together if you like. Doing activities together is one of the most fun dinner ideas for date night at home. The step-by-step instructions are written with the beginner chef in mind, so no need to worry if you are inexperienced in the kitchen. Cooking a gourmet meal has never been so easy!
3. Cook a Simple Meal
If you are determined to cook a meal from scratch there are plenty of simple recipes for at-home date night dinner ideas. Dust off on an old family recipe or search on a recipe website like Epicurious or All Recipes to find something tasty. Whether you're craving tacos or chicken soup, you're sure to find something easy to make that you and your partner will enjoy.
Spruce Up Your Next Date Night
No matter the route you choose for your dinner date night, at home is always a great choice. Make sure to choose the right option that best suits your abilities and lifestyle, and enjoy your at-home dinner date night!