Saving (N)oodles of Time with Gobble
The positive benefits of sitting down for a homemade meal are well documented. Everyone wants to come home to a delicious meal, but the time investment that comes with cooking dinner is no joke.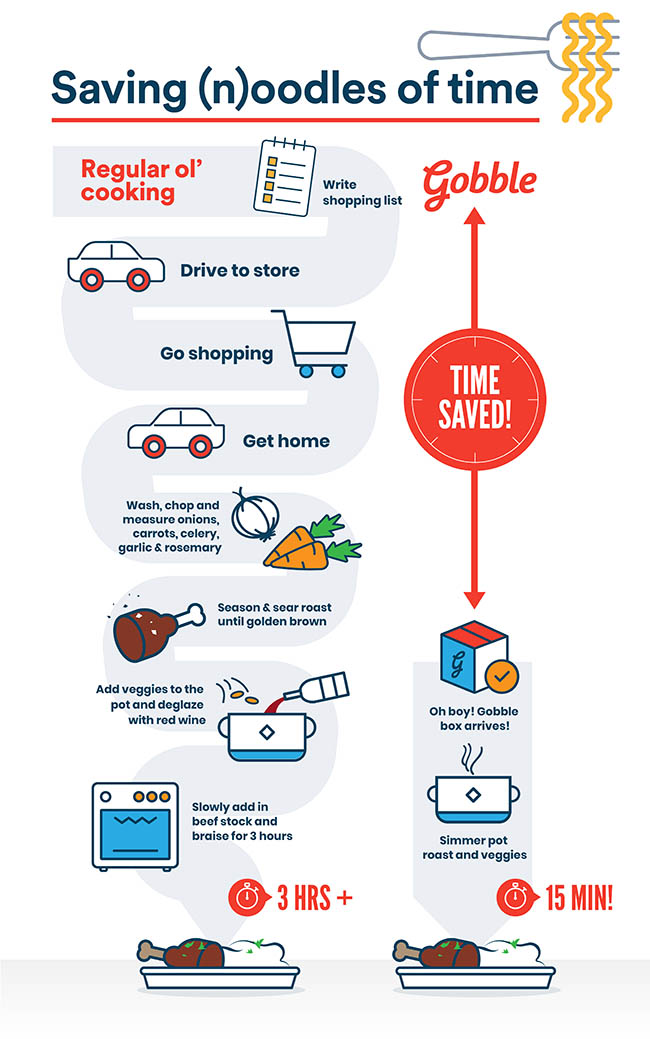 You have to decide what to make.

You have to write out a grocery list.

You have to go to the store, many of which have wait times now due to the pandemic.

You have to load and unload the groceries (no matter how hot, cold, or rainy it is!)

You have to measure and prep all the ingredients for your meal.

And then you have to do the actual cooking, not to mention all the cleaning up!
From beginning to end, a typical dinner takes about three hours to make. If your stress level just skyrocketed, take some deep breaths. We have a solution.
Gobble offers a diverse menu created by our food-obsessed culinary team that includes meat, fish and vegetarian dishes. Each and every recipe is prepped by our sous chefs, and designed to be table-ready in just 15 minutes!
Your meals are delivered right to your doorstep in packaging that keeps them protected and cool for hours, so you never have to rush home after work to bring them in.
Your Gobble delivery will contain the freshly prepped ingredients needed for your meals along with a recipe card that has easy-to-follow directions. That means dinner is on the table lightning fast, in just 15 minutes and cleanup is a breeze.
Gobble is here to help you reap all the benefits of a home-cooked dinner without any of the time commitment or stress. Sign up for your membership today and let us take care of dinner!