Roasted Carrots with Miso Sage Butter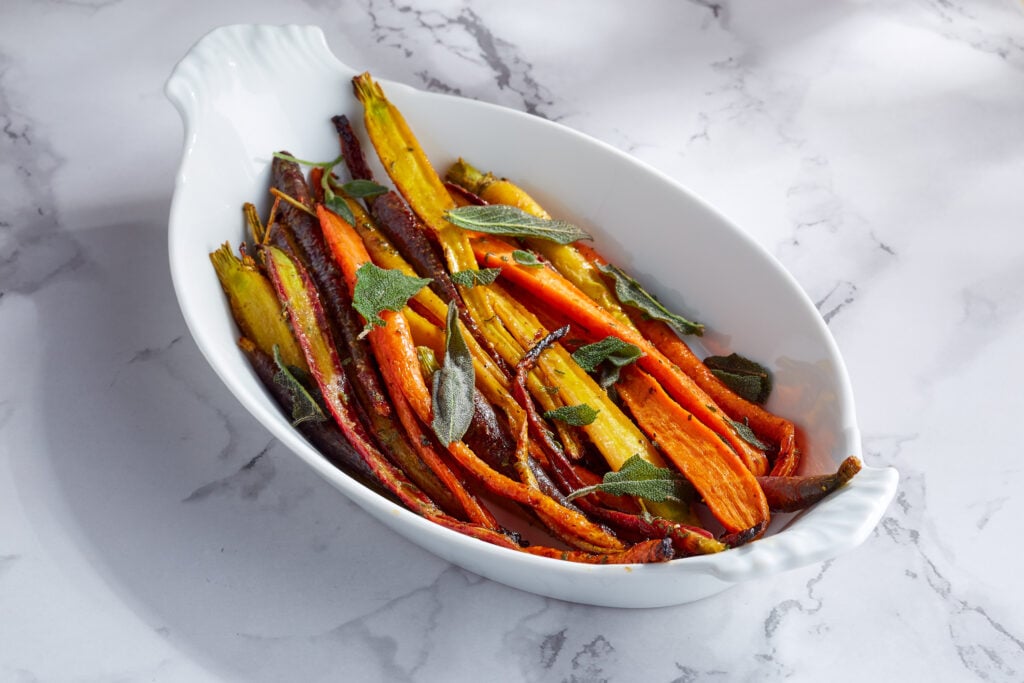 Though some like to load up on the turkey, stuffing, and mashed potatoes, it's no secret that seasonal veggies are at the very heart of Thanksgiving. Our tender, buttery, and slightly-sweet Roasted Carrots with Miso Sage Butter are a great example. Not only do they highlight a seasonal item and celebrate a classic American ingredient, this side also helps to balance rich, heavy plates and add a gourmet touch to your festive spread.
Scroll down to find the recipe for this timeless side dish, or check out Gobble's seasonal side dishes to order this meal kit a la carte. It's perfect as an easy addition to Thanksgiving menu, or as an impressive dish to bring to a Friendsgiving or potluck.
Roasted Carrots with Miso Sage Butter
As a classic Thanksgiving side, we don't think roasted carrots get nearly enough love. We've elevated this version to the main stage with complex, gourmet flavors – white miso, honey, and smoky sage, all shining through in a buttery citrus glaze.
How to Add a Twist To this Delicious Thanksgiving Side Dish
Here's what you'll need to bring our elevated Roasted Carrots with Miso Sage Butter to your Thanksgiving table. 
Ingredients:
Rainbow carrots
White miso paste S
Orange juice
Sage
Honey sticks
Butter M
Allergens:
(M) Milk
(S) Soy
Supplies To Gather:
Baking sheet 
Aluminum foil
Kitchen knife & cutting board
Mixing bowl
Microwave-safe bowl
Cooking spoon
Oven mitt
Paper towels
Salt & pepper
Cooking oil
Preheat the oven to 375°F convection or 400°F conventional
Prepare a baking sheet by lining with aluminum foil & lightly grease
Rinse your fresh produce and gently pat dry
Slice the rainbow carrots in half lengthwise. Slice any larger carrots in half again lengthwise.
Finely chop the half of the sage leaves. Reserve the remaining sage to use in another recipe.
In a mixing bowl, toss the carrots with 2 tbsp. of cooking oil. Lightly season with salt and pepper. Spread the carrots onto the prepared baking sheet and place into the oven for 15 min, or until fork-tender.
When the carrots are almost finished, empty the honey sticks into a microwave-safe bowl. Stir in the white miso paste and orange juice. Cover with a damp paper towel and microwave for 1 min. Stir in the butter and microwave for 1 more min, then stir in the chopped sage.
Carefully remove the baking sheet from the oven. Drizzle the hot carrots with the miso-sage butter and stir until evenly coated.
Gobble's Thanksgiving Box Streamlines Holiday Prep
While veggie-centric side dishes are often simple to prepare, there's plenty of washing, peeling, and chopping that adds to the equation. Add that to the dozens of other dishes you might be responsible for, and it's easy to see how a relaxing Thanksgiving with family and friends can quickly turn into a kitchen nightmare.
Gobble's Thanksgiving boxes, along with a host of other meal delivery options, are here to help. We'll be your favorite guest – shopping for every ingredient, peeling and prepping whatever we can, and leaving you to relax with family (maybe with a glass of our recommended Thanksgiving wine pairings). You'll just choose the right box for your table, open the door when we arrive, and bring each dish to bursting with flavor in a few easy steps.
While our Roasted Carrots with Miso Sage Butter aren't included in this year's boxes, they are available to order a la carte for Gobble members – ideal for taking to a Friendsgiving or potluck-style Thanksgiving.
Explore our Thanksgiving box menus below and create a memorable holiday where you spend as much time at the table as you do in the kitchen – for once.