Behind-the-Scenes: Culinary Magic!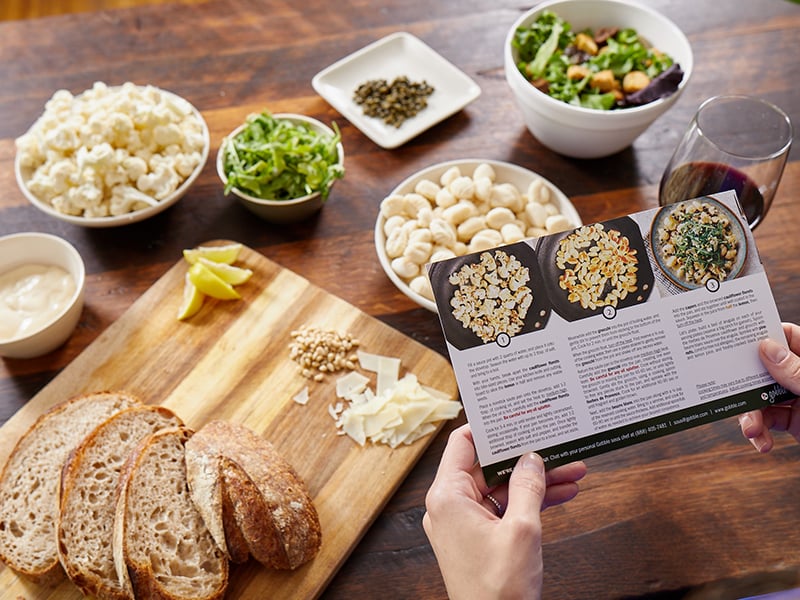 We asked Jeff Cianci, our Recipe Manager, some behind-the-scenes questions about recipe development. How do they take complex and delicious gourmet recipes, and design them to be cooked at home in just 15 minutes? Let's find out!
How are the recipes developed?
Executive Chef Thomas Ricci typically starts with a particular ingredient or world cuisine. The Culinary Team spend 2-3 weeks doing research and then meet to share ideas. We take our favorite concepts and start developing recipes based on the 15-minute concept. Special considerations need to be made, such as ensuring the stability of prepped items during shipping. Then comes the fun part – cooking and tasting! Our first step in testing the recipes is
– Does it taste good
? Once we have the most delicious recipe possible, we develop the
mis en place
concept: cutting vegetables, prepping proteins, simmering sauces, and adding garnish. Our chefs keep testing until they are sure the cook time is just 15 minutes. But we can't stop there! A chef in a test kitchen is different than the average home cook. So, at this point the recipe comes to me and my colleague Tori, and we continue to test to make sure the recipes work. Were the instructions too hard? Did the cook times work correctly? Can we improve a difficult step with more prep or a different ingredient? Each dish is cooked 5-6 times before a recipe is complete … often, many times more than that!
What are the biggest challenges in creating 15 minute recipes?
We have customers nationwide with varying skill levels in the kitchen, plus access to different kitchen tools and setups. Understanding how each step in a recipe may be a different experience for each customer is challenging! That said, our recipes stick to a process that can work for nearly everyone. Once our customers become experienced with our 15-minute dinner kits, they'll have a successful meal every time! Even cooking newbies. : )
Is there anything that just can't be made in 15 minutes?
A recipe we would LOVE to bring to Gobble customers is a traditional Dutch Baby. It's a fluffy, crispy and rustic cake, similar to a pancake, that you mix up and bake in the oven. They're easy, comforting, and versatile: you can dress them up however you like, sweet or savory, and load them up with your favorite ingredients. Unfortunately, once you create the batter, it really does seem to require a full 20 minutes or more to bake a Dutch Baby. Maybe someday we'll R&D a lightening-fast version!
What is your all time favorite Gobble dish?
I have a few favorites, obviously! I am amazed by the flavors of our
Brown Sugar Crusted Chilean Salmon with Mashed Avocado & Tomato Vinaigrette
, and also love our comforting bowls with eggs or omelettes, like the
Vegetable Donburi with Farm Fresh Egg
.
Why do you love working at Gobble?
Making dinnertime easier and more delicious is such a challenge and an honor! Our Culinary Team is a passionate and committed group of foodies that work together to develop the highest quality recipes. We know that our work at Gobble will help thousands of families eat well every week.
Sign Up Today