4 Easy Ways to Elevate Your Thanksgiving Dishes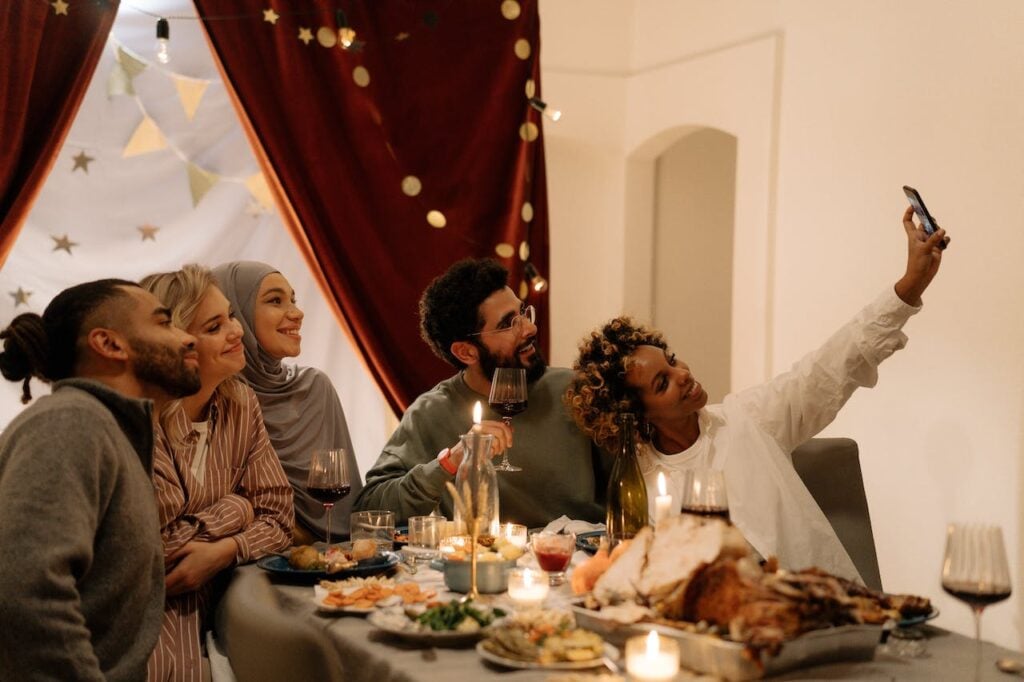 Thanksgiving traditions are well-loved for a reason – but celebrating the classics doesn't have to mean sitting down to that same old, tired spread, year after year. (Except Grandma's pie recipe. You do NOT mess with Grandma's pies.)
So if you're looking to elevate your Thanksgiving menu, you've come to the right place. We're here to help you shake things up with tips, tricks, and under-the-radar ingredients you can lean on to make unforgettable, conversation-worthy dishes your guests will love.
And if you're hungry for a gourmet feast, but not sure how you feel about crafting it all from scratch? Scroll to the end for the perfect solution, from right here in the Gobble test kitchen. Let's get to it!
Diverse Ingredients Make Deeper Flavors
Let's face it – simpler isn't always better. Particularly when crafting rich, decadent dishes, the secret to a complex, palette-pleasing experience is sourcing multiple flavor profiles from multiple unique ingredients. And, since we all know that talking about dishes is just as fun as eating them, this is how you get those long, elegant titles to impress your guests. For example, *ahem* a "Black Pepper Cranberry and Candied Citrus Chutney with Fennel" sounds a tad more gourmet than "Cranberry Sauce". You know it.
So, for example, you might elevate those roasted Brussels sprouts with a quality pancetta, balsamic glaze, and a dash of honey or maple for sweet and tangy fun. A dusting of Pecorino Romano can give a boost to any veggie or casserole, while a pinch of Dijon mustard can be the secret ingredient to the best mac 'n cheese you've ever had.
And when any recipe calls for a multi-varietal ingredient, like mushrooms or tomatoes, sourcing a "bouquet" of different types can add tremendous depth of flavor and texture. A green bean casserole or stuffing starring maitake, chanterelle, and enoki mushrooms? With zero added time or effort, that dish becomes something special.
Butter, Made Even Better
There's no point denying that butter improves just about every Thanksgiving dish. In fact, if you've ever had a restaurant meal and thought "Wow, why can't I get it to taste like that at home?" – the likely answer is adding more butter than you'd ever imagine.
But enough about butter quantities – this hack is all about your butter's qualities. Compound butters, like our legendary rosemary-thyme butter, add a ton of flavor to any dish. Go for truffle butter, miso butter, or even just a high quality sea salt butter (reach for the French stuff), and watch your favorite dishes take on a whole new element.
You can make your own compound butter with your favorite herbs to make the ideal addition to dinner rolls or an invisible flavor bomb for mashed potatoes. And it's not just butter, either – you can infuse any cooking oil by adding a clove of garlic or two, a whole shallot, or a chili pepper to impart a more subtle flavor to your fried ingredients.
Get Your Garnish On
You've nailed the recipe, timed it perfectly, and you've even got a beautiful serving dish ready to hit the table. What could be missing? It's every Michelin-starred chef's secret weapon – the garnish. Clever, well-executed garnishes can level up the taste of a classic dish, while also enhancing the look and feel of your meal. After all, the best culinary experiences appeal to every sense!
More one-dimensional dishes like soups can get a huge boost from a good garnish. Picture your butternut or pumpkin soup with a circular drizzle of olive oil, a sprig of fresh parsley or sage, and a crunchy crouton. Other condiment-style garnishes can land directly on the plate, underneath the main dish – like chili crisp oil, pesto, or a sweet reduction like *gasp* cranberry sauce.
Meanwhile, oven-baked dishes like veggies and casseroles often lean towards one uniform texture: fork-tender, cozy, and warm. Sounds delicious, but the mouth-feel can get overwhelming and repetitive. Diversify the plate with a crispy, crunchy garnish, like fried shallots or capers, toasted walnuts or hazelnuts, or a Parmesan cheese crisp.
Fall Ingredients Never Fail
Thanksgiving is undeniably a fall feast, but modern menus seem to lean away from seasonal ingredients and more towards rich, creamy indulgence. Re-introducing those timeless fall flavors and spices can not only help your dishes pop, but it can also help bridge the gaps between courses to make your menu feel more cohesive – and less like a potluck.
Get creative! Where could fragrant rosemary or sage enhance a creamy, silky dish? Could a pinch of nutmeg, ginger, or cloves add an extra dimension to a roasted root vegetable? Or one of our favorite, under-the-radar fall ingredients – orange peel. Try an orange slice in your cranberries while they bubble, add a dusting of orange zest to your roasting carrots, or sneak the acidic notes into your turkey brining liquid to help tenderize the meat and keep things juicy while the bird's in the oven.
Or, Just Skip All These Tips
Maybe you were looking to host an elevated Thanksgiving, but after reading the above, the thought of all the peeling, prepping, and planning is starting to hit. Let Gobble set you up with a gourmet spread – featuring all your favorite classic dishes, with unexpected twists and upscale ingredients that'll leave your guests impressed. Shop The Big Feast and The Bigger Feast boxes to see the menu and place your order today.
Whether you're looking to craft a unique, restaurant-quality menu with all the fixings, or just add a memorable twist to one of your classic recipes, we hope we've inspired you with some of these tips. For your favorite holidays, and every week in between, Gobble's meal kits exist to connect families with the dinnertime they deserve; preserving the best parts of home cooking while skipping the hassle.