Gobble Menu for Week of August 28th, 2017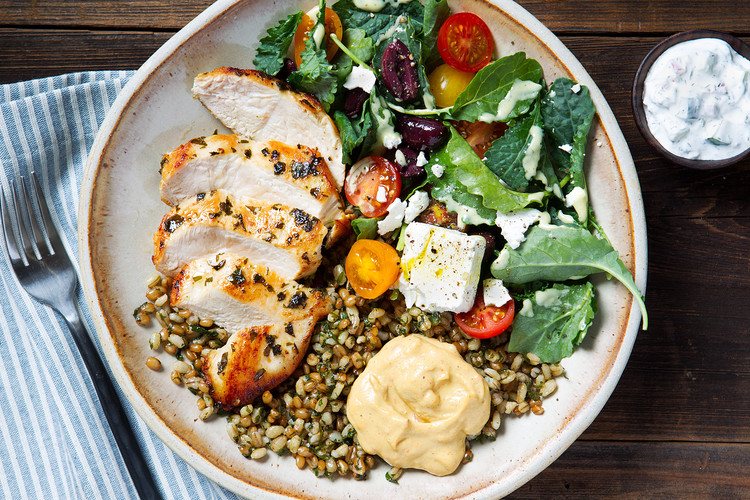 Greek Chicken with Wheat Berry & Kale Salad
Certified Gobble Kid Friendly
Description

A wholesome blend of wheat berries and farro are topped with a pan roasted chicken breast drizzled with a bright souvlaki marinade. Accompanying the chicken is a baby kale salad tossed in a lemon tahini dressing with colorful toybox tomatoes, kalamata olives, and crumbled feta cheese. A refreshing cucumber tzatziki and red pepper hummus completes this Mediterranean inspired dinner kit.
Allergens

Wheat, Milk (Optional)
Ingredients

Chicken breasts, wheat berries, Farro, souvlaki marinade, red pepper hummus, cucumber tzatziki, toybox tomatoes, kalamata olives, feta cheese, lemon tahini dressing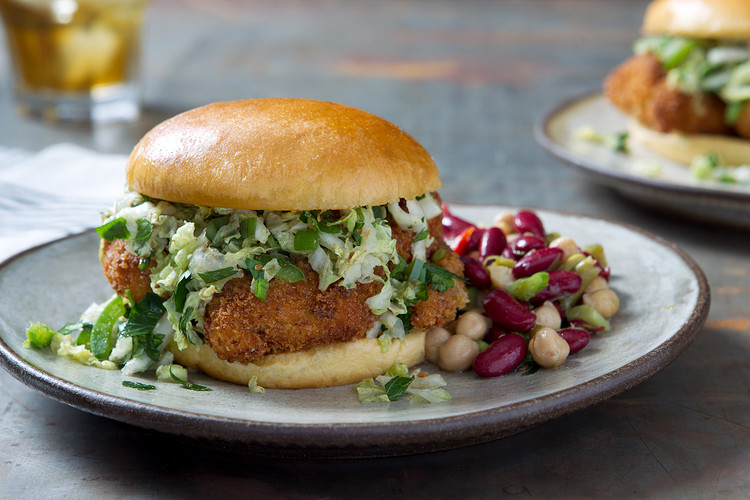 Crispy Chicken Sandwich & Napa Cabbage Slaw with Caraway Vinaigrette
Certified Gobble Kid Friendly
Description

Your whole family will love this crispy fried chicken sandwich because it packs a great crunch with big flavors. Topped with a sweet and tangy caraway vinaigrette slaw and served alongside a wholesome three bean salad – you are set for a perfect evening meal.
Allergens

Wheat, Milk, Eggs
Ingredients

Chicken breasts, flour mixture (flour, cumin, granulated garlic, smoked paprika), pasteurized eggs, panko breadcrumbs, slaw mix (napa cabbage, parsley, green onion), caraway vinaigrette (caraway seeds, apple cider vinegar, dijon mustard, honey, salt, black pepper), brioche buns (enriched flour, butter, water, sugar, eggs, yeast, salt, whey, nonfat milk, niacin), three bean salad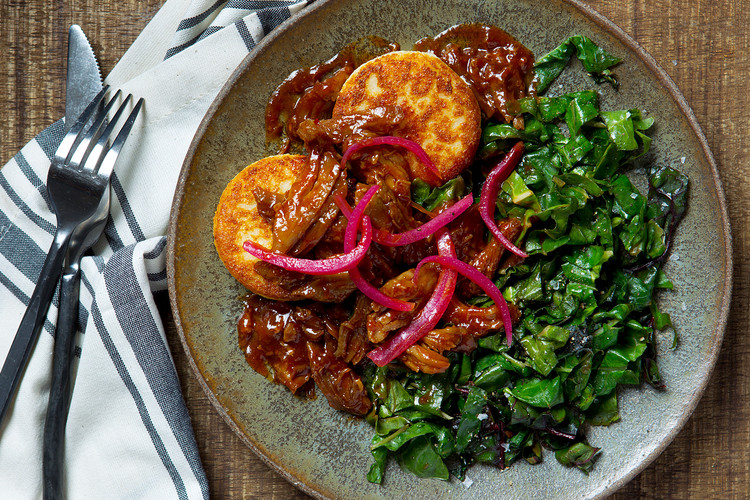 BBQ Pulled Pork with Cheddar Grit Cakes & Southern Style Swiss Chard
Certified Gobble Kid Friendly
Description

Hearty southern comfort food easily prepared in your own kitchen, this dinner kit is a winner for the whole family! Savor a generous serving of slow-roasted, succulent pulled pork shoulder smothered in a sweet and tangy barbecue sauce. The pulled pork is served over pan-fried cheddar grit-cakes and wilted Swiss chard.
Allergens

Milk
Ingredients

Pork shoulder, barbecue sauce (tomato paste, garlic, chili powder, paprika, ketchup, vinegar, molasses, brown sugar, salt pepper), spinach, cheddar grit cakes (grits, cheddar cheese, eggs, salt)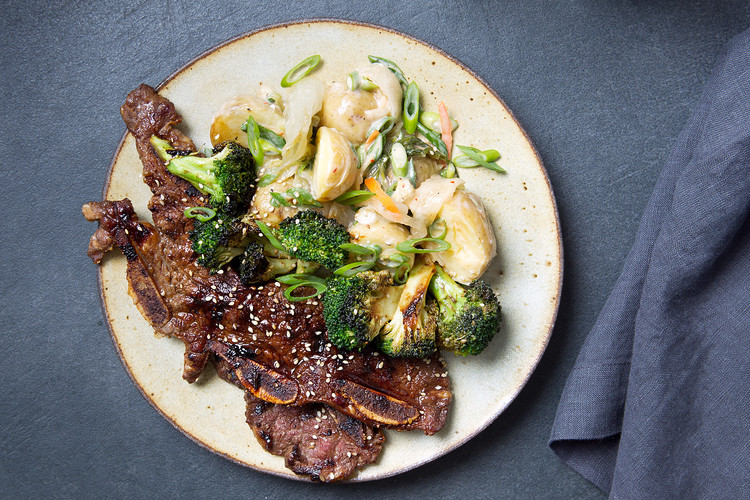 Korean BBQ Short Ribs with Kimchi Potato Salad
Description

Gobble's take on Korean BBQ short ribs is served with a broccoli and a Korean inspired potato salad with a touch of sweet and tangy flavor from fermented kimchi. The short ribs are marinated in a flavorful mix of soy sauce, sesame oil, and garlic and cook beautifully on the grill until sweet and caramelized.
Allergens

Soy, Eggs, Wheat, Fish
Ingredients

Beef short ribs, bulgogi marinade (soy sauce, sugar, green onions, sesame oil, sesame seeds, water, garlic), kimchi potato salad (potatoes, kimchi (napa cabbage, radish, red pepper, ginger, garlic, salt, onion, sugar, water, fish sauce), cornichons, scallions, ketchup, sriracha, mayonnaise), broccoli, toasted sesame seeds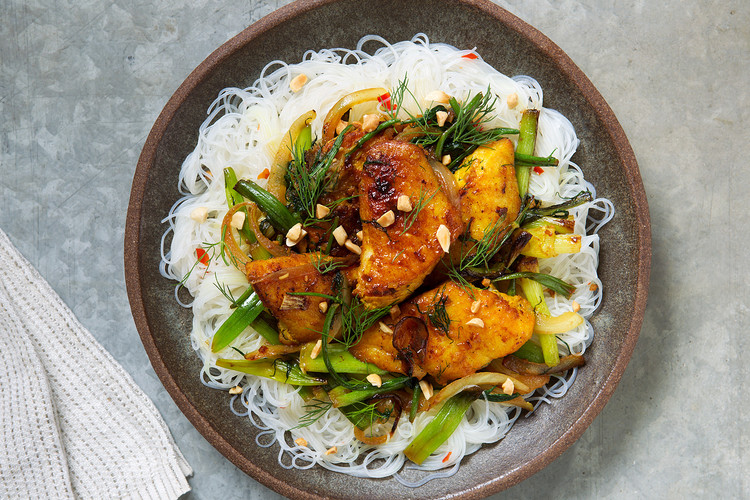 Vietnamese Crispy Fish with Rice Noodles
Description

Mild and flaky pieces of tilapia are marinated with turmeric, garlic, ginger and then sautéed with onions and fragrant dill in a Vietnamese stir-fry sauce. The fish and vegetables are served over rice noodles and garnished with crunchy peanuts and a squeeze of fresh lime.
Allergens

Fish, Peanuts (Optional)
Ingredients

Tilapia, turmeric, fish sauce, garlic, shallot, white onions, green onions, dill, rice noodles, sweet nuoc cham sauce, peanuts, lime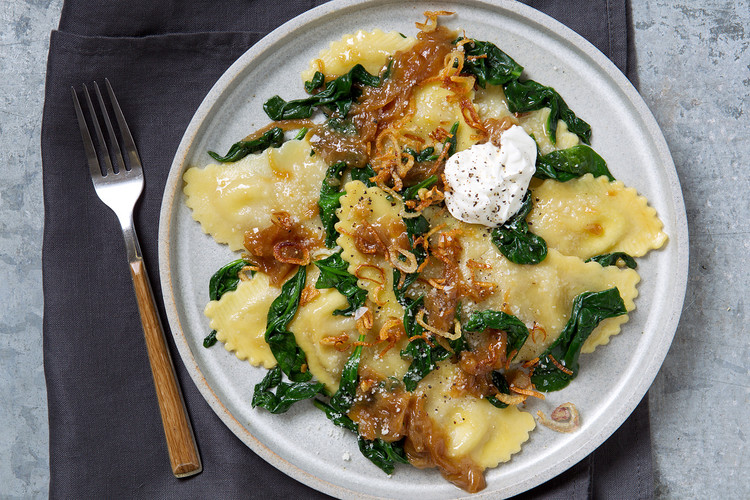 Potato Pierogies with Caramelized Onions & Sautéed Spinach
Certified Gobble Kid Friendly
Description

This dinner kit features delicious handmade potato pierogies served with sweet caramelized onions and sautéed spinach. A garnish of crispy shallots and a dollop of sour cream completes this comforting meal.
Allergens

Wheat, Eggs, Milk
Ingredients

Potato pierogies (flour, eggs, water, potatoes, onions, cheese, salt), butter, caramelized onions, spinach, crispy shallots, sour cream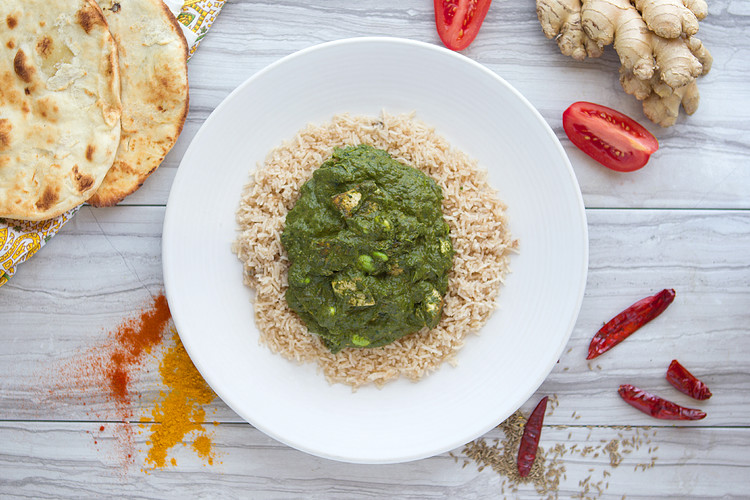 Palak Paneer & Edamame with Toasted Naan
Certified Gobble Kid Friendly
Description

Enjoy this unique and healthy twist to classic Indian cuisine! Fresh spinach is simmered in a creamy fragrant Indian tomato masala sauce with paneer and edamame. Serve the palak paneer over steamed rice and alongside toasted naan.
Allergens

Milk, Soy, Wheat (Optional)
Ingredients

Palak puree (spinach, butter, roasted garlic, salt, cumin, coriander, chili, ginger, clove, cinnamon, turmeric, cayenne pepper), garam masala rice, paneer cheese, Indian sofrito (crushed tomatoes, garlic, ginger, butter, salt, canola oil), naan, edamame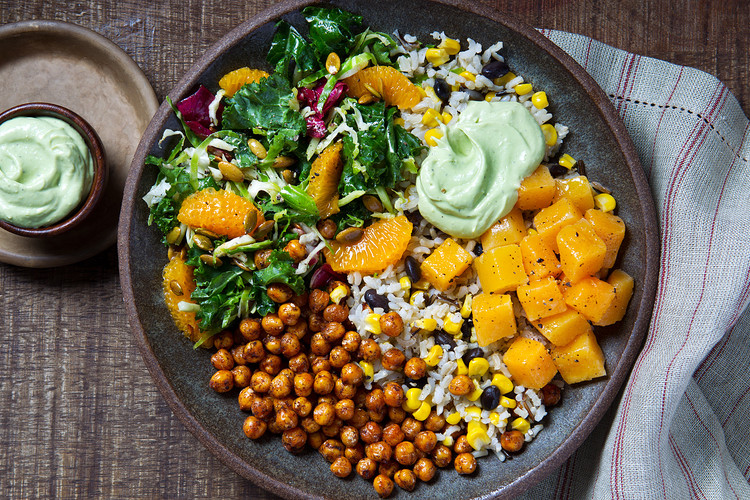 Spiced Chickpeas with Black Bean Rice & Mexican Kale Salad
Description

Chickpeas are dusted with Mexican chorizo spices and then roasted until browned and crunchy. Diced butternut squash and the crispy chickpeas are served over brown rice studded with black beans and corn, alongside a kale salad tossed in orange cumin vinaigrette with sweet Mandarin orange segments. A creamy cilantro and jalapeno yogurt sauce adds the final touch of spicy flavor to this tasty and filling dinner kit.
Allergens

Milk
Ingredients

Chickpeas, butternut squash, black beans, rice, kale, cilantro-jalapeno yogurt, cumin orange vinaigrette, mandarin oranges