What is the Gobble Method?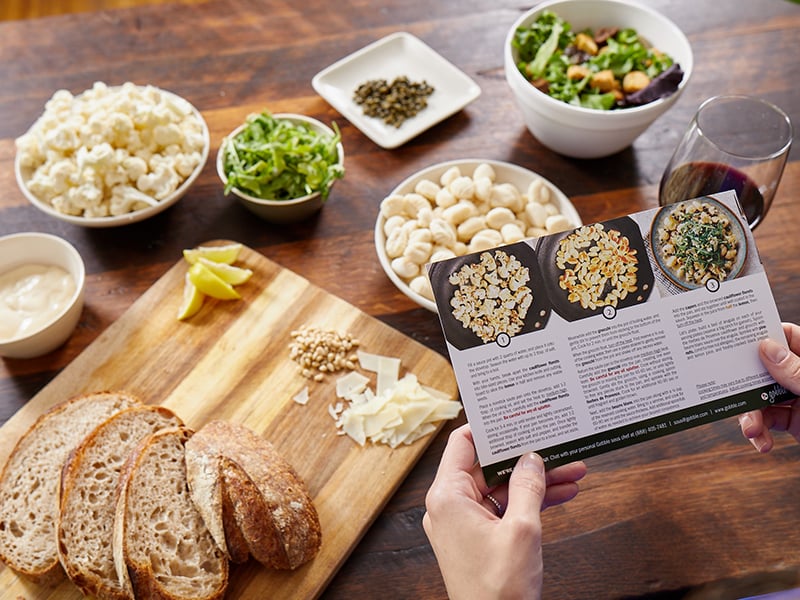 Everyone knows that eating home-cooked meals made from fresh, clean ingredients is good for us. But we also know that it's nearly impossible to achieve every single day, especially in today's busy households!
Here at Gobble, we have made it our mission (literally!) to help solve that problem. Our Executive Chef and his Culinary team have perfected the Gobble Method, which allows our customers to get healthy and delicious dinners on the table fast – in just 15 minutes! Our recipes have been tested for ease, with minimal preps and fewer kitchen tools required. Plus, we have simmered the sauces, packed the spices, and provide freshly made pastas. Once it's in your kitchen, cooking it up is a breeze!
Not a great cook? No worries! Our 15-minute dinner kits are a life-saver once you get the hang of it.
One customer from Sacramento told us recently:
"I have never been a great cook. I found it a challenge to even make a grilled cheese sandwich! So, when I started using Gobble, there was a learning curve and it definitely took me longer than 15 minutes. But after a few deliveries, I got the hang of it, and now, I'm a certified 15-minute dinner hero!"
How to master the Gobble Method
Here are a few pro tips, for new customers and veterans alike!
1. Look for helpful tags on the Gobble menu.
If you're looking for the easiest and fastest Gobble dinner kits, look at each week's menu closely! You'll find those meals tagged as Quick & Easy or One-Pan Wonder.
If you like to crowd-source, we've also tagged our most popular dishes. Look for Fan Favorites and Best Sellers and confirm your orders early, before they sell out.
2. Unpacking your Gobble box.
Be sure to unpack your Gobble box right away to maintain the freshness of the ingredients. Proteins are usually packed under the cardboard divider at the bottom of the box, so unpack completely to make sure no items are left behind.
In the fridge, keep the kits and their paired meats and proteins together so they are easy to grab when you're ready to cook.
3. Reading the recipe card.
Read the recipe card completely BEFORE you start cooking. This way, you won't be surprised by any unfamiliar steps and you have an idea of the flow of the recipe.
Gobble's recipe cards are divided into 3 steps for easy reading. We also include tips on how to plate the dish, so your meal isn't just delicious, but looks great too.
4. How to prep your cooking space.
On the front of the recipe card, we'll show you exactly what kitchen tools you'll need to complete the recipe. Take a moment to grab the items for a quick prep of your workspace. This means everything you need will be within reach once you start cooking.
Let's get cooking!
With these tips and a few weekly deliveries under your belt, you'll be a Gobble Dinner Hero in no time!