12 Kitchen Hacks For Organization, Cleaning, And Storage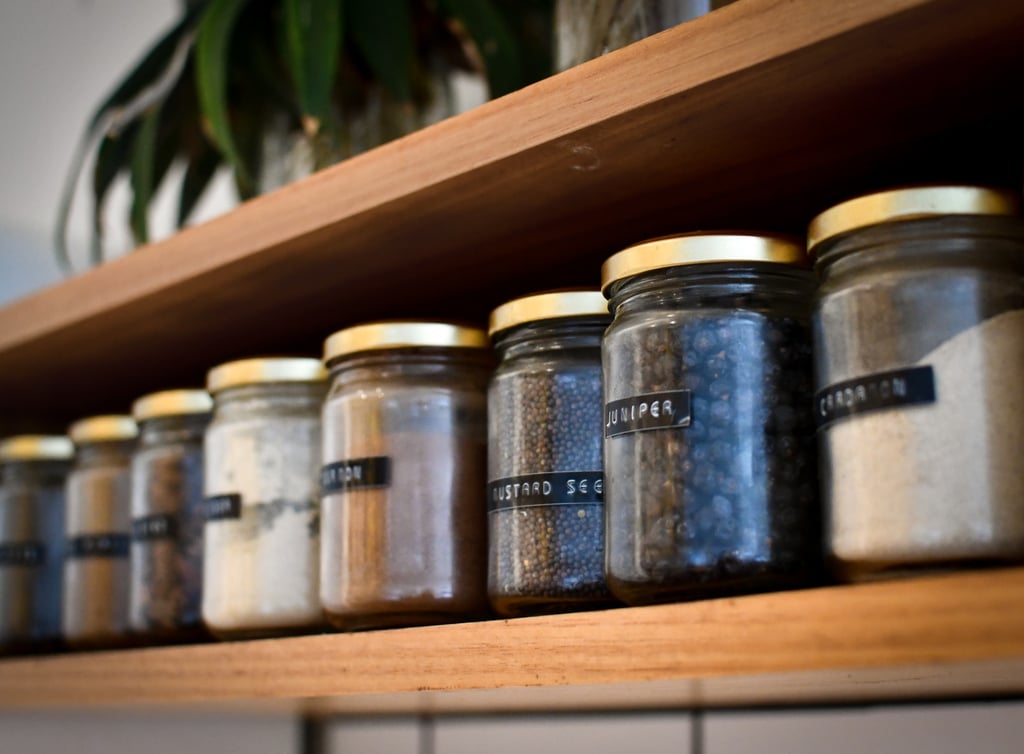 Whether you're a professional chef, or just cooking for friends and family, keeping your kitchen clean and organized can be challenging. With all of the various pots, pans, dishes, utensils, spices, and more to keep track of it all can seem daunting. There are minor fixes for every kitchen issue you can think of, and today we will be discussing some useful kitchen hacks that can make your kitchen life more manageable.
Kitchen Organization Hacks
It's a well-known fact that a kitchen functions much better when it's organized. In fact, a well-organized kitchen is a dream for many people. However, if you're a busy working professional, you're going to have a hard time finding the time to organize your kitchen, much less a place to store a lot of kitchen gadgets in a way that makes them accessible. Thankfully, there are a few kitchen organization hacks that can solve your problem.
1. Create a Spice Rack
If you have a lot of disorganized spices all over, a spice rack is a must in your kitchen. You can store your spices in a rack in a cupboard. But if you have a lot of them, you might want to consider keeping them in a drawer. Store your spices in alphabetical order, so you can easily find the ones that you need.
2. Use Kitchen Drawer Organizers
Kitchen organization products will keep things from falling out and keep everything in one place. Kitchen drawer inserts allow you to organize kitchen utensils according to type (knives, kitchen tools, kitchen gadgets).
3. Try out a Label System
Labeling your kitchen can be a great way to organize it and keep it that way. Use labels and markers to label kitchen utensils, spices, and more. If you have a lot of cooking gadgets, you can use the labels to label the gadgets according to what they do.
4. Use a Magnetic Strip
Magnetic strips are a great way to organize your kitchen. You can buy a magnetic strip and place it on a cupboard or a refrigerator. Then, you can place your magnets on the strip and they'll stay there. Use the magnets to organize your kitchen and your cooking utensils.
Kitchen Cleaning Hacks
The kitchen is the center of our home and where everyone gathers to bond over good food and conversation. It is essential to keep it clean and tidy. Kitchen cleaning hacks are great for saving time, energy, and money. Even the most well-cleaned kitchens also have some corner that is out of order.
1. Try Natural Cleaning Products
The easiest and cheapest solution for cleaning is to use natural, chemical-free products. The most popular natural products are vinegar and baking soda.
– Vinegar is a great solution for removing stains from countertops, sinks, and steamers. It also works well in removing the smell from a dirty refrigerator.
– Baking soda is a popular choice for a variety of household uses, it also makes a great cleaning agent for the refrigerator when mixed with vinegar and hot water.
-Lemon juice is great when used for removing stains, and combined with baking soda it removes the smell and stains from grill utensils and the grill grates.
2. Steel Wool Works Wonders
Steel wool is a great option for cleaning your kitchen sinks and your oven. Simply rub it with soap and water and you will notice that it cleans better than a sponge and it will last longer.
However, make sure that you are using it on non-stick surfaces, or you might end up with scratches on them.
3. Removing Stains From Your Glass Surfaces
If you have stained glass surfaces in your kitchen, the easiest way to clean them is with a mix of rubbing alcohol, water, and vinegar. The mix will remove any stains, while also disinfecting the surfaces.
4. Make Use of Plastic Bags
When cleaning the kitchen, you're going to have a lot of trash and rubbish, so it's important to have a plan of action as to how you're going to dispose of it. You can use plastic bags to collect trash as you go along.
Kitchen Storage Hacks
When you're cooking, you'll need to have everything at hand to make sure that you don't waste any time. Kitchen storage hacks are great for maximizing the space you have available, so you can store all your kitchen gadgets and utensils.
1. Utilize Under Counter Space
A great way to maximize the storage space in your kitchen is by utilizing the under-counter space. This is the space beneath the kitchen counter that you might not be using that much.
Store kitchen gadgets, pots, pans, and other cooking utensils in this space. This is great if you have a small kitchen, and you don't have much room to store your kitchen gadgets.
2. Use Plastic or Glass Containers
Like most people, you probably own a lot of dry goods like flour, sugar, and more. Instead of storing them on your countertop, you can store them in plastic containers. This will keep them organized and you can easily find them when you need them.
One of the best parts about using plastic containers is that you can stack them, so they take up very little space. You can store your plastic containers in your kitchen cabinets, or in the pantry.
3. Use Hooks to Make More Space
If you have a lot of kitchen appliances, the best way to store them is by using hooks. You can put them on the walls, or on the backs of doors. Make sure that you have space to hang the hooks, and that they are sturdy enough to hold the weight of your kitchen gadgets.
4. Store Small Appliances in the Cabinet
Small appliances like blenders, coffee makers, toasters, rice cookers, and more can take up a lot of space on your countertop. Instead of letting them get in the way, try storing them in the cabinets. However, make sure you label them so you can easily find out what's in each cabinet!
Elevate Your Kitchen Game With Gobble
Gobble can help you keep your kitchen simple, clean, and organized. With fresh, pre-chopped, diced and marinated meal kits delivered straight to your door, we provide tips and tricks, recipes, and more so you can cook with ease.