Host a stress-free dinner party with Gobble!
Hosting a dinner party doesn't have to be stressful. Let Gobble do the work and make hosting easy with our Premium Dinner Party Kits!
In October, we'll be featuring a new option each week. These gourmet dinner kits include 4 servings, and are perfect for a friendly get-together or a special family dinner. Of course, they're delivered freshly prepped and ready to cook up fast. The first week you'll find a classic New England seafood boil, followed by a slow-cooked Italian Osso Bucco, and finally a premium ribeye steak dinner, just like you'd enjoy at your favorite steakhouse!  
Take a peek at our upcoming Dinner Party Premium Kits for 4.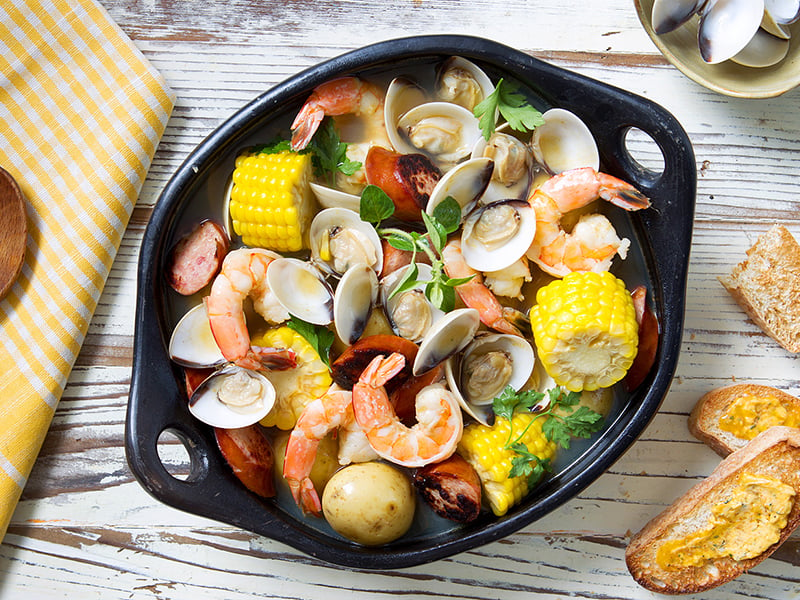 New England Seafood Boil Dinner Party Kit: This classic New England seafood boil is a fun way to feed hungry guests — each kit includes steamed clams, shrimp, yellow corn, potatoes and delicious andouille sausage. The shellfish and sausage are simmered in a rich and flavorful seafood stock, and is served with our delicious garlic bread.  Login to add to your 10/14 delivery!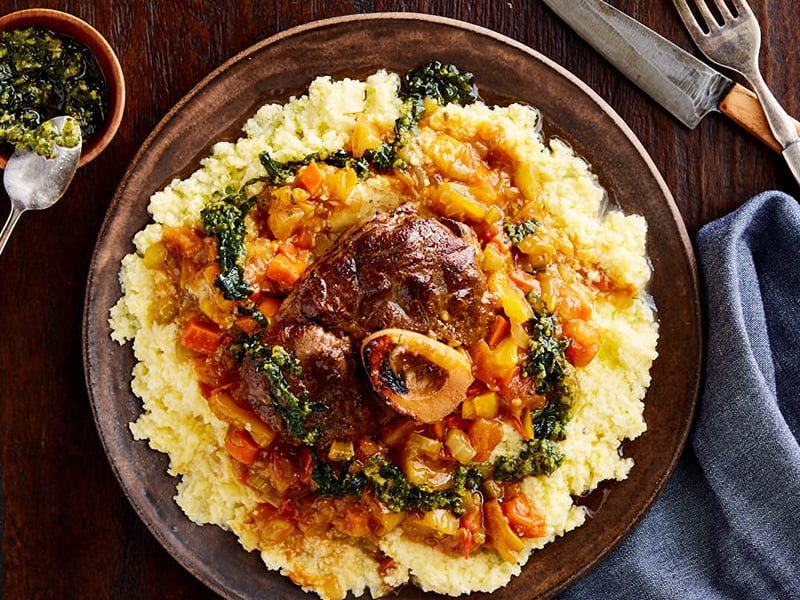 Osso Bucco Dinner Party Kit:  Impress your dinner guests with this hearty, Italian classic. These no-fuss, full-flavored veal shanks have been slow-cooked and simmered in a tomato wine sauce until incredibly flavorful and tender. Serve it over a creamy bed of polenta with a chunky tomato ragu. Our signature lemon gremolata adds zesty bright finish to this comforting classic. Your guests won't belive it only took a few minutes to prepare! Login to add to your 10/21 delivery.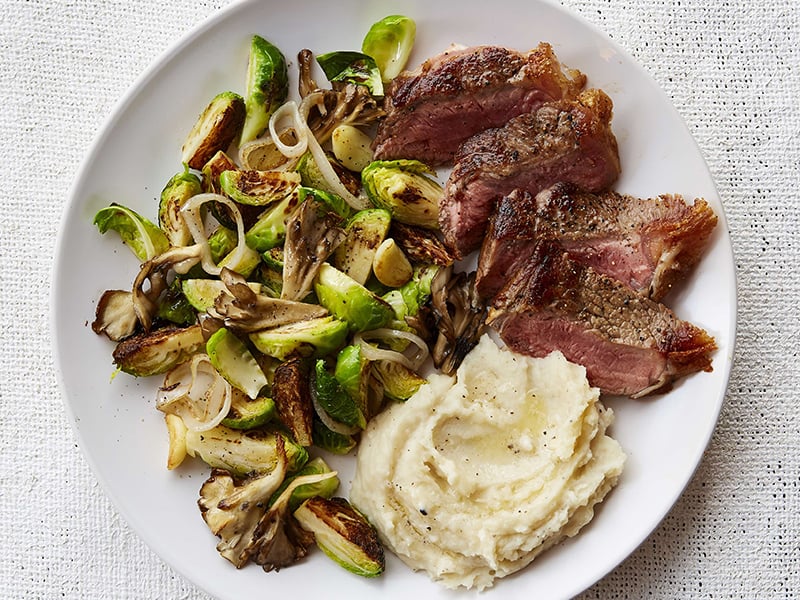 Ribeye Steak & Truffle Potato Dinner Party Kit: Feel like a professional chef as you serve this decadent dish to your guests! Ribeye steaks are pan-roasted to perfection with Brussels sprouts and mushrooms. Served along side the steak is our rich and creamy black truffle potato puree. A full-flavored demi glace pan sauce is the final touch for this steakhouse experience. Login to add to your 10/28 delivery!
Not ready to party? We've also got dreamy 2-person Premium Dinner Kits on the menu!
Be sure to watch our menus for our 2-person Premium Dinner Kits. They're perfect for those nights that you feel like staying in, but want a gourmet treat (that's ready fast!).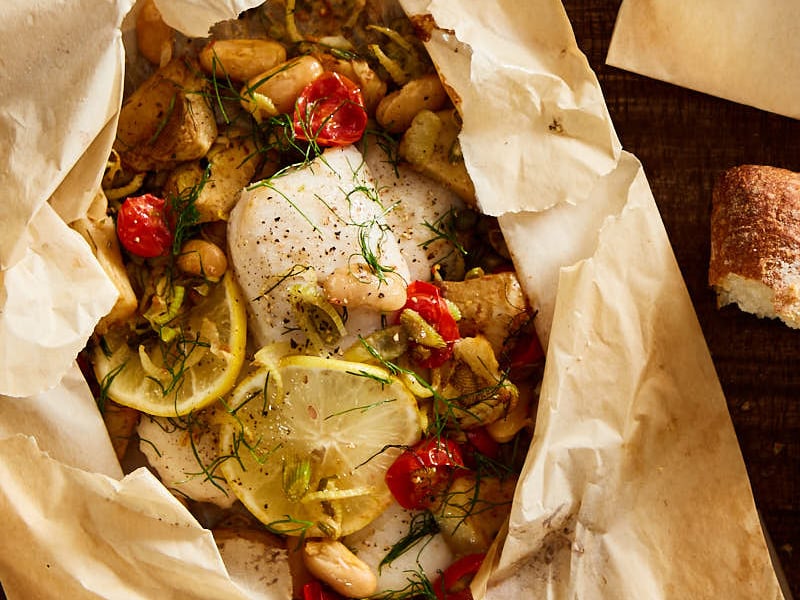 Steamed Halibut en Papillote with Autmn Vegetables: While it looks complicated, you'll be pleased to find how easy it is to make this dish! Mild and flaky halibut fillets are steamed in a parchment bag with a colorful medley of baby fennel, artichokes, and white beans in our signature Italian salsa verde. Plus, clean up is a breeze! Login to add to your 10/21 delivery.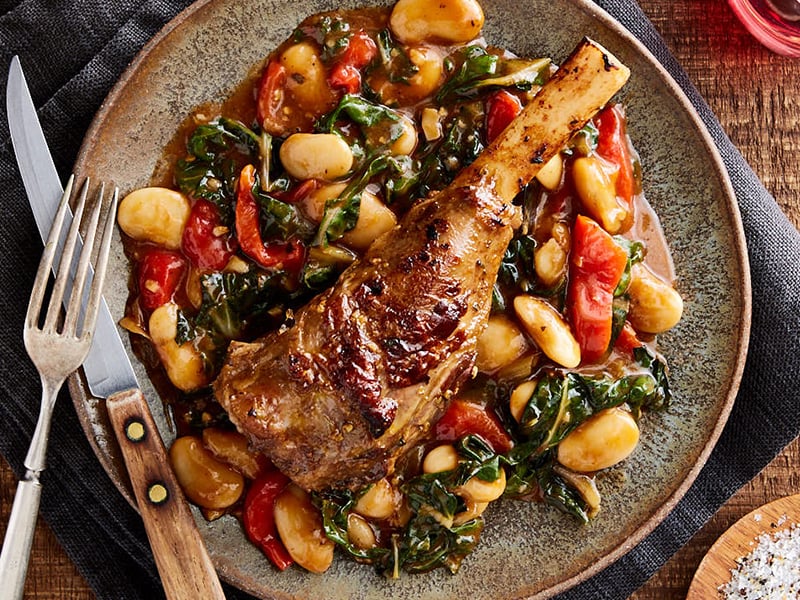 Red Wine Braised Lamb Shank with Hearty Bean Stew: Our full-flavored lamb shanks have been slow-cooked and simmered in portobello red wine sauce until they're fall-off-the-bone tender. All you need to do is gently reheat them— making this dish a cinch to prepare. The tender lamb shanks are served over a hearty butter bean stew with healthy Swiss chard and sweet roasted red peppers. Login to add to your 10/14 delivery!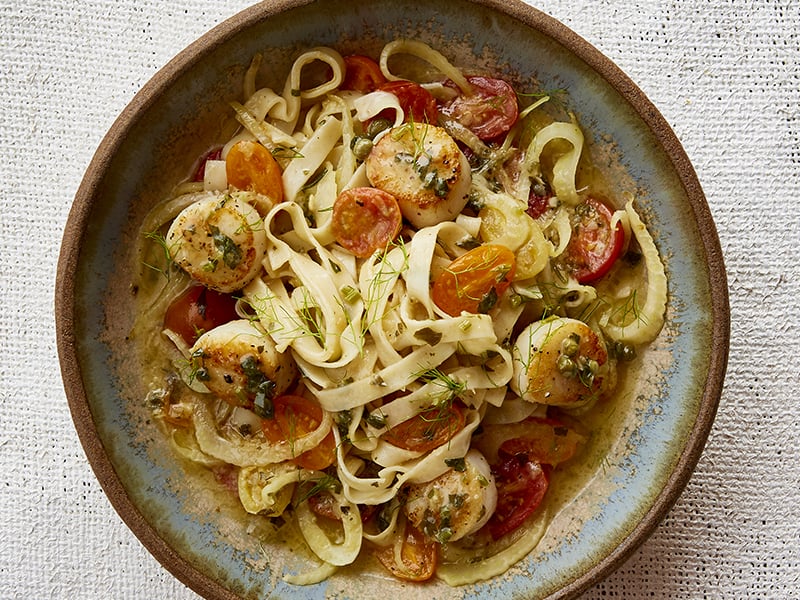 Seared Scallops & Fettuccine with Italian Salsa Verde: Fresh fettuccine pasta is tossed together with pan-roasted fennel, cherry tomatoes and a zesty Italian salsa verde sauce prepared with parsley, capers, garlic and anchovies. It's topped with prized day boat scallops, pan-seared to perfection, plus afresh squeeze of lemon and our bright lemon-parsley butter. Login to add to your 10/28 delivery!