March Menu Highlights
With a change of seasons just around the corner, our March menu features bright, fresh dishes that are perfect for welcoming in the Spring sunshine. We have all the details on which All-Star recipes you definitely don't want to miss, plus we are rolling out even more delicious Quick & Easy meals. Monthly highlights include: a Lean & Clean Honey-Hoisin Glazed Chicken Breasts with Carrot-Ginger Puree & Haricots Verts, a vegetarian Japanese Okonomiyaki with Yakisoba Noodles, and a Sunday Meatloaf with Mashed Potatoes, Gravy and Sautéed Vegetables for Four. Here's an inside look into what we're excited to cook up: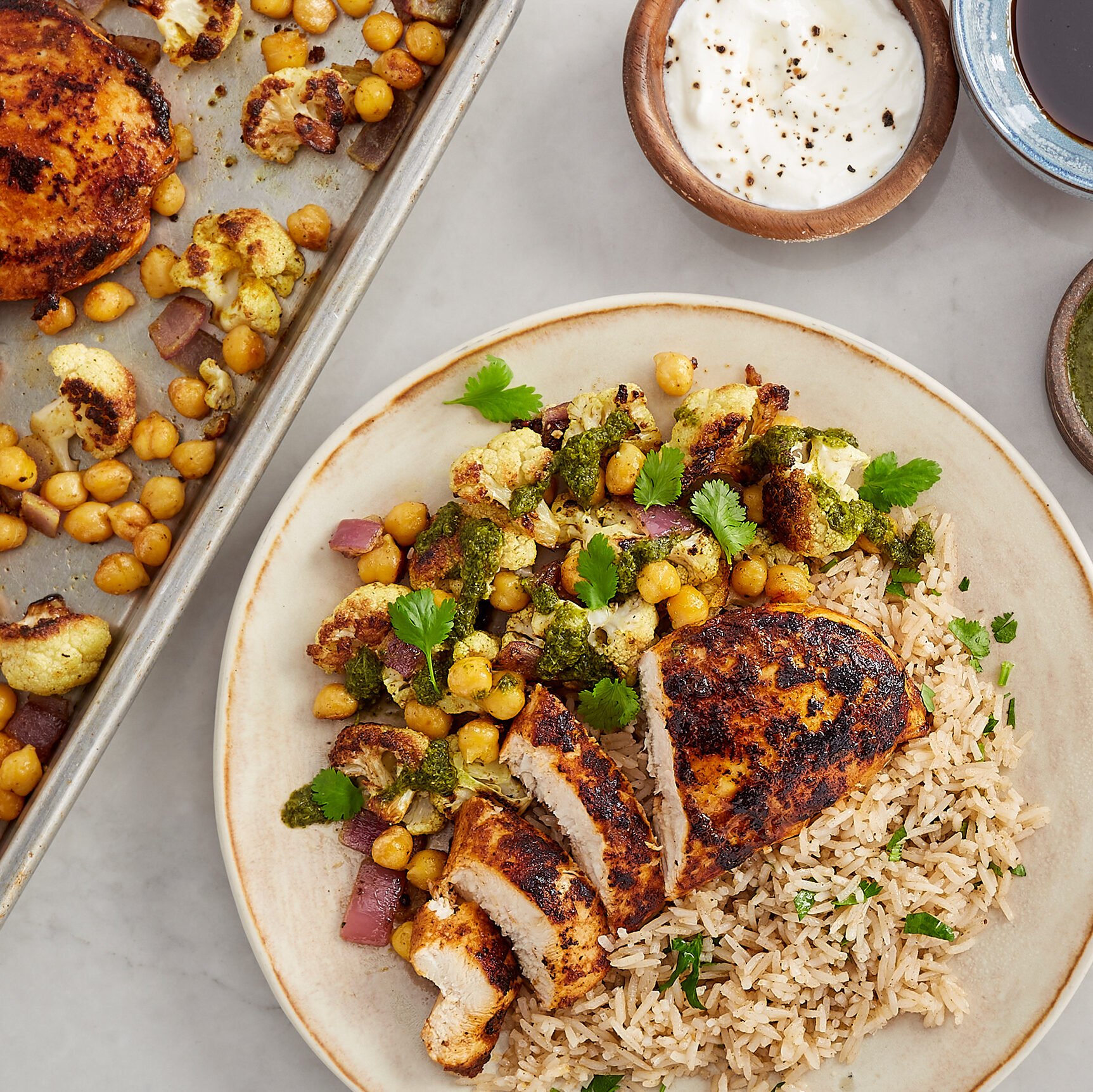 Quick & Easy Sheet Pan Tandoori Chicken with Garbanzo Beans & Garam Masala Basmati Rice: You'll love how this Quick & Easy recipe uses a sheet pan to make these Global Flavors even simpler than ever! Tender, juicy chicken with bold Indian spices pairs perfectly with roasted cauliflower, garbanzo beans, and deliciously fragrant garam masala basmati rice.
Ribeye Steak French Dip Sandwich with Horseradish Cream & Parmesan Roasted Broccoli: Our French dip sandwich is a rich and savory delight – it'll have you wondering why all sandwiches don't come with amazing dipping options! It features thinly shaved ribeye steak and caramelized onions, plus sides of horseradish cream and a demi-glace sauce. This delicious sandwich is paired with roasted broccoli topped with bubbly Italian cheese.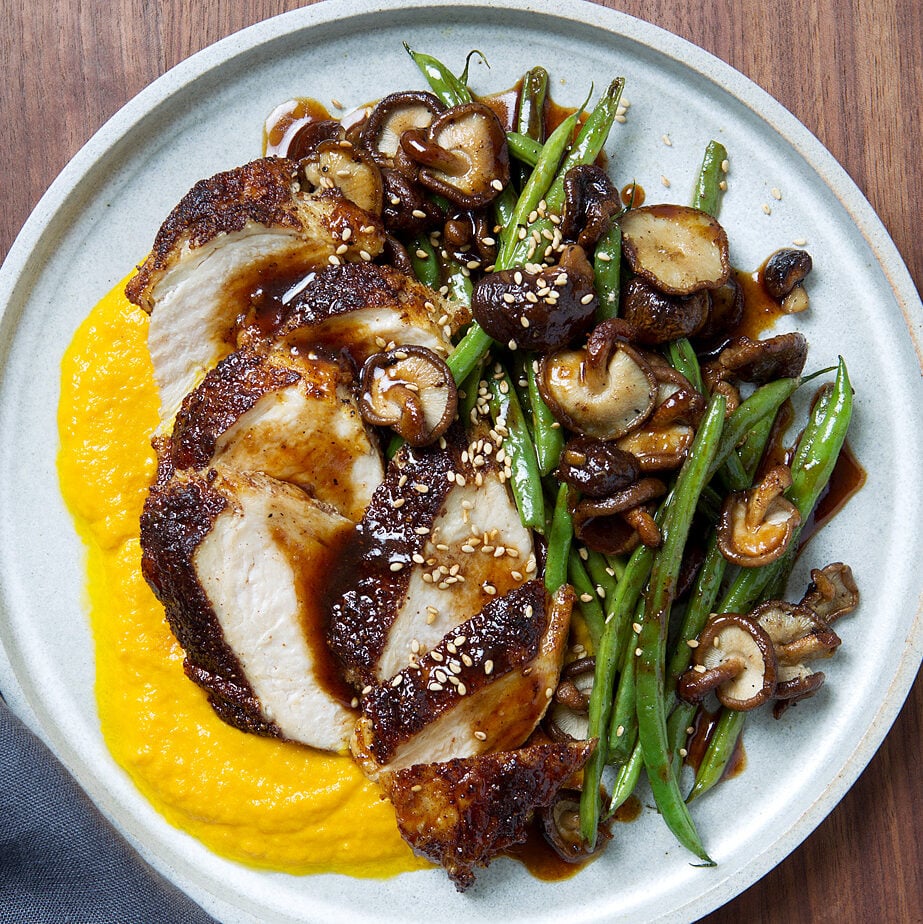 Lean & Clean Honey-Hoisin Glazed Chicken Breasts with Carrot-Ginger Puree & Haricots Verts: Get lean and clean with this amazing sweet and savory dish! It features juicy pan-seared chicken breasts dusted with a Chinese five-spice rub and topped with our sweet honey-hoisin glaze. It's accompanied by a vibrant and flavorful carrot ginger puree, French green beans, and shiitake mushrooms.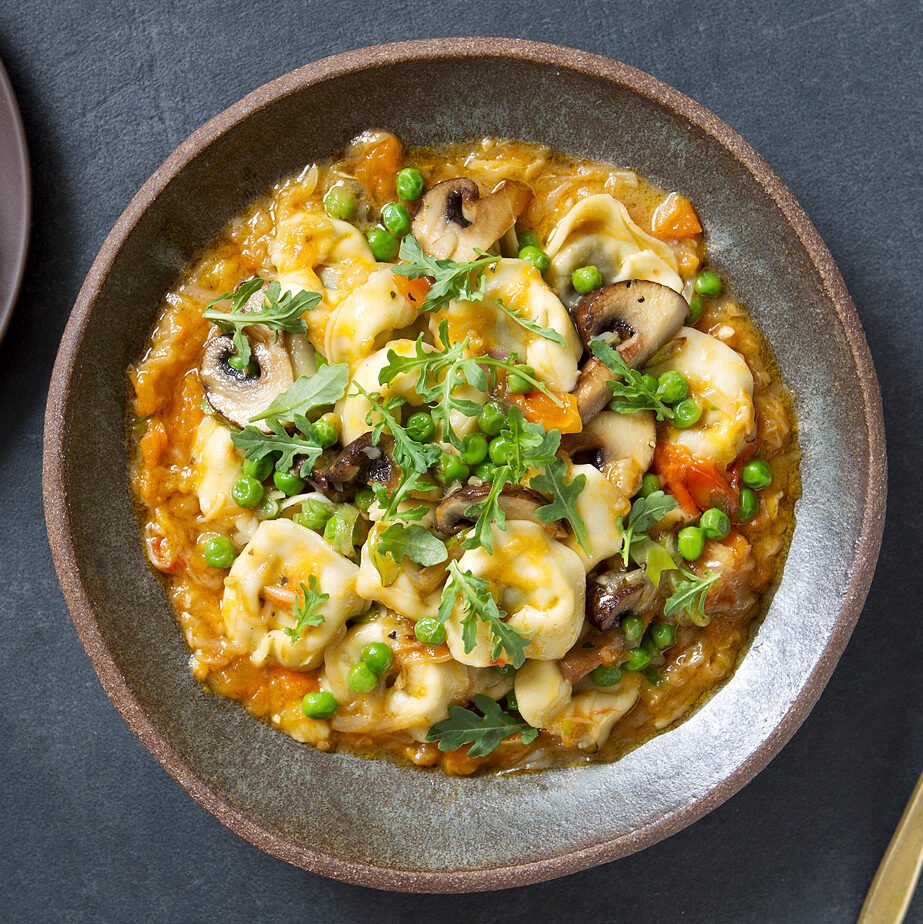 Mushroom Tortellini with Spring Peas & Pomodoro Sauce: This elegant vegetarian dinner features gourmet tortellini filled with crimini mushrooms, roasted garlic, and ricotta cheese. The tortellini are served in a rustic Pomodoro sauce with sautéed crimini mushrooms and fresh green peas. A peppery arugula salad studded with briny kalamata olives and sweet roasted red bell peppers rounds out this tasty meal.
Sunday Meatloaf with Mashed Potatoes, Gravy and Sautéed Vegetables for Four: This is a comforting, classic American dinner your whole family will love. Our pre-cooked and seasoned meatloaf is juicy and flavorful and comes with a generous serving of creamy mashed potatoes and gravy. A salad tossed in red wine vinaigrette and a side of sautéed squash and cherry tomatoes round out this family favorite.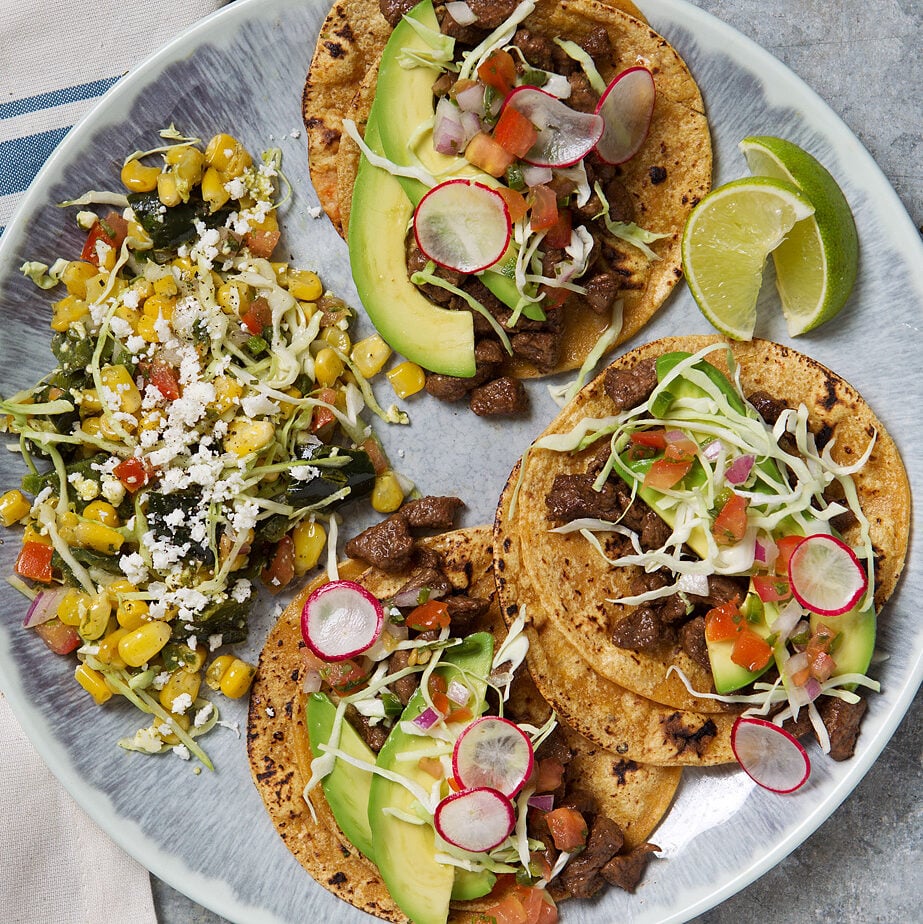 Global Flavors Carne Asada Street Tacos with Avocado & Poblano Elote Salad: Forget Taco Tuesday. These Carne Asada Street Tacos are perfect any night of the week! We cooked tender bites of steak in bold al pastor spices and served them on warm corn tortillas. On top, cotija cheese, sliced avocado, and crisp cabbage slaw finish off these fabulous tacos.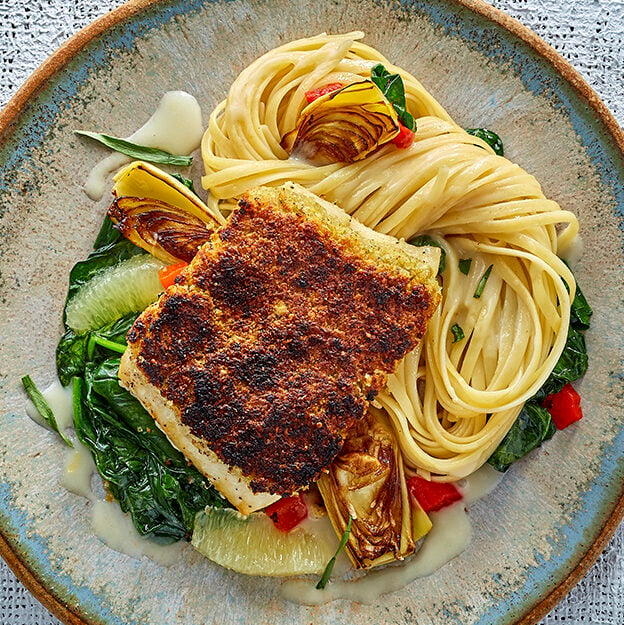 Artichoke Pesto Crusted Halibut & Fettuccine Pasta with Lemon Beurre Blanc Premium Dinner: This is one of those times when you know exactly how delicious a dish is going to be just from its name. Our moist and flaky halibut fillets have a savory artichoke pesto crust that's divine, the fettuccine is freshly made, and the lemon beurre blanc is light and zesty. It's the perfect dinner, no question!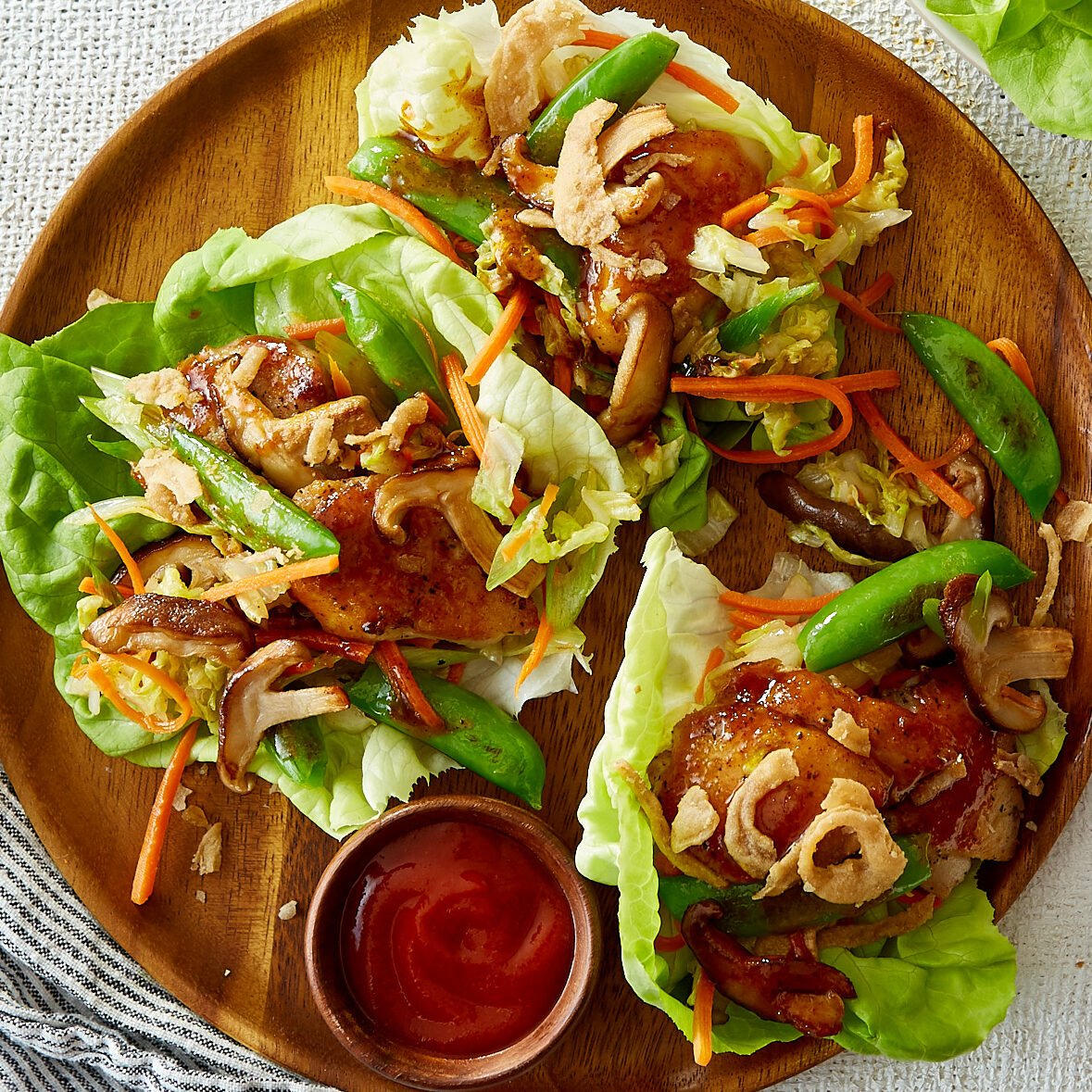 Lean & Clean Moo Shu Chicken Lettuce Wraps with Sugar Snap Peas: We all need to eat our vegetables, so we've found the best way to pack in a ton of veggies in the most delicious way possible: Moo shu chicken lettuce wraps. It's all the flavor and nutrition you could possibly wish for, and it's fun to eat! Roll up our tasty sautéed chicken and stir-fried veggies in a refreshingly crisp lettuce wrap and enjoy.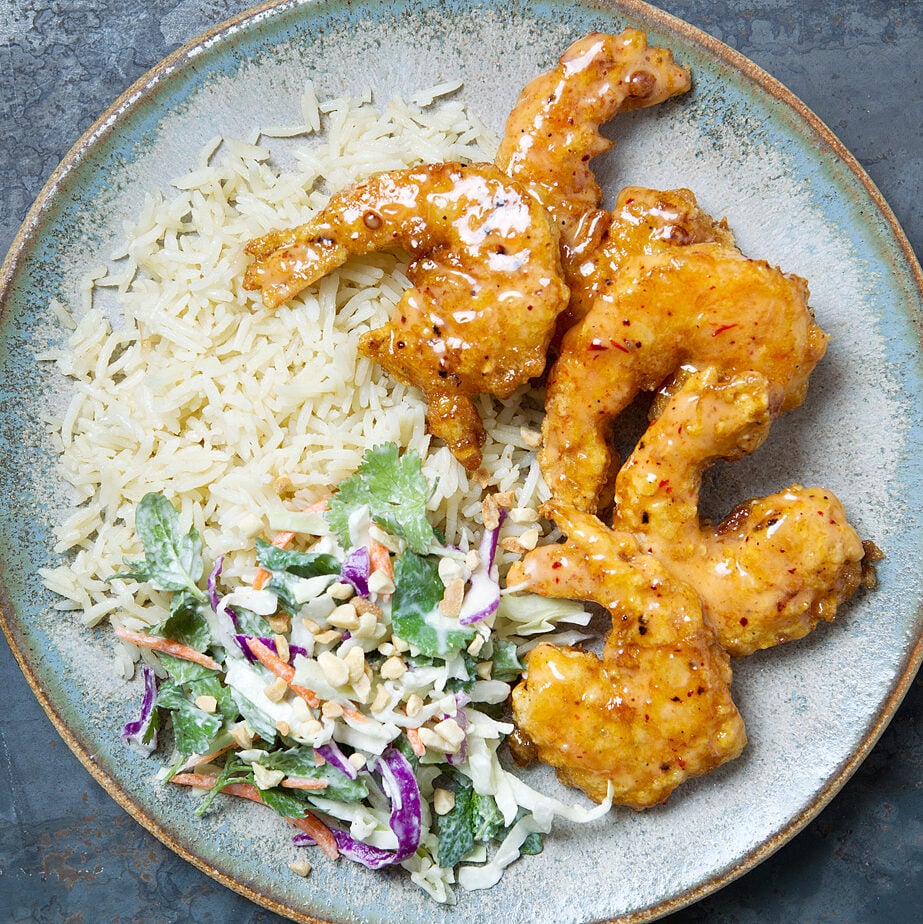 Sweet Chili Shrimp with Coconut Rice & Thai Coleslaw: Dive into this beautifully aromatic dinner featuring juicy pan-fried shrimp tossed in a delicious sweet chili sauce. Coconut basmati rice and a brightly flavored Thai coleslaw are the perfect sides to balance this satisfying meal.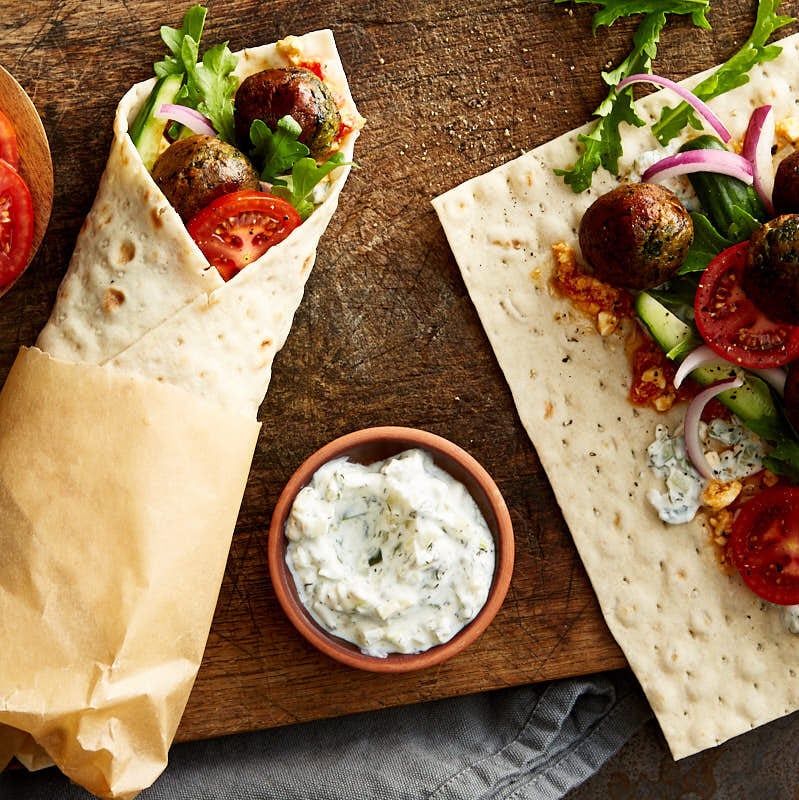 Mediterranean Falafel Wrap with Feta Cheese & Tzatziki Sauce: We don't like to brag, but we kinda nailed it with this vegetarian falafel wrap. The crispy falafel are served on lavash wrap and topped with feta cheese, peppery arugula, crispy cucumber, red onion, and a refreshing cucumber yogurt sauce. We've also included a spicy harissa hot sauce. And, of course, no falafel meal is complete without a side of pita chips and hummus!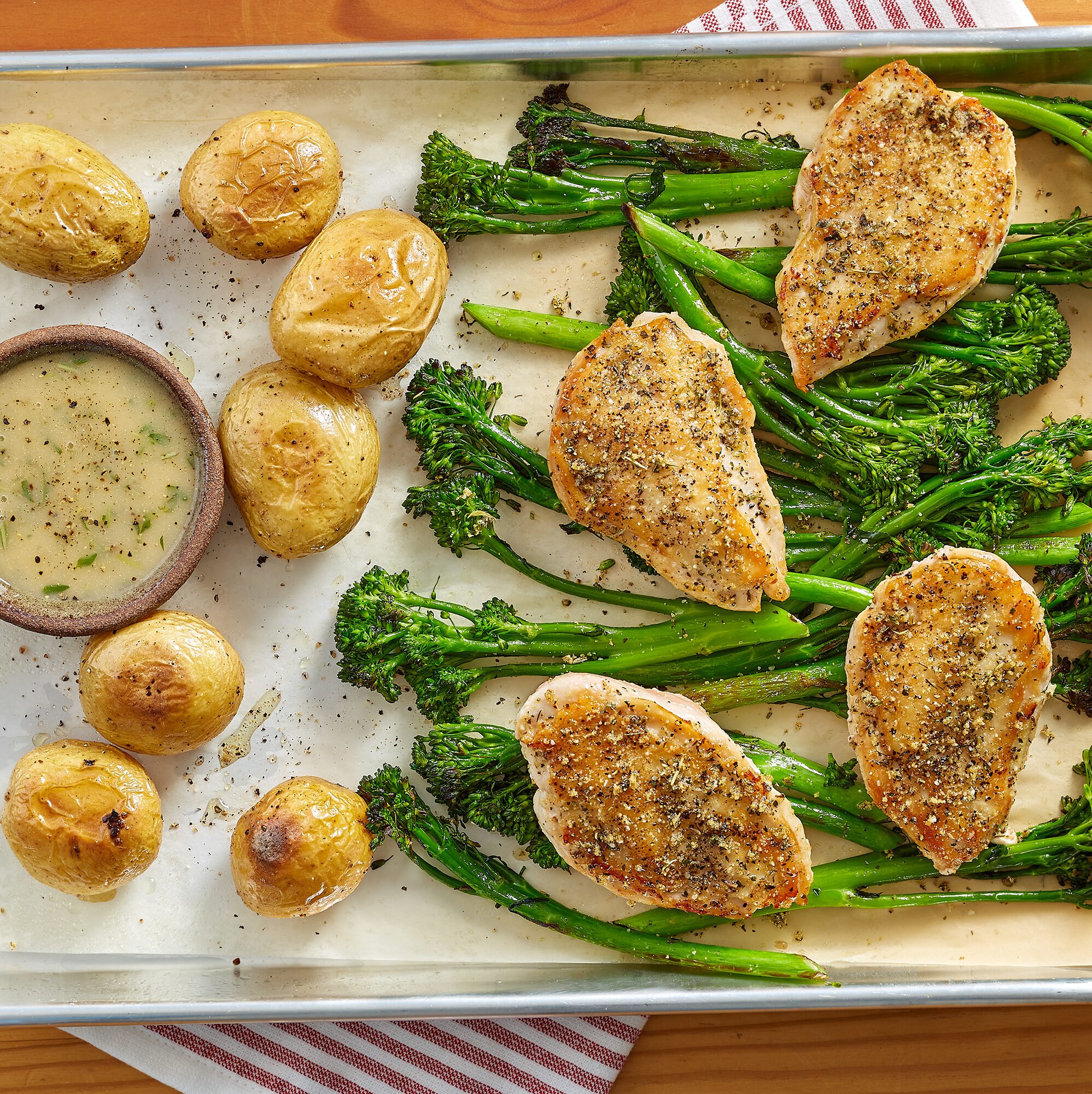 Quick & Easy Sheet Pan Lemon Dijon Herb Chicken with Broccolini & Potatoes for Four: Make family dinner a breeze with this Quick & Easy sheet pan dish that cuts down on prep and cleanup. It features juicy, seasoned chicken breast with tender-crisp broccolini and roasted potatoes. A side of lemon dijon herb sauce perfectly complements this simple, tasty meal.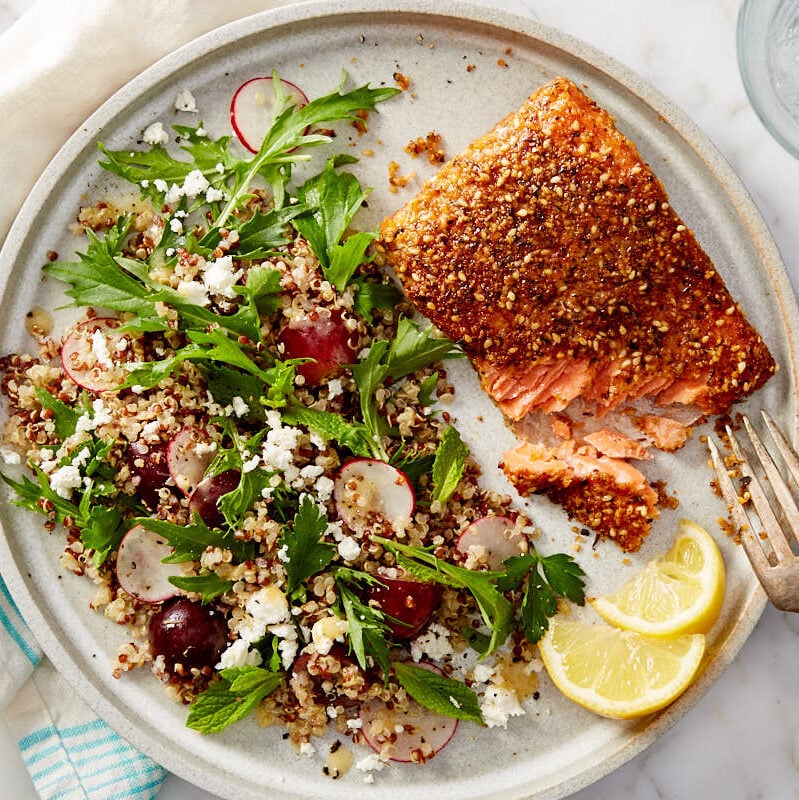 Dukkah Crusted Salmon with Quinoa & Arugula Salad: Our dukkah-crusted salmon is pan-seared for a crispy crust and a tender, flaky center. It's served with a delicious quinoa and arugula salad tossed in a tangy orange-cumin vinaigrette and topped with juicy grapes, crumbled feta, and fresh herbs. A squeeze of lemon adds a bright finish to this light and healthy dinner.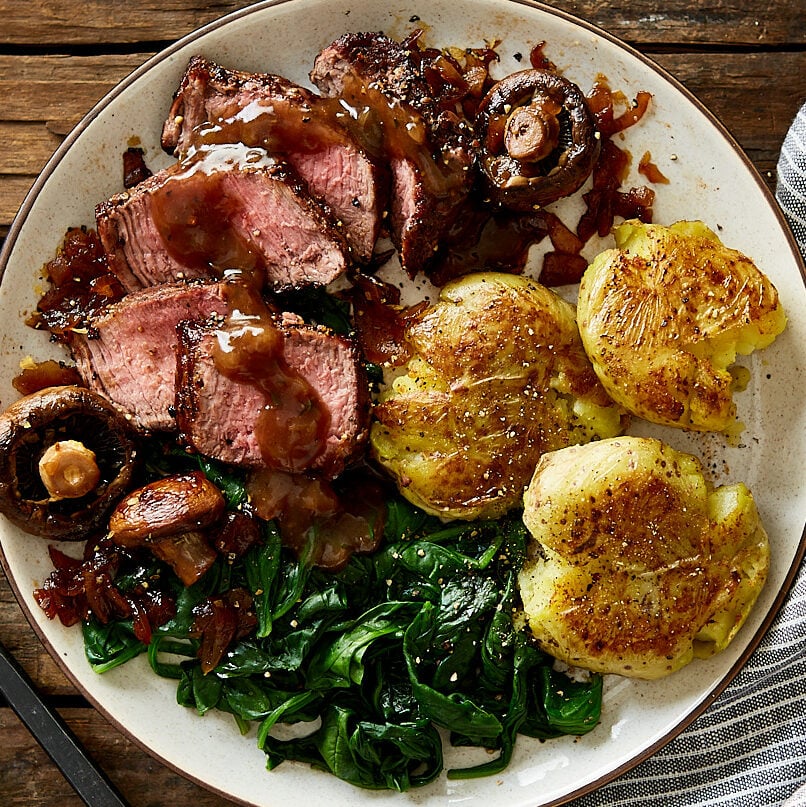 Top Sirloin Steaks with Smashed Yukon Potatoes, Spinach and Three Peppercorn Sauce: You deserve the best, and we have it right here for you! This gourmet dinner features sirloin steaks perfectly pan-roasted for a flavorful crust and drizzled with our delicious three peppercorn sauce. Enjoy steakhouse-quality sides including smashed Yukon potatoes, sautéed spinach and cremini mushrooms, and savory caramelized onions.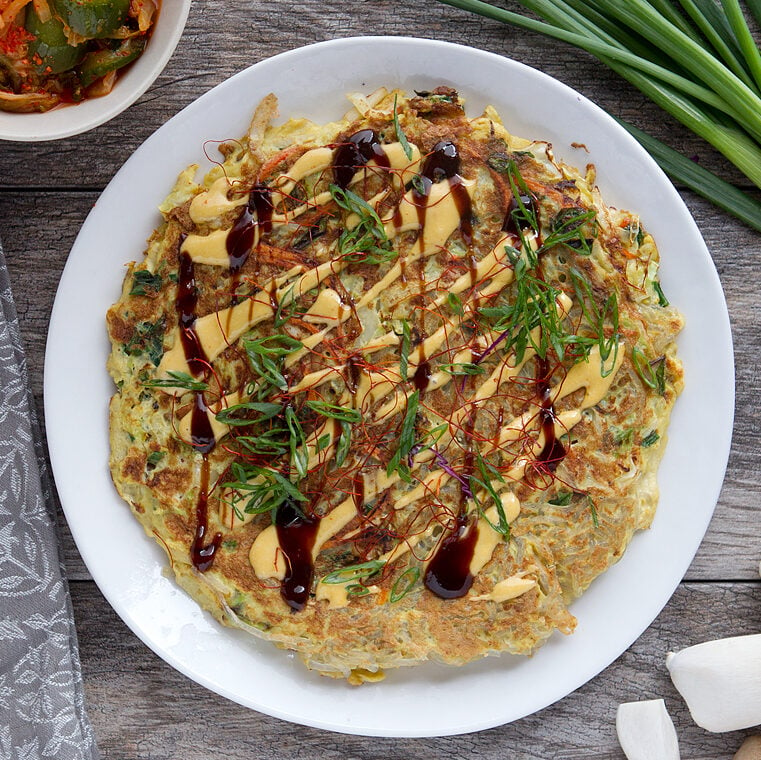 Japanese Okonomiyaki with Yakisoba Noodles: Omelettes for dinner? Yes, please! Our Japanese-style omelette (okonomiyaki) has a delicious mix of sautéed shredded cabbage, sweet carrots, scallions, earthy mushrooms, and yakisoba noodles. A drizzle of sweet hoisin sauce and a spicy Sriracha aioli adds the perfect hit of flavor, and a salad with sesame dressing rounds out this tasty vegetarian dinner.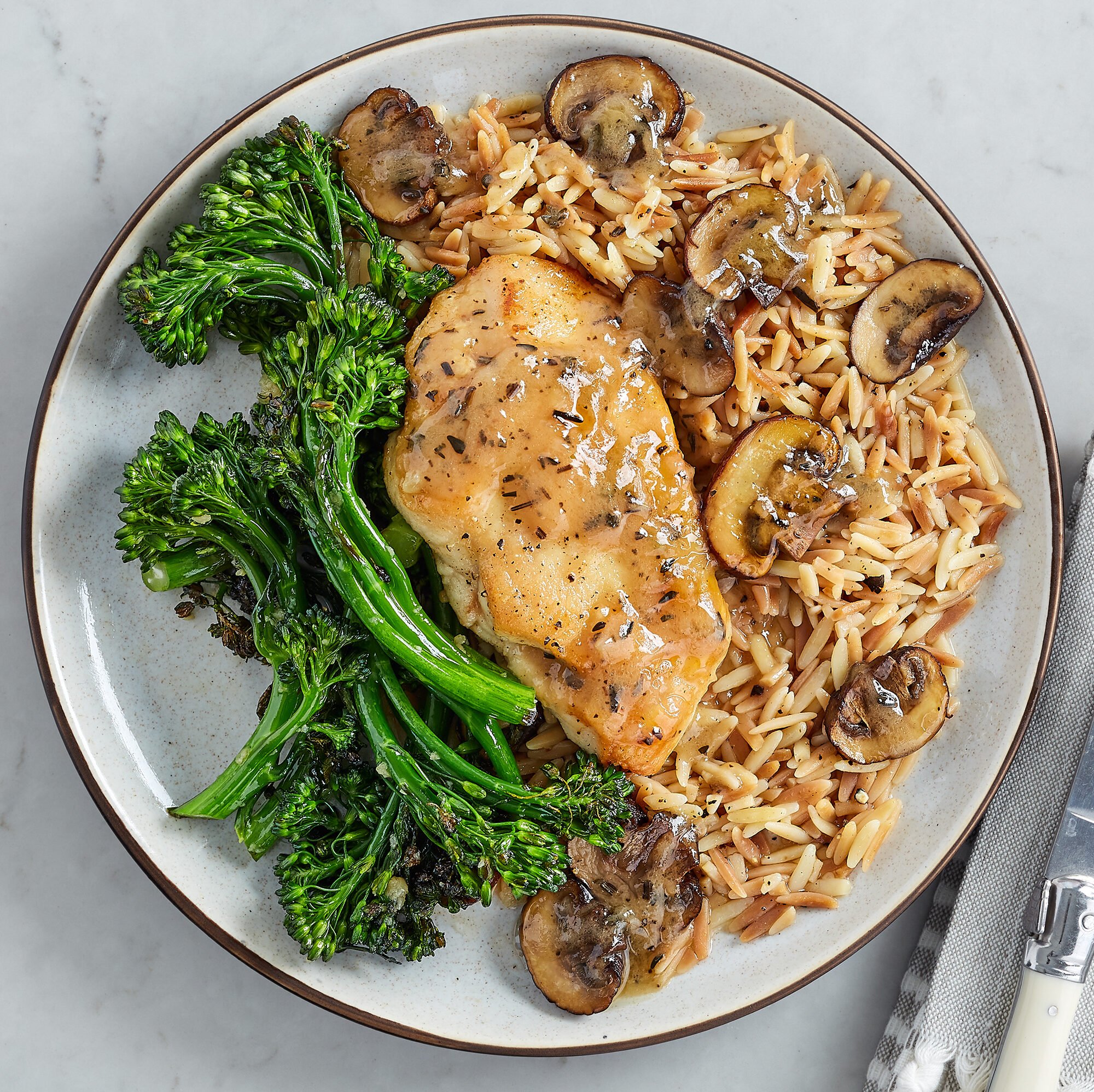 Mushroom Marsala Chicken with Orzo Pasta & Broccolini: You'll love the rich and savory flavors of this dish featuring marsala wine sauce, mushrooms, and juicy chicken breast. It's served over a bed of tender orzo pasta with a side of bright and lovely broccolini. This Italian-inspired dinner is sure to be a family favorite!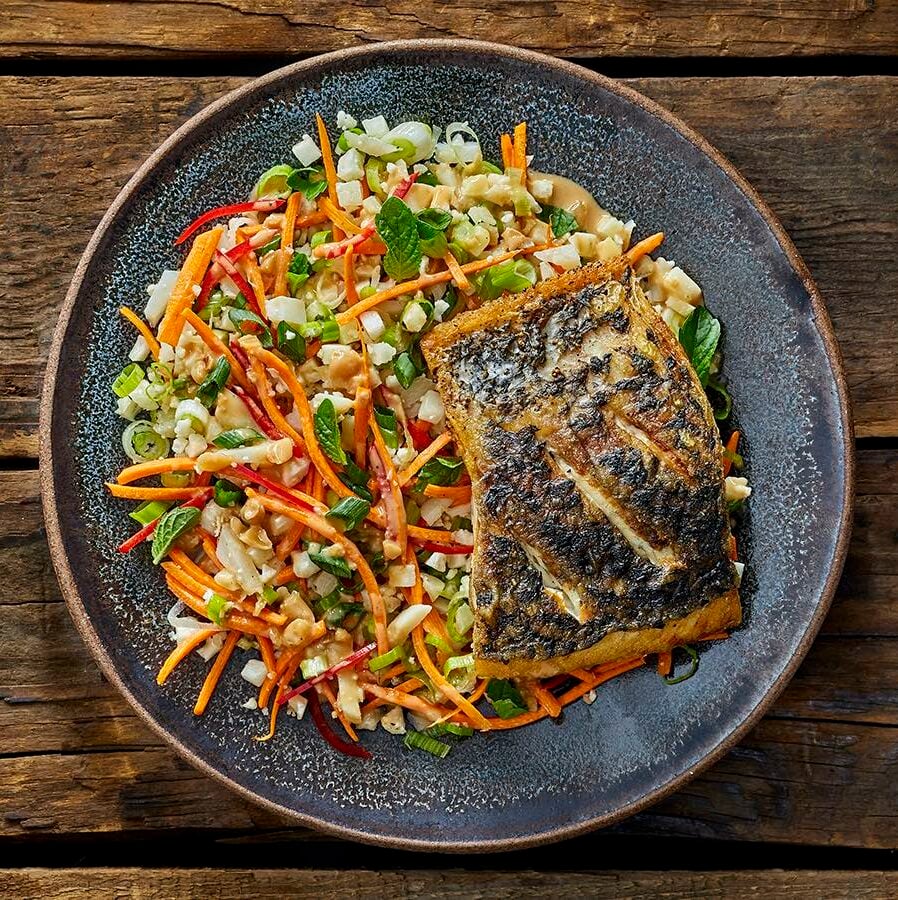 Seared Barramundi with Thai Cauliflower Crunch Salad: This quick, delectable dish gives you a taste of Asia. We've paired crispy pan-fried barramundi with a crunchy salad of broccoli, cauliflower crumbles, carrots, and green onions tossed in a sweet and spicy Thai peanut sauce. It's the perfect combination of healthy and delicious.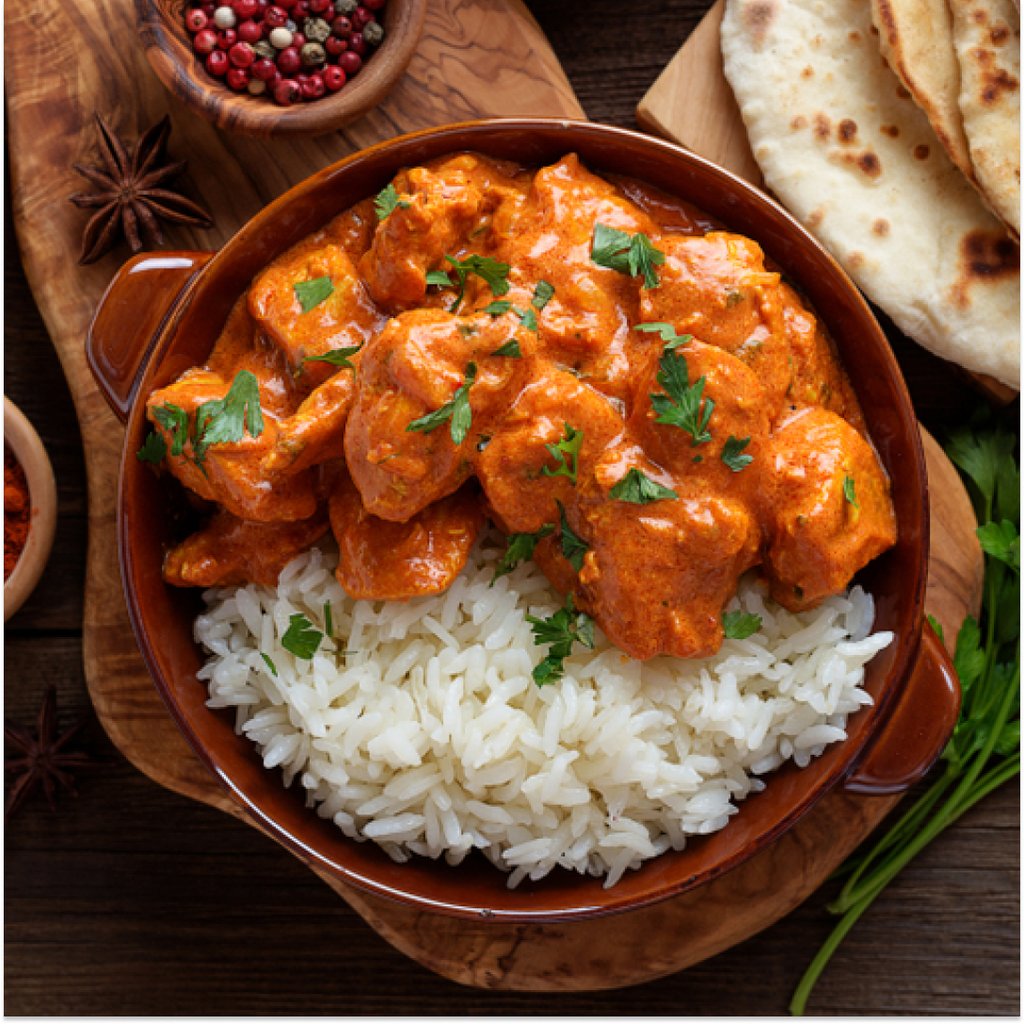 Butter Chicken with Basmati Rice & Naan Bread: Butter chicken is one of India's most beloved dishes, and we know you'll love it, too! Sautéed pieces of diced chicken are folded into a rich butter sauce made with cream, crushed tomatoes, and Indian spices. It's served alongside basmati rice, a refreshing cucumber and tomato salad with orange-cumin vinaigrette, and buttery naan.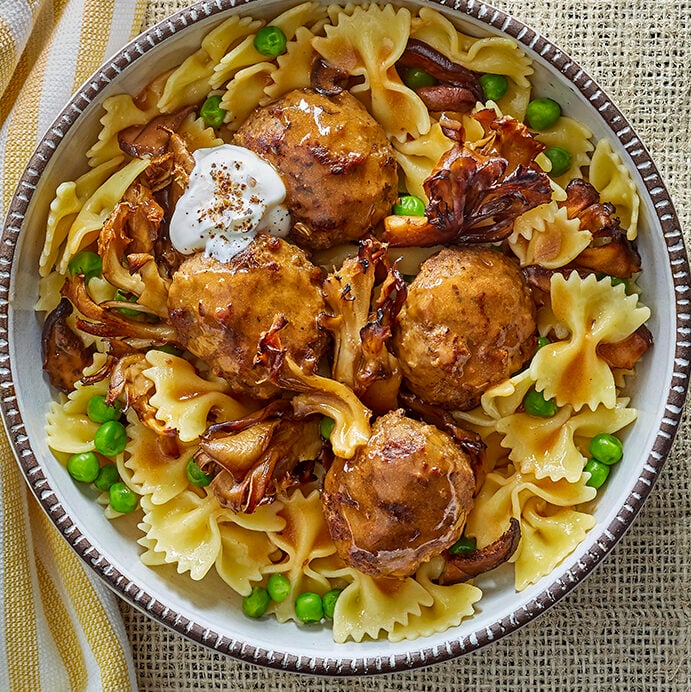 Creamy Meatball Stroganoff with Mushrooms & Farfalle Pasta for Four: We did the heavy lifting to create these delicious beef meatballs. All that's left is to simmer them in our rich and creamy demi-glace sauce with sautéed mushrooms and serve them over tender farfalle pasta. A crisp romaine salad completes this satisfying meal your whole family will love.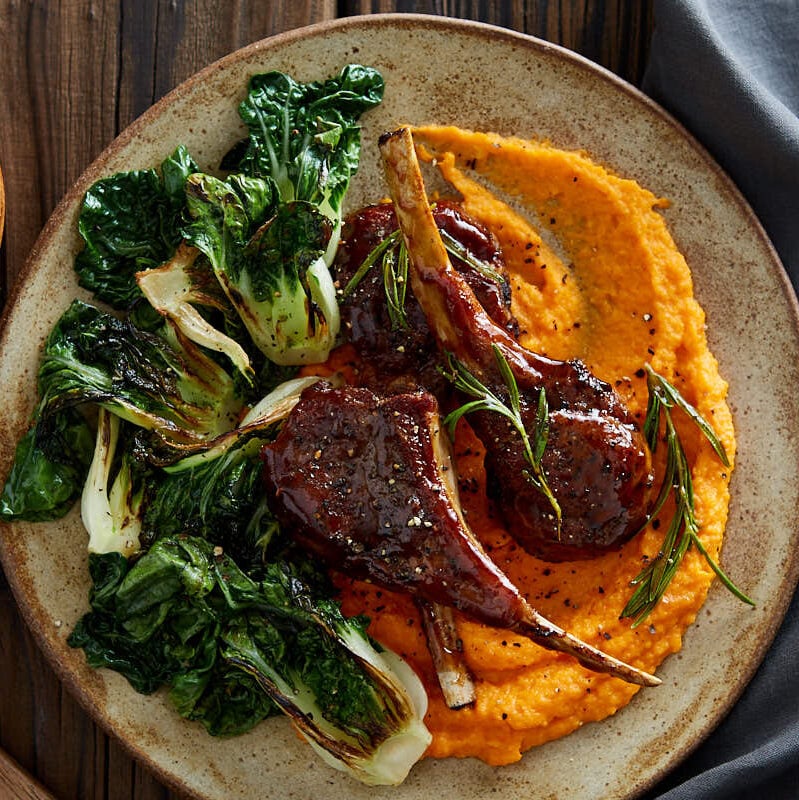 Glazed Lamb Chops with Carrot Ginger Puree & Shanghai Bok Choy Premium Dinner: This beautiful gourmet meal tastes incredible and is simple to prepare. We seared succulent lamb lollipops for a flavorful browned crust, then caramelized them in a sweet and spicy Korean barbecue sauce. It's served with baby bok choy sautéed in a confit of ginger, garlic, and scallion and a velvety smooth carrot-ginger puree.
Mediterranean Mezze Platter with Za' Atar Pita Bread: When you're craving a little of everything, this Mediterranean platter is the perfect choice! It has a veggie-filled kale tabbouleh, rich and creamy hummus, and refreshing tzatziki sauce. Use the za'atar-spiced pita bread to scoop up every bit of this tasty dinner.