January Menu Highlights
Can you believe that this week ends in a new month AND a new year? This fresh start is the perfect time to take a look at new dishes debuting on the Gobble menu, plus some of our delicious Lean & Clean meals and popular classics that you won't want to miss. Let's preview some of our upcoming January favorites: a Lean & Clean Pan-Roasted Chicken with Roasted Broccoli & Cauliflower with Italian Salsa Verde; a Family-Friendly Sunday Supper Meatballs, Spaghetti, and Sausages with Garlic Bread and Italian Salad for Four, and a Global Flavor favorite, Burmese Shredded Chicken with Coconut Rice & Burmese Salad.
We have a range of mealtime solutions, whether your New Year's resolutions are to be more calorie conscious or simply to make it a habit of eating more fresh, home-cooked meals:
---
For those who want to try some of our most popular recipes…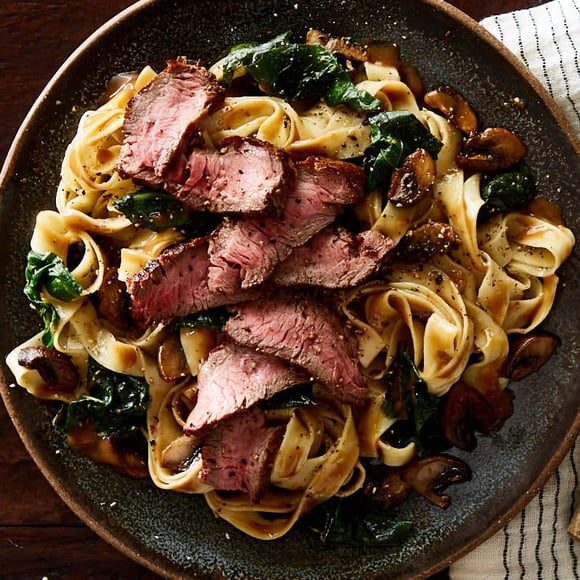 Tuscan Sirloin Steak with Mushrooms & Fettuccine in Three Peppercorn Sauce: We channeled our inner nonna to create this fan favorite recipe. In this Italian-inspired dish, we pan-roasted tender sirloin steaks and sautéed cremini mushrooms and spinach in our signature three peppercorn sauce. It's served over a bed of fettuccine pasta, and a dollop of rosemary thyme butter adds a rich, herbaceous finish to this unforgettable meal.
Sweet Potato and Poblano Enchiladas with Mexican Corn and Black Bean Salad: These vegetarian enchiladas are the perfect go-to when you want something fast, easy, and delicious! We generously stuffed flour tortillas with roasted poblano pepper and yam hash and topped them with a spicy, smoky salsa roja. They're served with a crisp, Southwestern-inspired salad on the side.
---
For those looking to expand their horizons this year…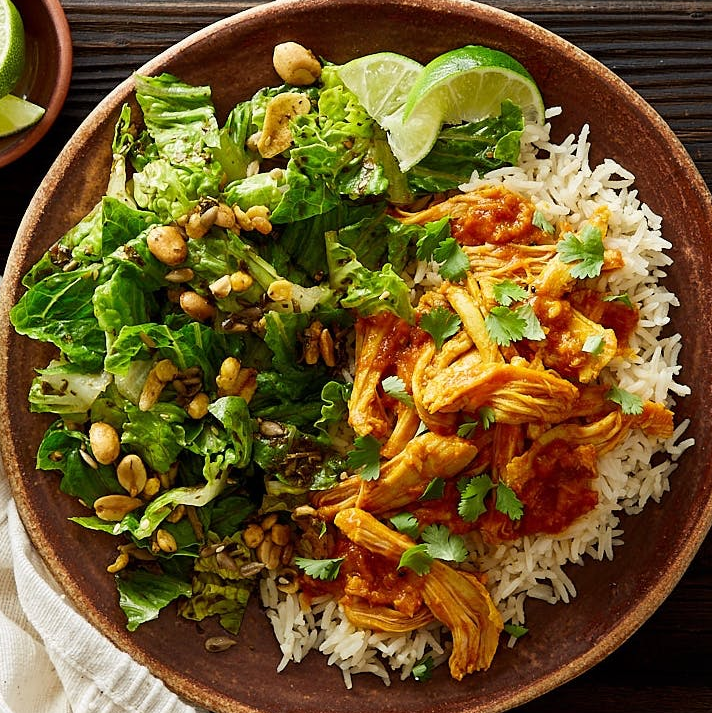 Burmese Shredded Chicken with Coconut Rice & Burmese Salad: Inspired by the exciting flavors of Burmese cuisine, this dish features shredded chicken thighs simmered in a sweet tomato sauce spiced with bright lemongrass and turmeric. The Burmese shredded chicken is served over a bed of our signature coconut rice and comes complete with a refreshing salad in our bright cilantro-lime vinaigrette. A squeeze of lime and a topping of toasted garlic, sesame seeds, and roasted peanuts add the final touch of flavor to this exciting and exotic dinner.
Argentinian-Style Steak with Patatas Bravas & Charred Vegetables: We've added some serious flair to the typical, steak-and-potatoes dinner with our Argentinian-style steak featuring paprika-roasted potatoes and an elegant side of charred vegetables. Tender sirloin steak is dressed in bright and zesty chimichurri sauce and served alongside spring onions with sweet and mild mini peppers cooked until tender and bursting with deep smoky flavors. Yukon Gold potatoes get a Spanish tapas treatment (of "patatas bravas" fame) with a dusting of smoked paprika and a sweet Peruvian-style pepper sauce.
Vietnamese Chicken Soup with Rice Noodles & Aromatic Spices: This Vietnamese noodle soup starts with a full-flavored chicken broth simmered with aromatic cinnamon and star anise. The noodle soup is topped with shredded chicken thighs, baby corn, shredded carrots, and bok choy. The soup comes complete with fresh herbs, a lime wedge, as well as Sriracha and hoisin sauces, to add the authentic garnishes to your flavorful Vietnamese pho.
---
For those who want to incorporate more veggies into their diet…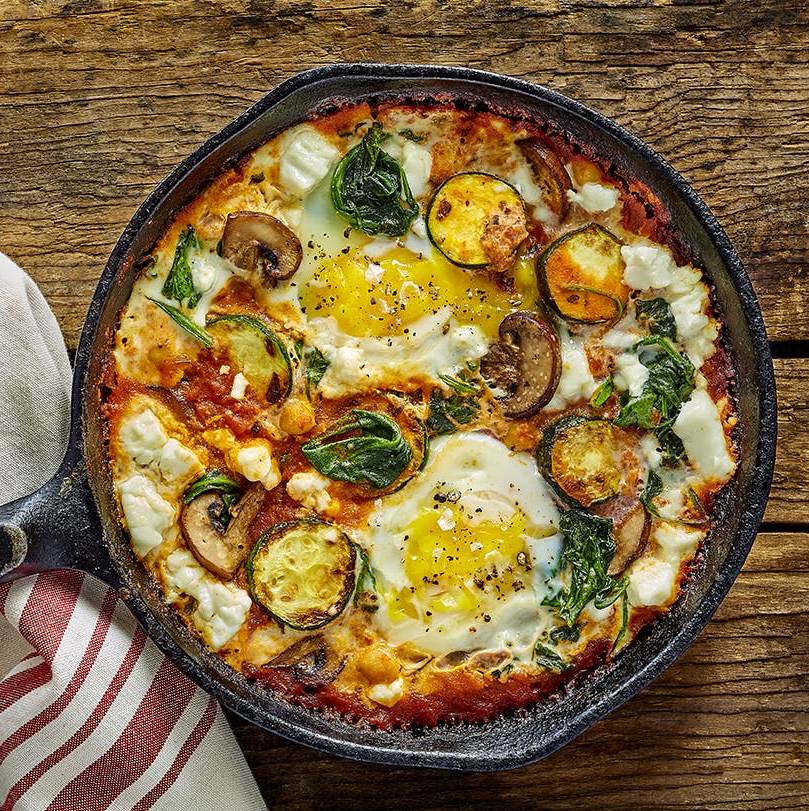 Mushroom, Zucchini and Feta in Spiced Shakshuka with Naan: Shakshuka is a magical Middle Eastern meal that's bursting with flavor! It features eggs poached in a spiced tomato sauce along with tender zucchini, wilted spinach, and savory mushrooms. The dish is finished with a sprinkle of salty, creamy feta cheese and served with toasted naan bread to soak up all the tasty sauce.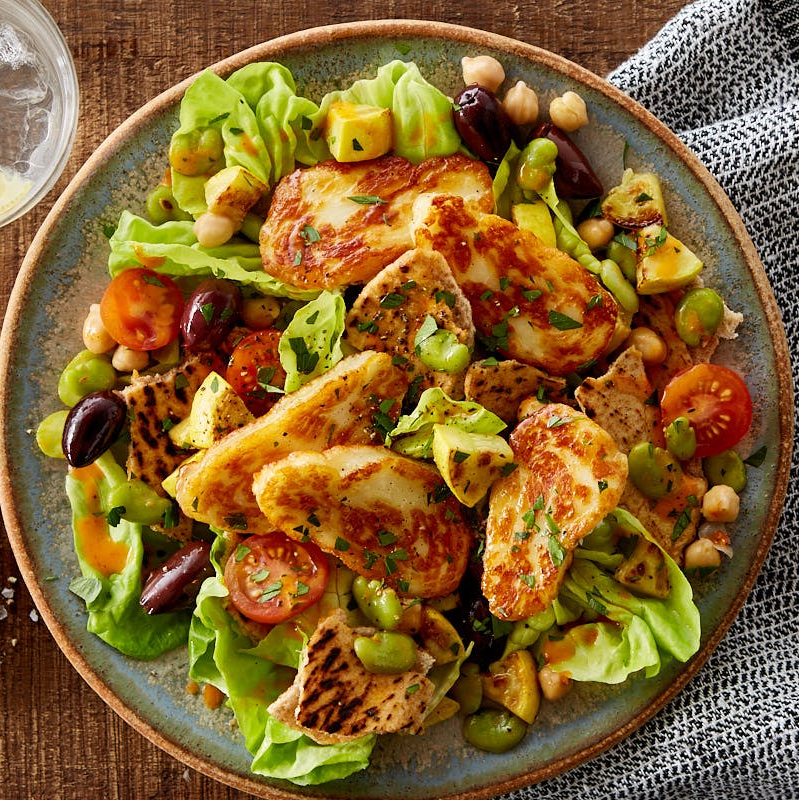 Pita Panzanella with Seared Halloumi Cheese & Harissa Vinaigrette: Our pita panzanella is a Greek-inspired masterpiece featuring lightly browned halloumi cheese (aka pure deliciousness). The saltiness of the halloumi perfectly matches the sweet and spicy harissa vinaigrette it's tossed in, and the toasted pita, cherry tomatoes, zucchini, garbanzo beans and kalamata olives complete this amazing dinner.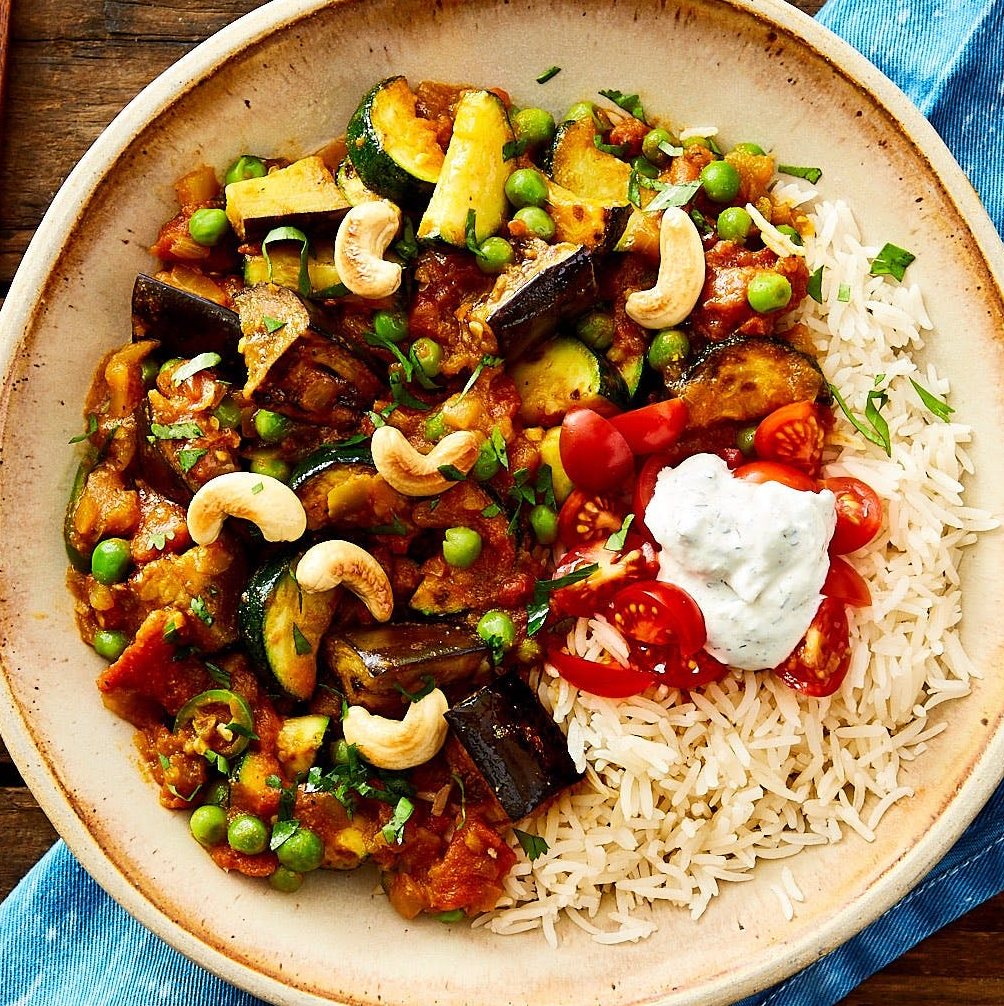 Country Captain Vegetable Curry with Basmati Rice: This hearty vegetable curry is a Southern take on the classic Madras curry. Pan-fried pieces of eggplant are simmered in a chunky Indian-spiced tomato sauce with zucchini and green peas. The vegetable curry is served over a bed of fragrant basmati rice and garnished with cashews and fresh cilantro. A cucumber yogurt sauce adds a cooling touch to the spiced curry.
---
For those who are looking for the one dish to please everyone…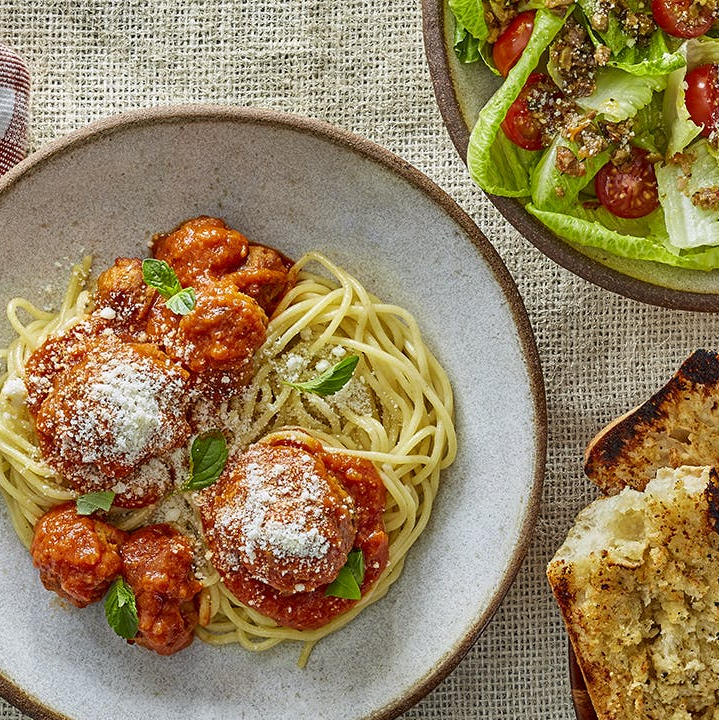 Sunday Supper Meatballs, Spaghetti, and Sausages with Garlic Bread and Italian Salad for Four: Gather your whole family around the dinner table to enjoy this comforting and familiar dinner of spaghetti and beef meatballs with Italian-style pork sausage. Full-cooked and seasoned beef meatballs are simmered with pork sausages in our authentic marinara sauce prepared with crushed San Marzano tomatoes. The spaghetti and meatballs dinner comes complete with our customer-favorite garlic bread and a side salad.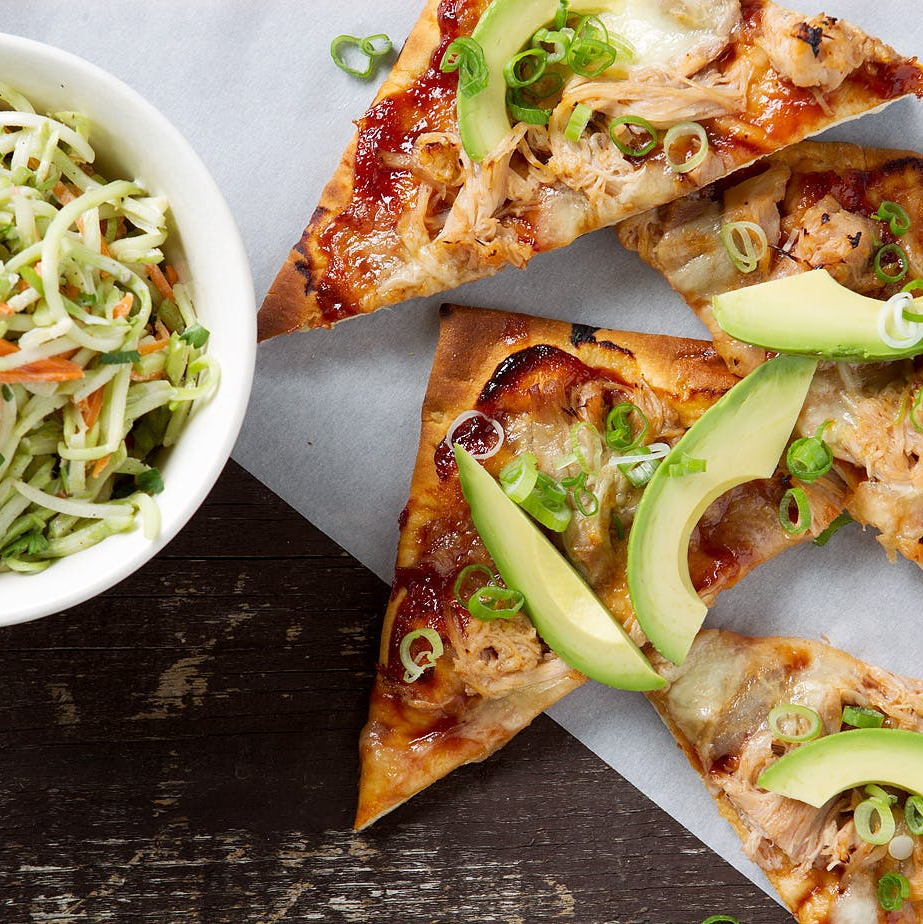 Barbecue Chicken Flatbread with Southwest Broccoli Crunch Salad for Four: Fact: This barbecue chicken flatbread dinner is ah-mazing. It's got sweet and smoky shredded barbecue chicken, fresh avocado, and gooey melted mozzarella on a delicious flatbread. A tasty broccoli crunch salad with spicy jalapeño ranch dressing is the perfect contrast of flavor and texture for this family-favorite meal.
---
For those looking to be more calorie-conscious…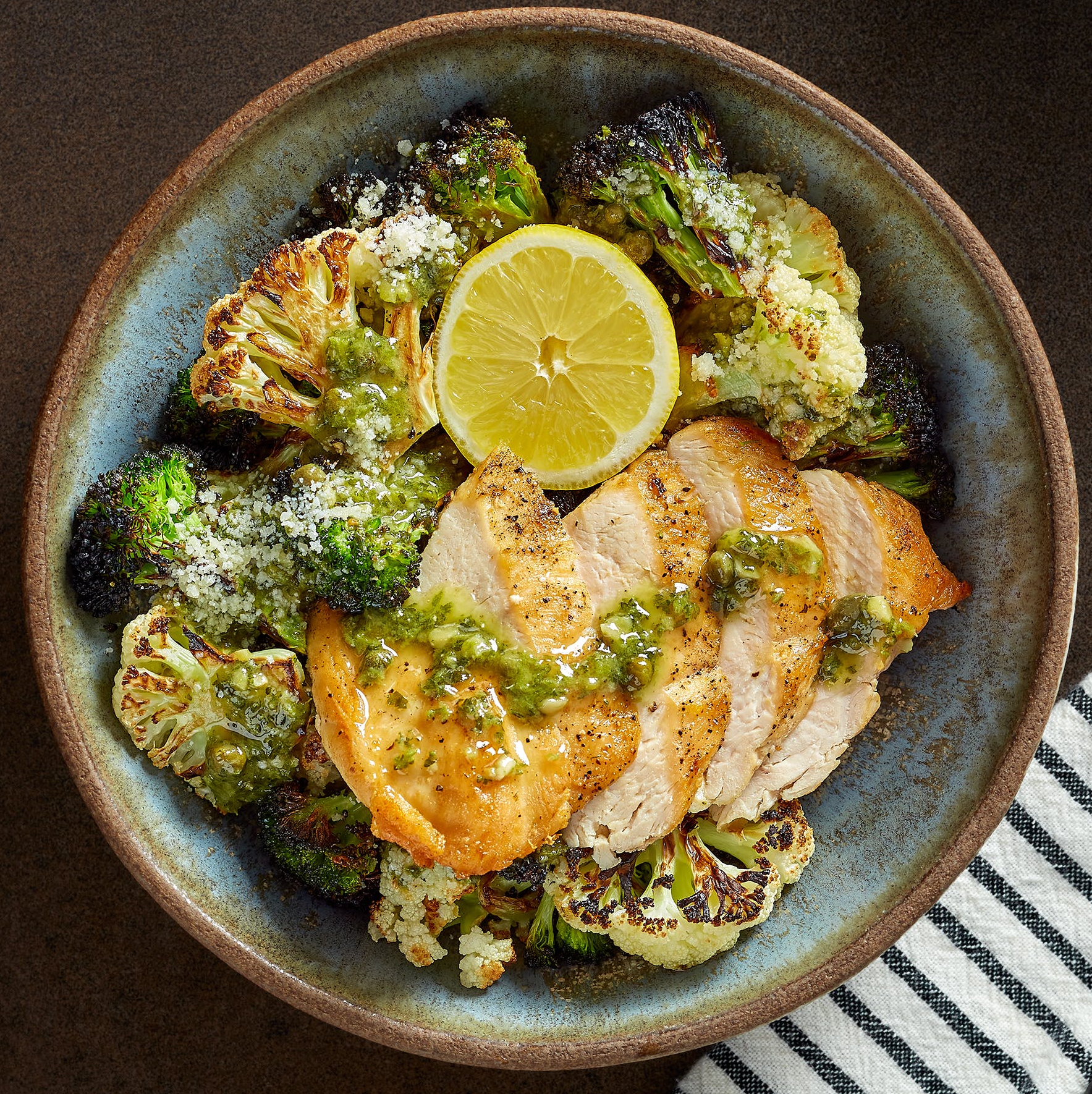 Pan-Roasted Chicken with Roasted Broccoli & Cauliflower with Italian Salsa Verde: This dinner is everything you could possibly want: quick, healthy, and delicious! The chicken is pan-roasted to total perfection and served with roasted broccoli and cauliflower. An Italian salsa verde tops the dish to bring a zesty, briny burst of flavor.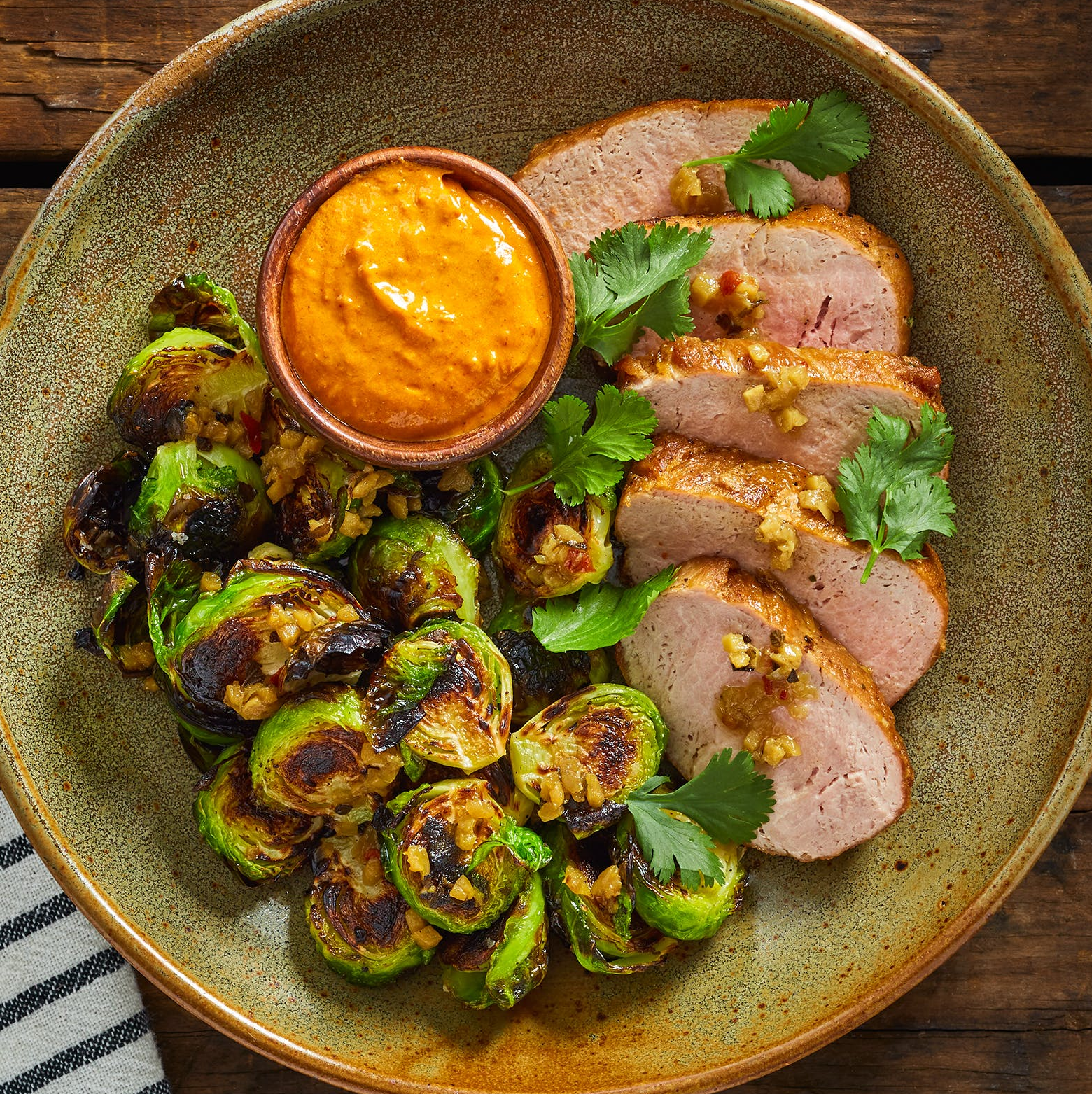 Roasted Pork Tenderloin with Charred Brussel Sprouts and Peruvian Dipping Sauce: Few things are as satisfying as juicy pan-seared pork tenderloin with a golden-brown crust. Served alongside this tasty perfection are roasted Brussels sprouts and a spicy-savory-sweet Peruvian dipping sauce. It's a delicious, low-carb dream dinner you won't forget!
---
For those who want to keep the 2021 celebrations extra special…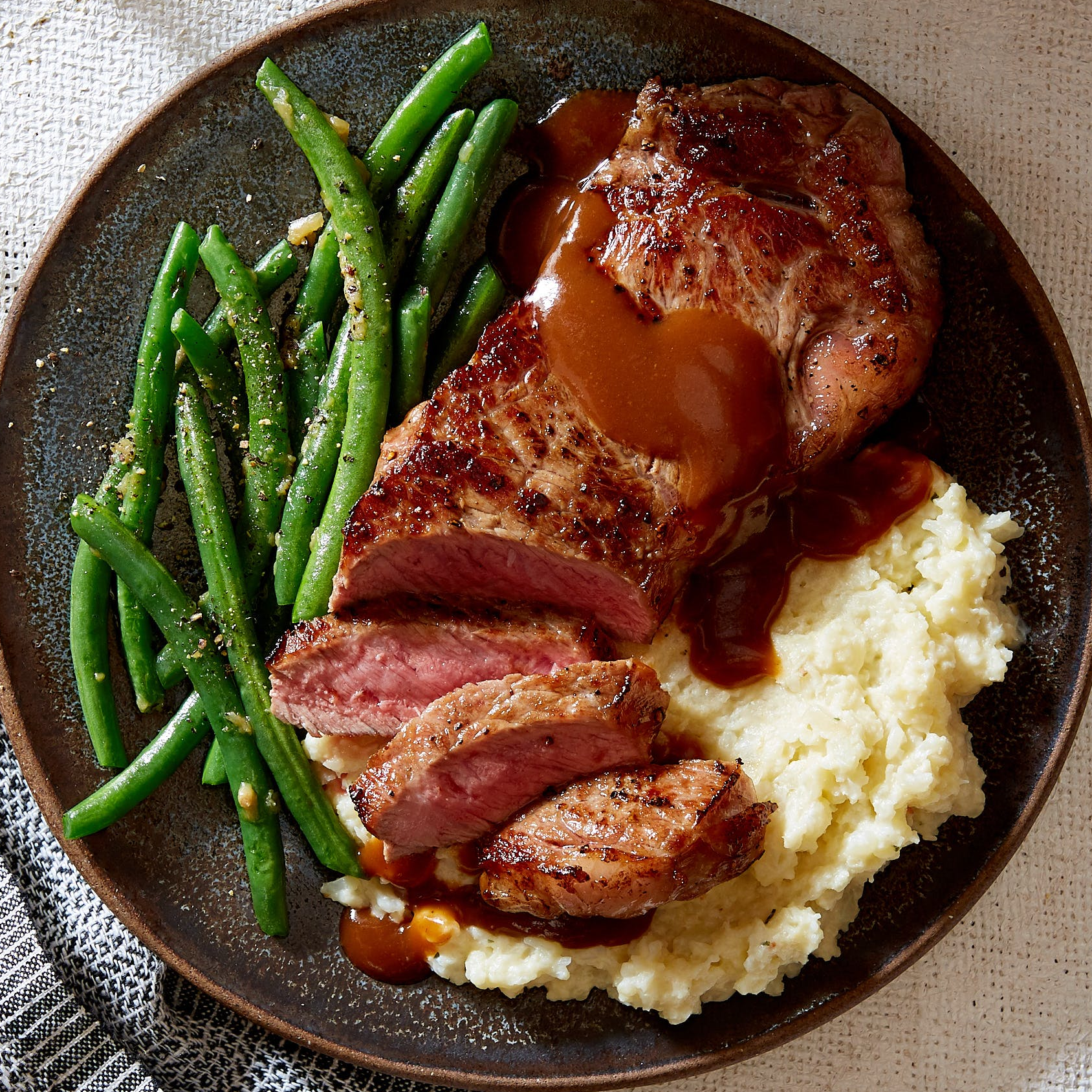 Pan-Roasted 10 Ounce Choice New York Steak with Parmesan Cauliflower Puree, Green Beans and Peppercorn Sauce: Are you craving a decadent, restaurant-quality dinner but are trying to wave goodbye to carbs? Us, too! We made this pan-roasted New York steak dinner with low-carb, high-flavor Parmesan cauliflower puree and a side of sautéed greens beans. Our signature three peppercorn sauce perfectly complements this mouth-watering meal.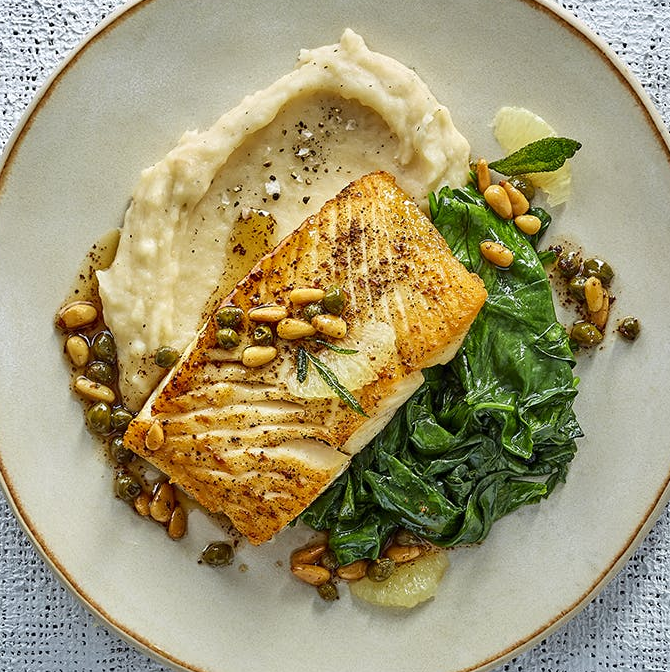 Sautéed Alaskan Halibut with Mashed Potatoes & Herbed Pine Nut Brown Butter: Treat yourself to a gourmet dinner with our pan-seared Alaskan halibut. The halibut fillets are seared to a perfect golden brown and served over a bed of sautéed spinach and creamy, delicious mashed potatoes. We tied everything together with an ah-mazing brown butter garlic Parmesan sauce with sage, capers, and pine nuts.