February Menu Highlights
The month of love is nearly upon us… in other words, it's time to take a look at the February recipes we're swooning over! From familiar classics to more adventurous flavors, there's something for everyone. Monthly highlights include: a Lean & Clean Korean Bulgogi Beef Lettuce Cups with Vegetable "Japchae"; a vegetarian Roasted Vegetables & Harvest Grain Bowl with Sweet Basil Lemon Dressing and a game day favorite, Barbecue Spare Ribs with Fusilli Pasta & Roasted Broccolini Crunch Salad for Four. Hungry, yet? Here's more delicious details of what to expect on our upcoming menus: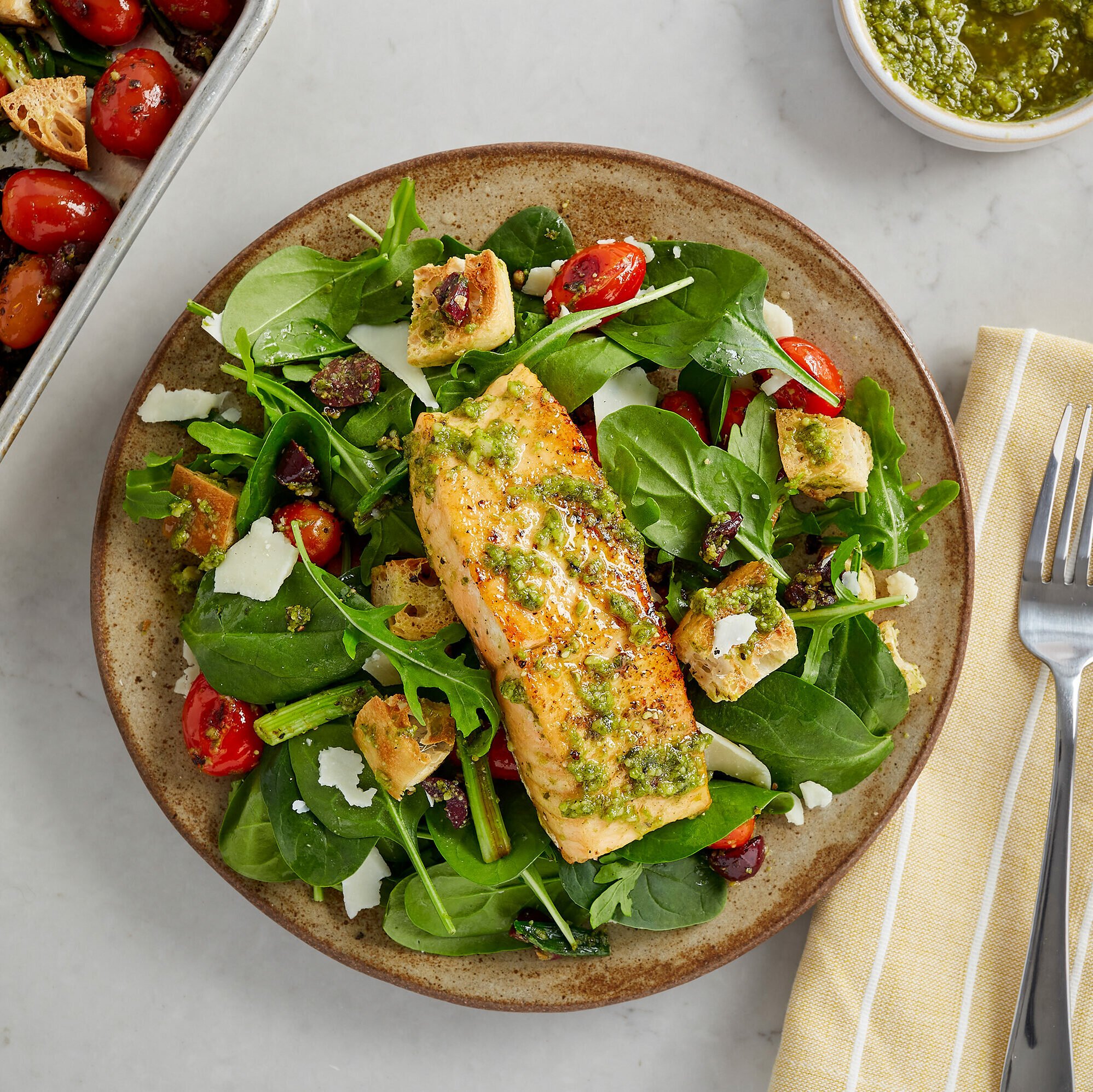 Quick & Easy Sheet Pan Basil Pesto Salmon Panzanella with Arugula & Red Wine Vinaigrette: You're going to love this tasty dish as well as all the free time you'll have while it cooks! Pop this sheet pan dinner in the oven and come back later to a tender, flaky salmon fillet. Our basil pesto adds richness and flavor, and a fresh Panzanella salad serves as the perfect base for this light and healthy meal.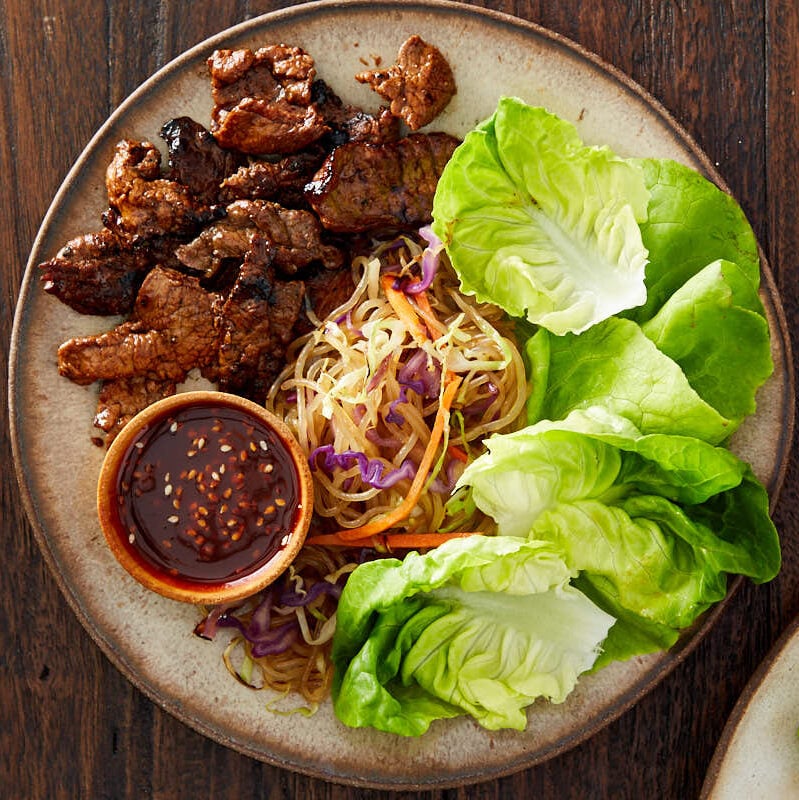 Lean & Clean Korean Bulgogi Beef Lettuce Cups with Vegetable "Japchae": Say hi to your new obsession, Korean bulgogi beef lettuce cups. We marinated and caramelized tender pieces of beef in a delicious bulgogi sauce that's salty, sweet, nutty, and savory. Crisp, refreshing lettuce cups serve as your edible utensil, and sides of vegetable japchae and cabbage slaw complete this memorable dinner.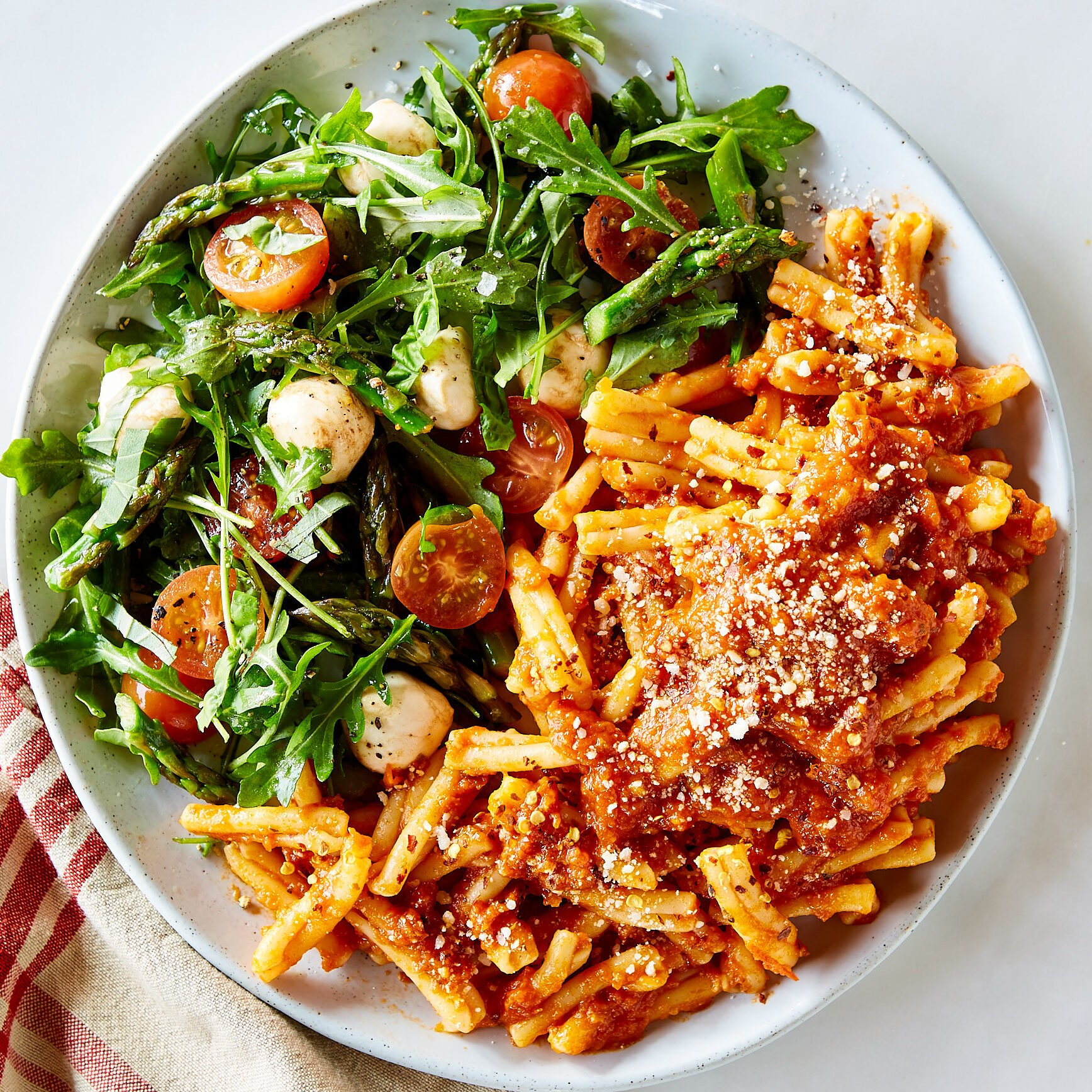 Gemelli Pasta Arrabbiata with Caprese Salad: It's amazing how much flavor you can get out of a simple tomato sauce. A confit of spicy Calabrian chilis and garlic add deep, bold flavors to our signature arrabbiata sauce. It's served over tender gemelli pasta with a refreshing side salad of green beans, peppery arugula, and a delicious basil pesto sauce. A vegetarian masterpiece!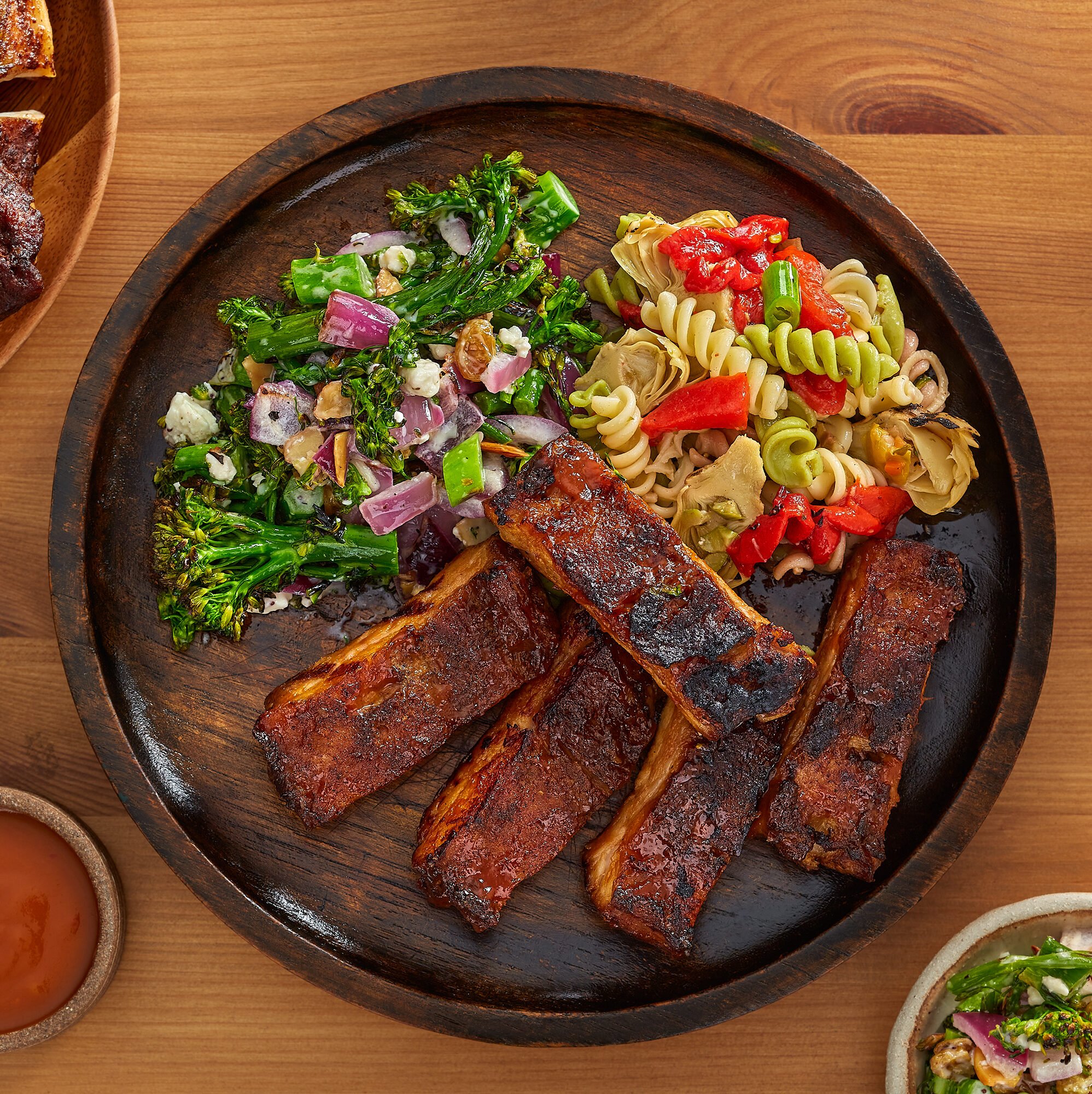 Game Day Barbecue Spare Ribs with Fusilli Pasta & Roasted Broccolini Crunch Salads for Four: Elevate your Super Bowl party with this barbecue dinner for four! Tender barbecue spare ribs are the star of the show, and the equally delicious supporting cast includes a roasted broccolini salad with poppyseed dressing and a pasta salad with artichokes and roasted red bell pepper. Remember, sharing is caring!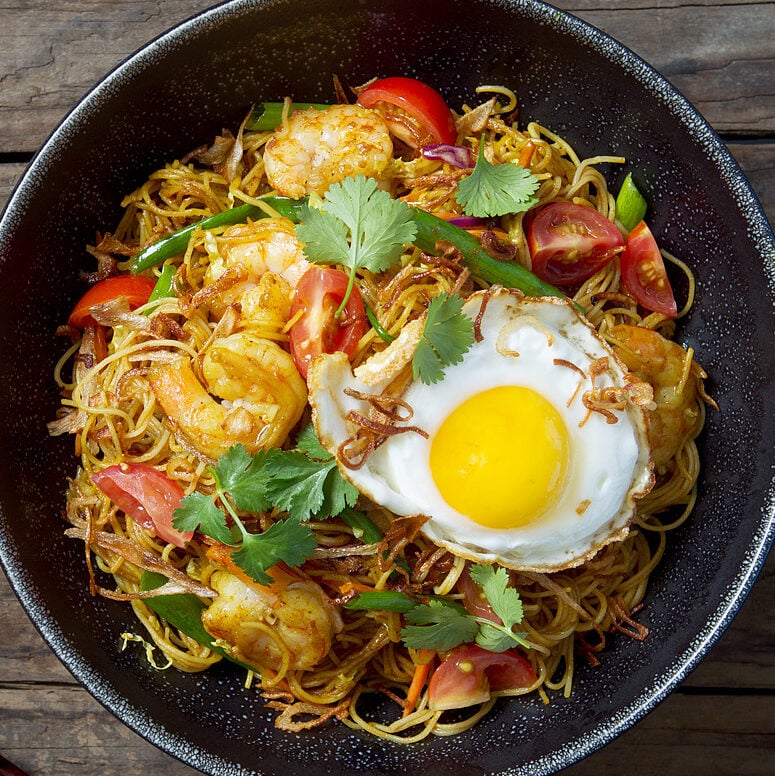 Global Flavors Singapore Street Noodles with Shrimp and Sunny-Side-Up Egg: There's a whole lot of deliciousness going on in our Singapore street noodles. There's a Thai basil stir-fry sauce; a ginger, garlic, and scallion confit; fried shallots; and Sriracha hot sauce all working together to bring fantastic flavors to our juicy shrimp, yakisoba noodles, and fresh veggies. Add a sunny-side-up egg for an extra burst of yum. This is a dinner to remember!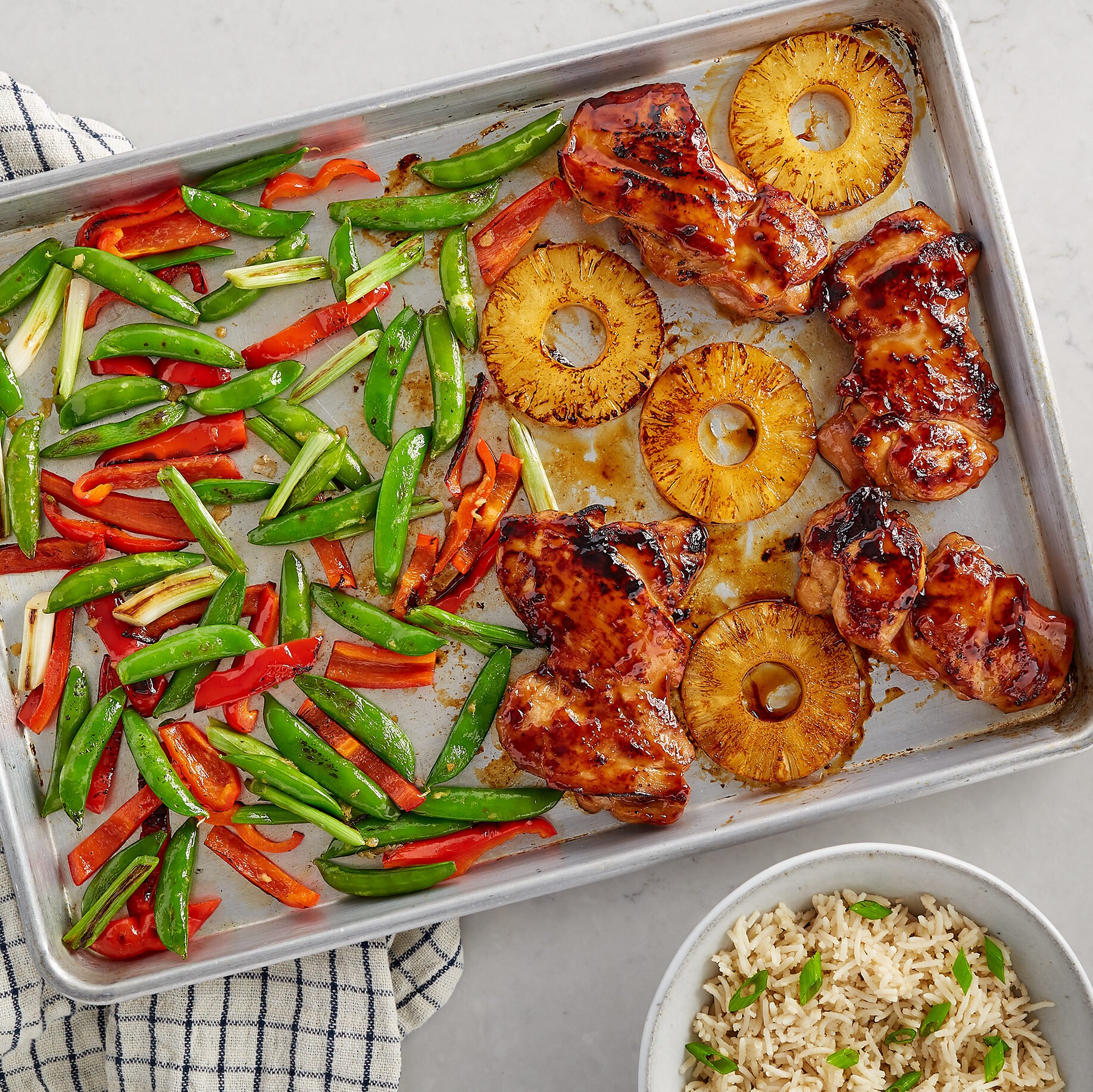 Quick & Easy Sheet Pan Huli Huli Chicken with Pineapple Rings & Coconut Rice: A delicious dinner that practically cooks itself and requires little post-dinner cleanup? Yes, please! Simply toss the Hawaiian barbecue-spiced chicken thighs into a pan along with juicy pineapple rings, red bell peppers, and sugar snap peas. Once it's perfectly roasted and caramelized, serve the sweet and savory mix over a bed of our signature coconut rice.
Argentinian Steak with Chimichurri Potatoes & Roasted Vegetables: We took the classic steak-and-potatoes dinner and added a bold touch of Argentinian flavors. Our tender, juicy sirloin steak is seasoned with a chipotle mole coffee rub and pan-seared for a delicious crust. It's served with a medley of diced bell peppers, red onions, and Yukon Gold potatoes. A generous drizzle of chimichurri adds a bright, zesty finish to this satisfying dish.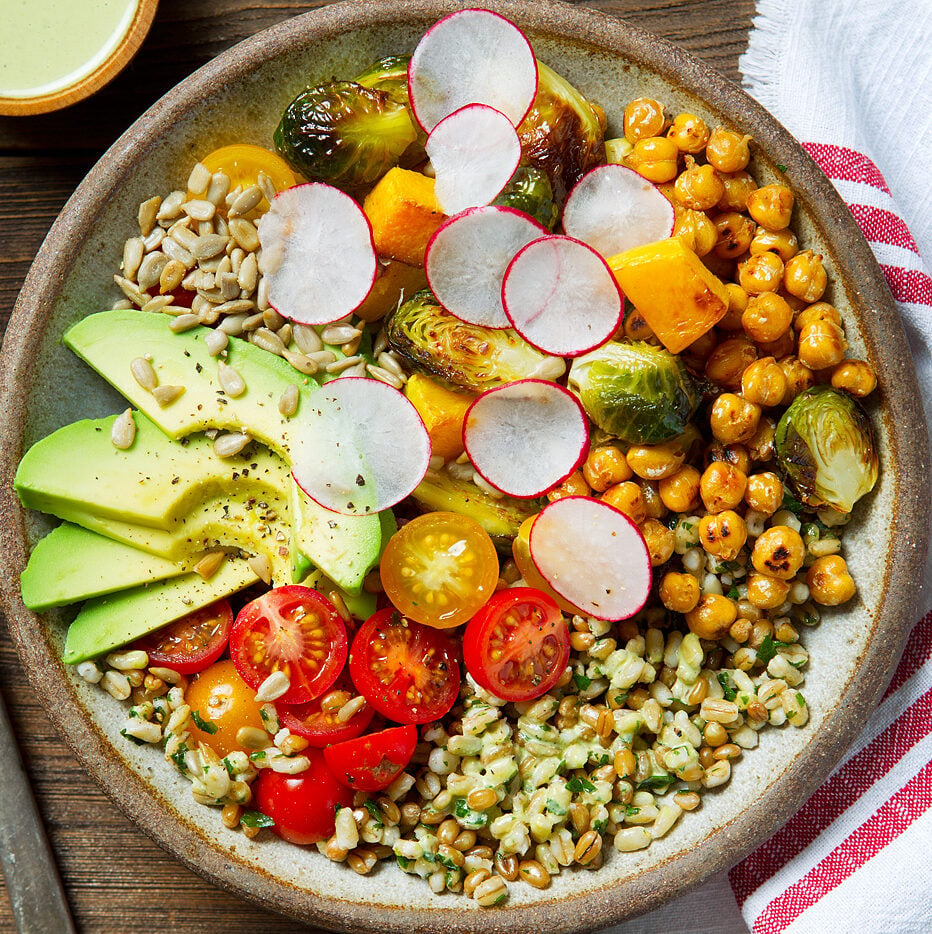 Roasted Vegetables & Harvest Grain Bowl with Sweet Basil Lemon Dressing: Satisfying. Mouthwatering. Perfect. This is your new favorite grain bowl. We started with a base of harvest rice; added roasted butternut squash, Brussels sprouts, and chickpeas; and brought a pop of flavor with a sweet basil lemon dressing. Sliced avocado, juicy toybox cherry tomatoes, and crunchy sunflower seeds are delicious extras that add texture and flavor.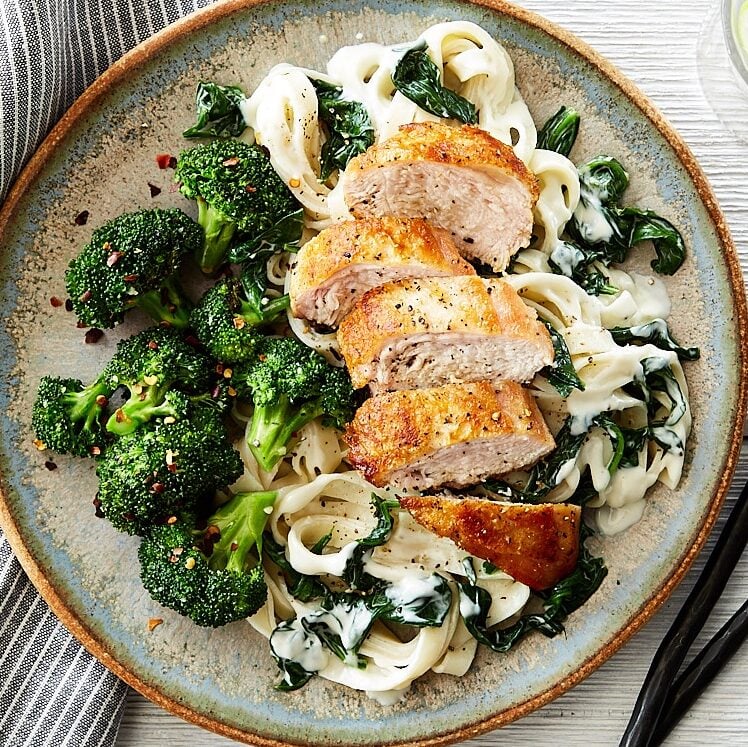 Chicken Fettuccine Alfredo with Spinach & Broccoli: Our take on this classic Italian dish features juicy chicken breasts, a rich Alfredo sauce, and sauteed spinach with an extra punch of flavor from the shallot garlic confit. Served alongside tender broccoli florets and topped with a savory Italian cheese blend and chili flakes for a little heat, this delicious dinner will be an instant family favorite.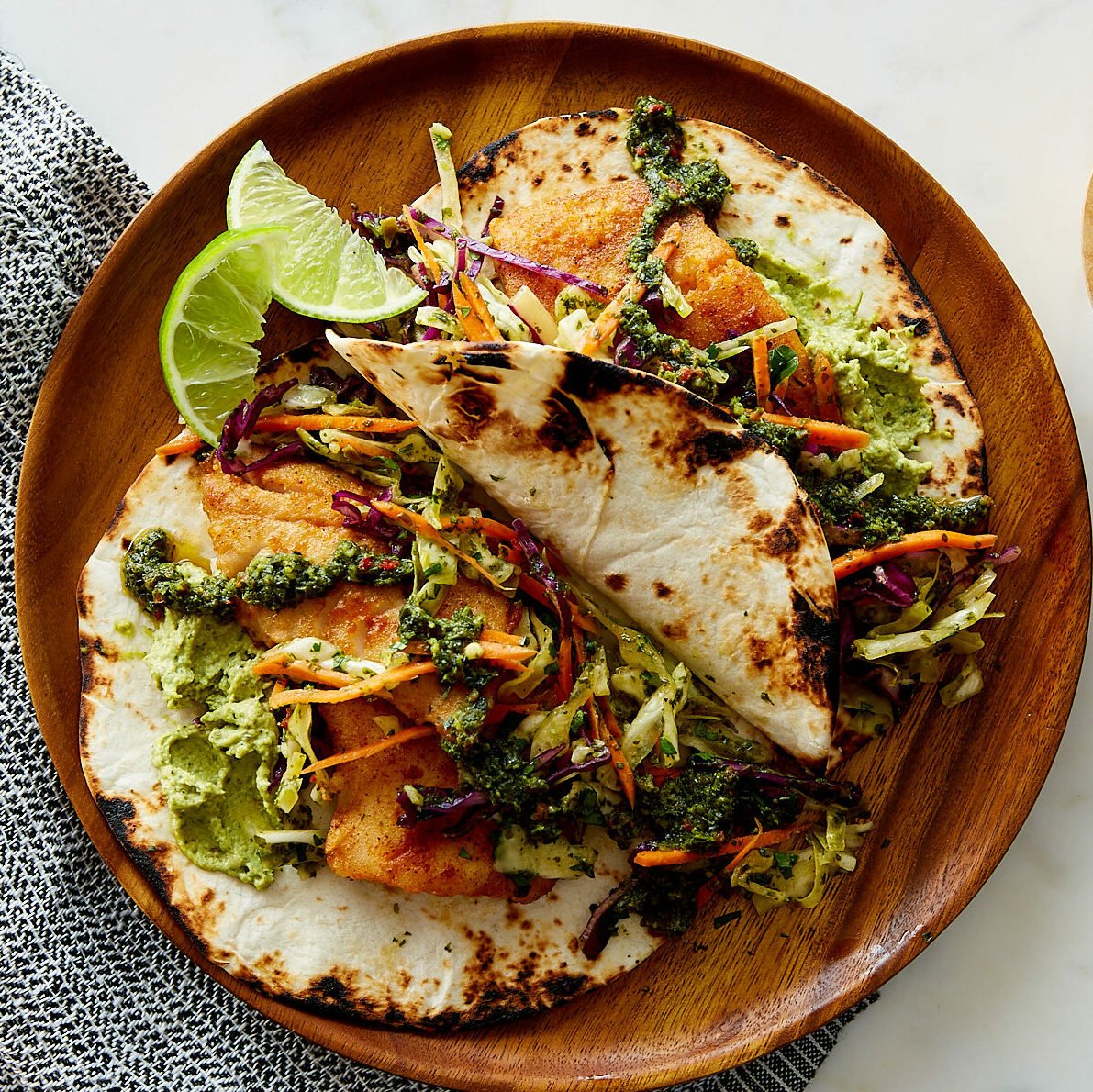 Chimichurri Fish Tacos with Shredded Cabbage: Chimichurri is an herby, citrusy sauce from Argentina that goes perfectly with our crispy snapper tacos. The fish is pan-fried for a tasty golden crust and served on warm flour tortillas with creamy hummus. It's topped with a bright, crunchy cabbage slaw and drizzled with our delicious chimichurri sauce.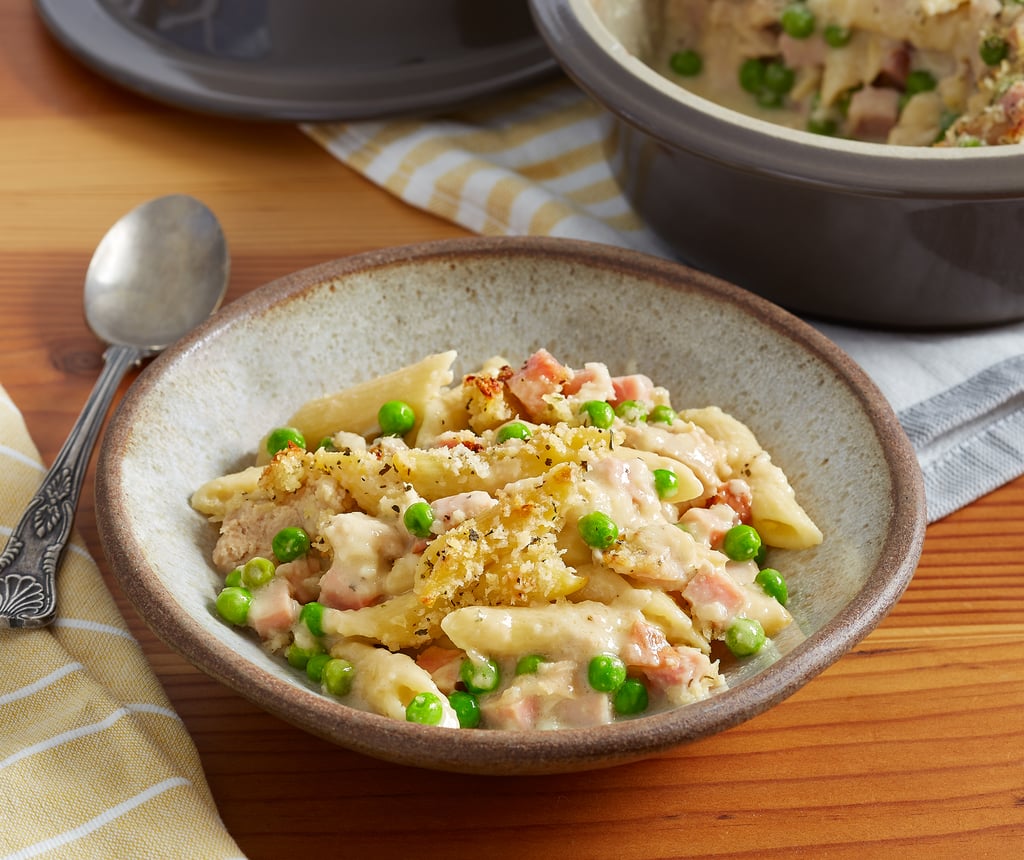 Quick & Easy Chicken Cordon Blue Penne Pasta Bake for Four: A pasta bake is the perfect Quick & Easy dinner that will satisfy everyone in the family! Our take on this classic French dish features tender chicken breast, penne pasta, and a rich, creamy white sauce all baked together to create the ultimate comfort food. It's a quick, delicious meal with little post-dinner cleanup — what's not to love?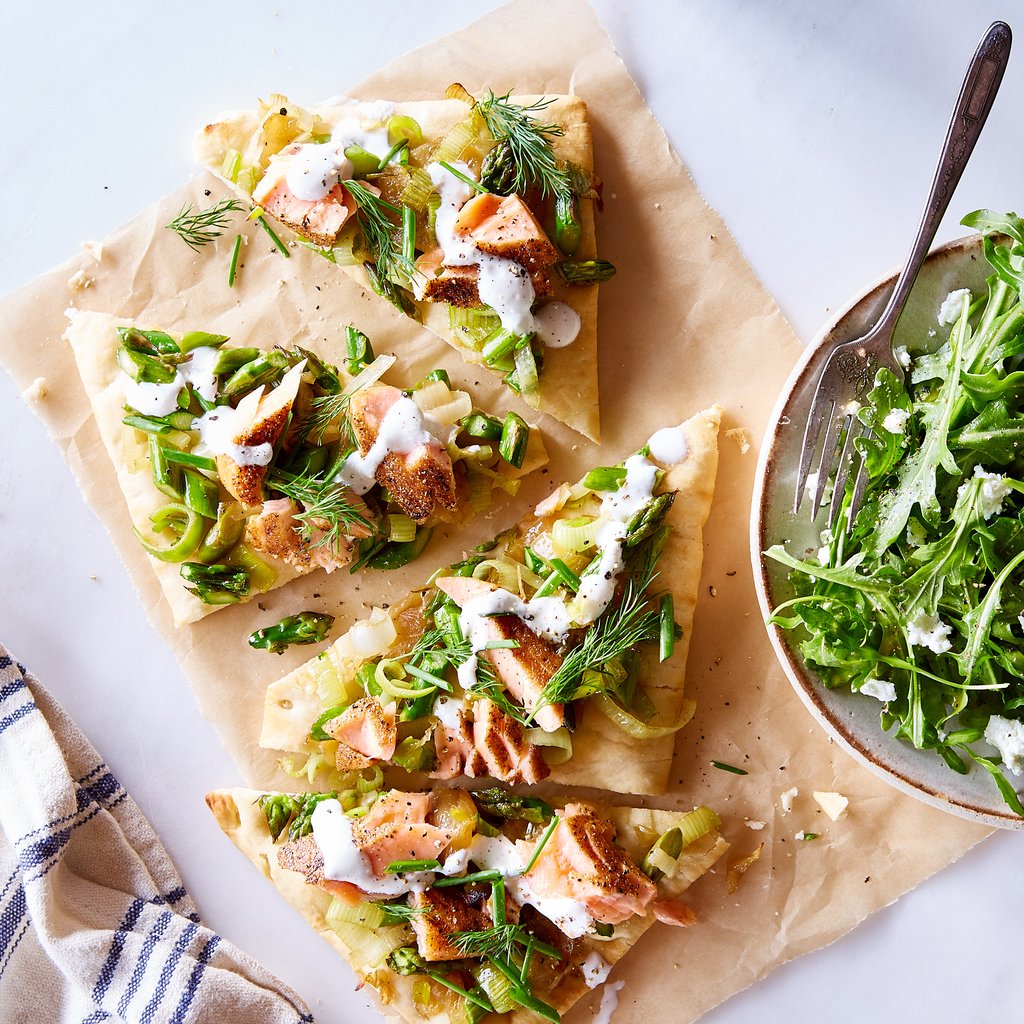 Everything Spice Smoked King Salmon Pizzette with Asparagus & Creme Fraiche: Our take on the beloved bagel-and-lox combo features pepper-crusted salmon pan-seared for a toasted crust. It's flaked onto a crispy flatbread with sautéed asparagus spears, leeks, and caramelized onions. A sprinkle of everything spice, chopped dill and chives, and a drizzle of horseradish creme fraiche are the final gourmet touches on this delicious dinner your whole family will love!
Lean & Clean Pan-Roasted Barramundi with Yukon Potatoes and Lemon Caper Sauce: Perfectly pan-roasted fish is one of life's simple pleasures. We paired this mild and flaky barramundi with savory sautéed spinach and chive and sour cream potatoes. A lemon butter sauce is drizzled over the barramundi for an extra burst of flavor in this fast and healthy dinner.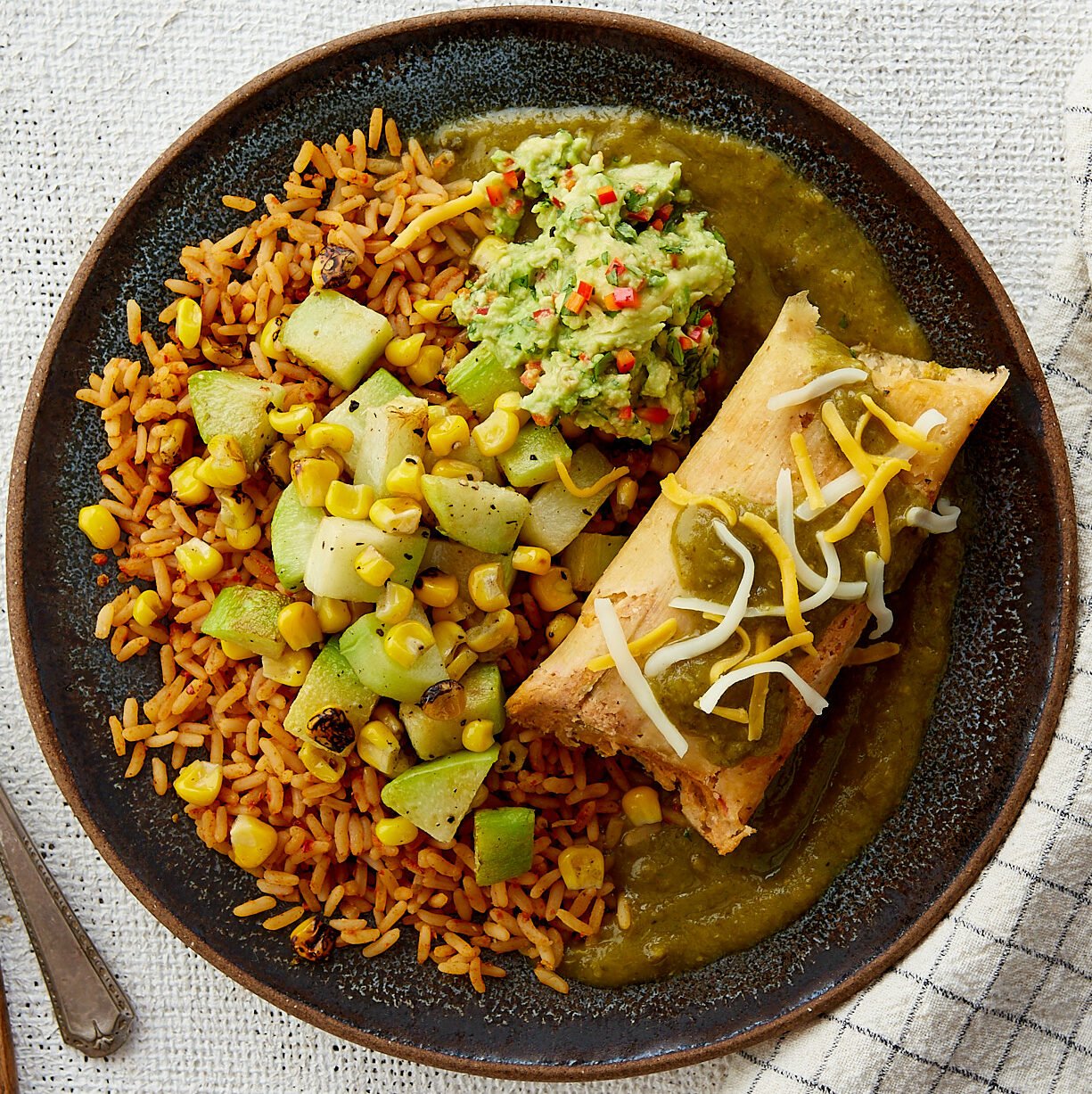 Global Flavors Green Chile Chicken Tamales with Mexican Rice & Guacamole: When you need some spice in your life, these green chile tamales are the perfect choice! They're stuffed full of deliciously seasoned chicken and served with a Mexican cheese blend and our tangy salsa verde. Sautéed chayote and fire-roasted corn top a flavorful bed of Mexican rice, and vibrant, freshly made guacamole add the finishing touch.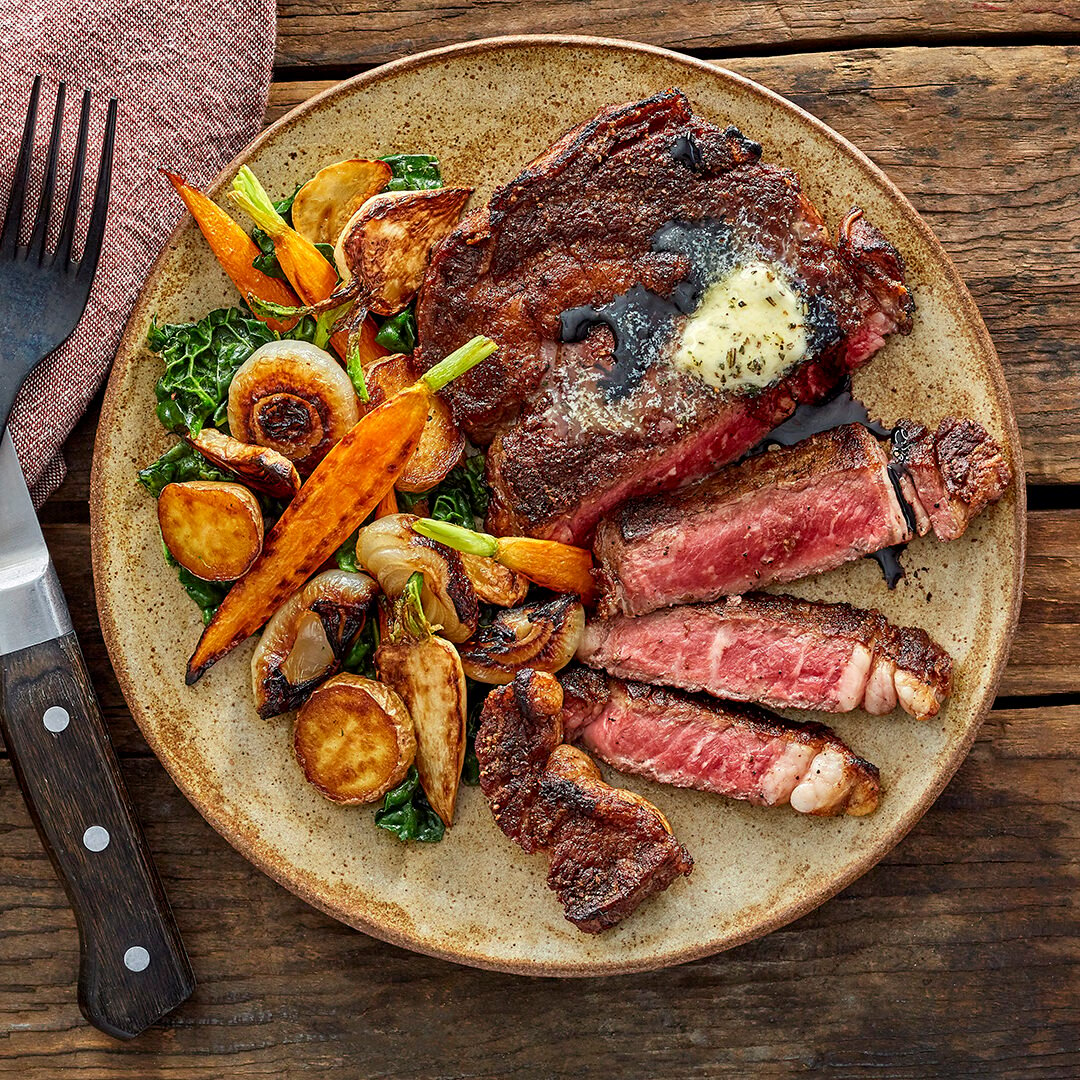 12oz. Pan-Seared Ribeye Steaks with Balsamic Reduction & Roasted Root Vegetables Premium Dinner: Get ready for some oohs and aahs when you set this dish down on the table! It features 12-ounce choice ribeye steaks pan-seared until they're perfectly tender and juicy. An elegant medley of roasted turnips, carrots, cippolini onions, and Yukon Gold potatoes complements the steak, and a drizzle of rosemary-thyme butter and balsamic vinegar adds 5-star gourmet flavor to this luxurious meal.